Indian Wells Masters: Novak Djokovic, Roger Federer, Rafael Nadal advance to Round 3
On a day when Nadal, Federer and Djokovic all won, sixth-seeded Marin Cilic was an early casualty, beaten 4-6, 7-5, 6-4 by 19-year-old American Taylor Fritz.
Novak Djokovic launched his bid for a sixth ATP Indian Wells Masters crown with a two-set triumph over Kyle Edmund as the stars shone on Sunday in the California desert.
The 46th-ranked Edmund served for the second set at 5-3, but World No 2 Djokovic broke him en route to a 6-4, 7-6 (7/5) triumph.
His reward is a tough third-round clash with former US Open champion Juan Martin del Potro, a 7-6 (7/5), 6-3 winner over fellow Argentine Federico del Bonis.
"I think I played very well in the first set," Djokovic said. "Second set was obviously up and down. But credit to Kyle for playing some really aggressive tennis. He made a lot of winners in the beginning and midway through the second. There was not much wrong I did. I did miss some forehands. But other than that, it was a very solid match. Good, quality tennis, a good test."
Roger Federer and Rafael Nadal also reached the third round, Federer flying through with a 6-2, 6-1 victory over France's Stephane Robert in just 51 minutes. Nadal opened his account with a steady 6-3, 6-2 victory over Argentina's Guido Pella.
The three stars are packed together in a remarkable bottom quarter of the draw.
But Djokovic said he can't afford to think about a possible quarter-final clash with either of his longtime rivals with del Potro coming up. While Djokovic has won 12 of their 16 career meetings, the Argentine handed him a crushing two-tiebreak defeat in the first round of the Rio Olympics - a defeat Djokovic avenged in Acapulco this month.
"Big guy, big serve, big forehand," Djokovic said of del Potro. "Definitely not the draw that you like early in the tournament and that you wish for, but it is what it is," added Djokovic, who is trying to get back to the winner's circle after a shock second-round exit at the Australian Open and a quarter-final loss to Nick Kyrgios in Acapulco.
Ninth-seeded Federer, resurgent after a 2016 season marred by injury, downed Nadal in an epic Australian Open final to secure his 18th Grand Slam title.
'Solid' Rafael Nadal
Nadal was pleased with a "solid" opening effort against Pella, made trickier by the oven-like mid-day temperatures and the fact that Pella, like Nadal, is a left-hander. "I didn't try to do amazing things. I tried to play solid," the fifth-seeded Spaniard said. "For moments I played well. For moments I played a little bit less well. Important thing, I won, and I won in straight sets."
Nadal knows he'll have to turn up the intensity if he wants to end a hard court title drought stretching back to 2014.
The bottom half of the draw also features fourth-seeded Kei Nishikori of Japan, who eased past Britain's Daniel Evans 6-3, 6-4 on Sunday.
But sixth-seeded Marin Cilic, who beat Nishikori in the 2014 US Open final, was an early casualty, beaten 4-6, 7-5, 6-4 by 19-year-old American Taylor Fritz.
The jam-packed half of the draw is a contrast to the wide-open top half, which lost a lot of its lustre on Saturday when World No 1 Andy Murray was stunned by 129th-ranked Canadian qualifier Vasek Pospisil.
"That's sport, no?" Nadal said. "Yesterday probably Andy didn't play his best match and Vasek served very well. So then you go to a tiebreak and anything can happen."
Sports
Here's everything you need to know about the live broadcast of the US Open 2021 men's singles final between Novak Djokovic and Daniil Medvedev.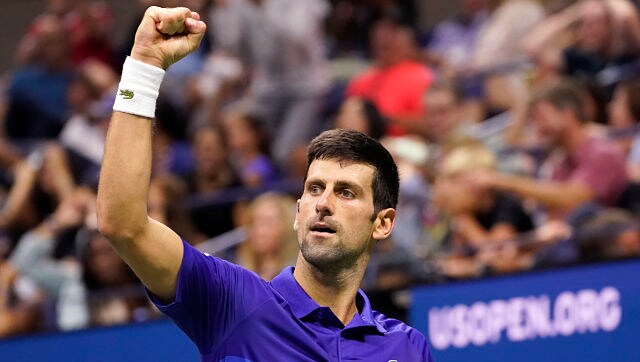 Sports
Djokovic seeks his 21st career Slam trophy, which would give him the men's record total he currently shares with Rafael Nadal and Roger Federer.
Sports
Nadal published a photo of himself on Instagram on Saturday holding crutches with his left foot bandaged.