ISL 2016: Mumbai City FC coach Alexandre Guimaraes satisfied with draw
Mumbai City FC coach Alexandre Guimaraes said they had their chances in the first half, but in the second half the match changed completely after the red card.
Mumbai City FC coach Alexandre Guimaraes was satisfied with his team's 1-1 draw against Atletico de Kolkata at the Andheri Sports Complex in Mumbai on Tuesday.
The hosts had a brilliant first half and were leading 1-0 at half-time. But the red card for defensive midfielder Pronay Halder completely changed the complexion of the match and what ensued was a barrage of Atletico attacks that eventually ended with a stunning goal, albeit with the help of a deflection, from Javi Lara.
When asked about his thoughts on the match, Guimaraes said, "I think we had a good game again. We had our chances in the first half and then in the second half the game changed completely after the red card. After the red card, we had to change a little bit our defensive organisation and the zones that we defend. Lastly, they played well and made us move much more from our (positions). In the end, I think this is a fair result," he stated.
Mumbai City FC were hampered with the non-availability of start striker and marquee player Diego Forlan and his availability for their next match against Kerala Blasters FC is still up in the air.
"It's better to ask the doctor. We will have to wait till tomorrow morning and see if he travels with the team or not. It's for the doctor to tell me when he is able to play," said the former Costa Rican national team manager.
He then continued, "We want to get Forlan back. Of course, Boithang did a fantastic job and he understood what he had to do in the absence of Diego. The players understood what was needed and Boithang moved  very well in the first 45 minutes."
The big talking point of the match was the red card for Halder. It was a deserved ouster from the match for the Mumbai City FC midfielder as he had gotten away with a few Marouane Fellaini-esqe elbows earlier in the match and was particularly physical in a rough game.
But coach Guimaraes decided to take it easy on Halder and said, "This is not the moment, of course tomorrow we will talk, but that happens. This game showed us how to defend with ten men," he said.
Mumbai City FC did not do too badly without a striker though. Playing three attacking midfielders upfront aided movement and ended up creating a fast match that entertained the packed house at the Andheri Sports Complex.
But after the knock to Forlan, Mumbai currently have no striker in their team and Sunil Chhetri's non availability due to Bengaluru FC's AFC Cup commitments means that Mumbai are desperately looking for a striking solution.
"Our CEO and the management know that we need to move fast. We are looking for options and I hope that we can complete this as soon as possible. Gaston (Sangoy) had an injury and now we want an option to come to the team. Being specific, just Diego and Boithang are the only options and we need another one. Sunil, we don't know when he will come," Guimaraes concluded.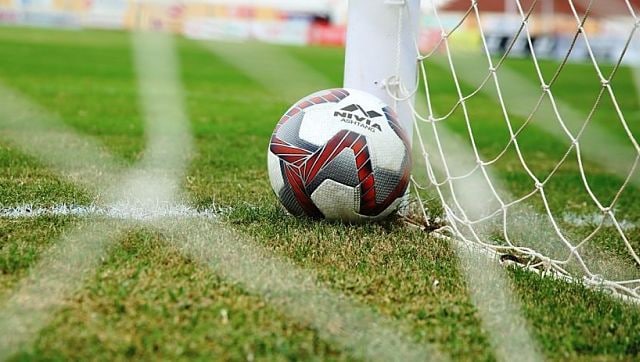 Sports
Prce, who has played a match for Lazio senior team, has joined East Bengal from Croatian club NK Slaven Belupo. Slovenian midfielder Amir Dervievic and Tomislav Mrcela are the two overseas recruits.
Sports
Namgyal Bhutia (45th) and Leon Augustine (71st) turned out to be the heroes for the Naushad Moosa-coached side even as Kerala Blasters were eight men down by the end of the dramatic clash at the Vivekananda Yuba Bharati Krirangan (VYBK).
Sports
A spokesperson for Munich regional court told AFP subsidiary SID that both Boateng's lawyer and the state prosecutor have contested the verdict.