Indian bowlers' rampant run under Anil Kumble was result of foundation laid by Bharat Arun
Ravi Shastri's decision to bring back Bharat Arun created a lot of brouhaha. Now that he has been re-appointed as the bowling coach, Arun will look to prove his worth once again.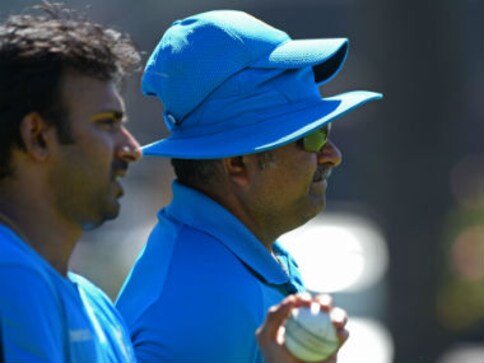 Seventeen Tests. Twelve wins. Four draws. One loss. The Indian cricket team's golden run in the 2016-17 home season could be attributed to various reasons. The contributions were endless, right from those from the players to the coaching staff, comprising Anil Kumble, Sanjay Bangar and R Sridhar. Even Raghav Indraa, India's throw-down man, had a part to play. However, it would be hard to ignore current India coach and former team director Ravi Shastri and re-appointed bowling coach Bharat Arun's role in the preceding years.
It was in the aftermath of the England Test series in 2014 that the BCCI decided to rejig its coaching staff and introduce a fresh set of ideas. The problems were aplenty, bowling being the major one. The direct solution provided to that was Arun, a former U-19 coach. He had also served as the head coach of Bengal and as a fast bowling coach at the National Cricket Academy (NCA) in Bengaluru.
India's Test bowling line-up was struggling to scalp 20 wickets on a consistent basis. It is no secret that to win in the longest format, it is essential for the bowlers to bundle out the opposition twice in a match. Since England's tour of India in 2012, when Alastair Cook's men defeated the hosts 2-1, to India's tour of England in 2014, the Indian bowlers had managed to skittle out their opponents in only eight of the 19 Tests.
Arun's first Test assignment was in Australia in 2014-15. India failed to take 20 Australian wickets in a Test even once in the whole series. The best they could muster was at Melbourne during the third Test, where they dismissed 19 Australian batsmen. To put India's misery into perspective, the hosts could bowl the visitors out twice in a match on only two occasions.
While Australia's bowling line-up snared 73 wickets in that series Down Under, the Indian bowlers could manage only 61. It was a series which saw a spinner top the bowling charts. However, it was Nathan Lyon who stood first, while Ravichandran Ashwin languished at fifth.
Arun did not agree that fitness was an issue. But he firmly believed the situation clearly indicated a lack of discipline and it was something he needed to work on. He also stressed on the consistency aspect.
"There is a lot of work that needs to be done on that. Obviously we are working on that for them (bowlers) to be more consistent and disciplined. Every kind of wicket that you bowl on is different. You have got to adjust to the wicket before you do that, and that's exactly what we are working on," India's bowling coach said during the 2014-15 series.
There was surely a ray of hope amidst these troubles though. India had a pool of fast bowlers — Ishant Sharma, Umesh Yadav, Bhuvneshwar Kumar and Mohammed Shami — they could develop and rely on. Varun Aaron, too, was given a fair run before he disappeared due to his waywardness and injuries. All these pacers had their own peculiarities. Ishant had the experience, while Umesh offered raw pace. There was Bhuvneshwar's ability to swing the ball as well as Shami's accuracy and reverse swing.
"There is great potential in this fast bowling unit. We have a couple of guys who can clock 145-plus on a consistent basis and also the fact that we have Ishant who is pretty experienced. He can extract extra bounce off the wicket and of late, Ishant has been extremely consistent. That's a very, very encouraging fact. Bhuvi has had a wonderful tour in Zimbabwe where he has rediscovered himself; he is moving the ball pretty well both ways. So we do have the variety in somebody who can move the ball and seam the ball and someone who can extract that extra bounce and a couple of bowlers who can clock 145-plus. That gives us enough variety to battle any conditions," Arun remarked in August 2015.
The promise was visible but there was scope for improvement. Arun dismissed claims that India required to reduce pace to rectify discipline. Instead he opined that bowling in the right areas would solve that problem. This belief must have given Bhuvneshwar, who was going through a lean patch and seemed to have lost his swing, an extended time frame to gain pace. Arun also felt that it was necessary to create awareness in his bowlers and provide them authority.
The results followed. The Indian bowlers bundled Sri Lanka out in all the three Tests in August 2015 and helped the side win a Test series in the Island nation after 22 years. Coincidentally, it was also India's first away series win in four years. The following series against South Africa was also a success. The Indian spinners absolutely befuddled the Proteas and clinched the series 3-0. Ravindra Jadeja also marked his comeback against South Africa and scalped 23 wickets in the series. After being snubbed, Jadeja decided to work on his shortcomings and played the Ranji Trophy to earn a recall. Observing that, Arun hardly took time to appreciate him and boosted his confidence.
"Jadeja is one of our 'banker' (bankable) bowlers. No matter what format you play, whether you play Tests or ODIs, he knows using his strengths to his advantage," Arun commented during the South Africa series. It wouldn't be wrong to suggest that Arun played a role in Jadeja's rise from being a defensive bowler to the number one-ranked bowler in Tests.
During the 2016-17 season, former India coach Anil Kumble doubled up as the bowling coach too. Under his watch, India took 20 wickets in 13 of the 17 Tests that were played. Pessimists would argue that India's cause was helped by the fact that they were playing at home. But during that phase, Umesh was hailed as the most improved bowler in Indian cricket and he credited Arun for his improved consistency. Bhuvneshwar not only increased a few yards, but also learnt the art of reverse swing. Ashwin inflicted pain on New Zealand, England and Bangladesh. And when fatigue began to take a toll on the off spinner, Jadeja stepped up and played an instrumental role in clinching the series against Australia.
In 2014, discipline was a major issue. But in 2017 during the second day of Bengaluru Test versus Australia, that very quality of the bowlers helped India bounce back after the debacle in the first Test of the series at Pune. While the credit, and correctly so, was given to Kumble and the coaching staff, in truth, Virat Kohli and Co had reaped the rewards of the process which Arun had started in 2014.
Shastri's decision to bring back Arun created a lot of brouhaha, considering Zaheer Khan was hired by the Cricket Advisory Committee (CAC) as the bowling consultant. But there must have been strong reasons that the Indian head coach backed Arun so openly for the prestigious job.  Now that he has been re-appointed as the bowling coach, Arun will look to prove his worth once again.
With stat inputs from Umang Pabari
Entertainment
'Should get into most teams' says Former Indian cricket coach Ravi Shastri when Aamir Khan asked if he has a chance in IPL.
First Cricket News
In the batter's list, Marnus Labuschagne maintained his pole position while India captain Rohit Sharma and his predecessor Virat Kohli remained static at eighth and 10th place respectively.
First Cricket News
Fans at Kolkata's Eden Gardens were surprised to see Parag getting miffed after he got himself run out following a mix-up with Ashwin who didn't respond to his call for a single