Indian Arrows head coach Luis Norton de Matos steps down from role citing personal reasons
Matos, who had coached India in the FIFA U-17 World Cup, expressed his inability to continue owing to a combination of exigencies on the personal front and an aggravated knee injury
Former Portuguese footballer Luis Norton de Matos today stepped down from his position as head coach of Indian Arrows, the developmental team of All India Football Federation (AIFF), citing personal reasons.
In a letter to AIFF, Matos, who had coached India in the FIFA U-17 World Cup, expressed his inability to continue owing to a combination of exigencies on the personal front and an aggravated knee injury that necessitated Matos' family to stay together in Portugal.
Matos wrote: Certain personal reasons, chiefly the health-related issues of my parents have made it difficult for me to continue in the position of Head Coach, Indian Arrows and stay far away from Europe for the entire season. Hence, with deep regret, I have decided to step down as the Head Coach of the Indian Arrows, India's U-19 National team.
"I like to thank AIFF for providing me with the opportunity to work with the National youth team. I thank my staff, my players and wish them the best in their careers."
"Once my personal issues settle down I shall be more than happy to contribute in the future as and when I can. I have deep affection and love towards India & Indian Football & wish AIFF good luck for future, he said in the letter.
Accordingly, AIFF relieved Matos of his contract with Indian Arrows after receiving his letter.
Kushal Das, General Secretary, AIFF thanked Matos for all his support and contribution to Indian Football.
"On behalf of AIFF, we thank Luis Matos for his guidance, support and contribution to Indian Football. We hope his personal issues including the injury get sorted out soon and wish him and his family all the best and good health," Das said.
Sports
Bremen managing director Frank Baumann said Anfang and Florian Junge "are taking responsibility and are helping to end the unrest that has arisen around the club and the team in the past few days.
Sports
The red-and-gold brigade suffered defeats to their arch-rivals in both the matches last season, which was more to do with their troubled build-up and a last-minute entry to ISL.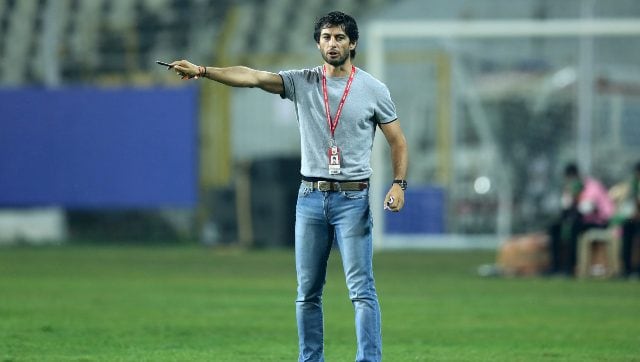 Sports
The loss against Mumbai City FC on Monday meant FC Goa's league-record 15-match unbeaten streak came to a crashing halt.