Opportunities against weaker teams often a 'lose-lose' situation for Indian youngsters
Performing in Zimbabwe has its benefits, especially if you're young. But matches against weaker teams is often a lose-lose situation.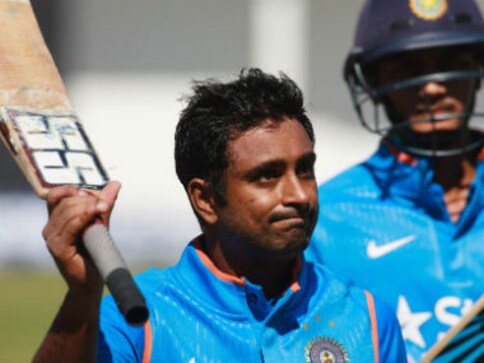 A tour of Zimbabwe may not be a marquee event but it has certainly found a unique place for itself in the Indian cricket calendar. A trip to face the African minnows today is pretty much the only cue for India's selectors to experiment with the squad.
With Bangladesh's rising stature and level of competitiveness, no other series, home or away, allows selectors the room to test out India's bench strength and its next-gen breed of cricketers.
The current tour is India's fourth to Zimbabwe in the last six years, following visits in 2010, 2013 and 2015. Spread across these four visits, the selectors have performed a diverse range of trials, with different players at different stages of their careers.
We've witnessed young captains-in-waiting lead the side (MS Dhoni is the only exception this year). We've had a glimpse of the future with new faces, even debutants, donning the India jersey. We've seen first-team benchwarmers, who are starved of action, given much-craved playing time in hope of vying for a regular spot.
We've had forgotten warhorses handed an opportunity to revive their international career. And even a couple of Test specialists have been thrown in to prove themselves in the shorter formats.
Rewards for performances in Zimbabwe, though, have been disproportionate. The merit system appears to be based on the aforementioned classification of players and is often accompanied with a sense of prejudice.
Take, for instance, the cases of Ambati Rayudu, Stuart Binny and Kedhar Jadhav, all three of whom have been on the fringes of the senior team for a decent period of time. The three made their mark in the 2015 tour with impressive performances but have since featured in a combined total of one ODI.
Why? Because even if the selectors keep pushing these players into the squad, they've never earned their captain's confidence - who has his own set of favourites. Rayudu and Jadhav are part of the current tour as well but it's unlikely that any kind of performance will change their fortunes. Besides, they aren't considered young and exciting either. Among other members of the current squad, Dhawal Kulkarni could soon fall into the same category.
There has also been little consistency in the past with regards to opportunities afforded to players on the tour. A selection in the squad guarantees very little in terms of playing time.
Players like Murali Vijay, an established Test opener, who toured Zimbabwe in 2010, and again in 2015, has only missed out this year because "he is unfit". Which is bizarre — why do the selectors persist with him? In six years, Vijay has played 17 ODIs without making an impact, scoring only one half-century.
Not only do the likes of Vijay travel with the team, they're also handed plenty of opportunities to perform. Unfortunately, the same cannot be said about a whole host of other players.
In 2010, Naman Ojha and Pankaj Singh played one ODI each and haven't played ever since. In 2013, Parvez Rasool returned to India without a game under his belt which would've been his debut. He has since featured in only one ODI, against Bangladesh.
In 2015, Sandeep Sharma sat out all three ODIs before getting a go in the two T20Is and Sanju Samson, drafted in mid-tour for the injured Rayudu, played only one T20I. Both of them haven't played ever since.
Let's hope the five uncapped players — viz. Karun Nair, Faiz Fazal, Jayant Yadav, Yuzvendra Chahal and Mandeep Singh — and other young faces in the squad for the ongoing tour have flown in with realistic expectations. If past tours are anything to go by, opportunities, both present and future, will come at a premium.
Unlike previous tours, at least the current assembly of players is genuinely young and exciting and do not face competition from the likes of Harbhajan Singh and Amit Mishra, both of whom were drafted in for the Zimbabwe tour to resurrect their ODI careers.
Thankfully, for the young brigade, there are success stories too. Manish Pandey debuted last year in Zimbabwe. Before narrowly missing out on selection in the home series against South Africa, he earned a place in the squad Down Under and scored a fantastic hundred as well.
Axar Patel too, by outshining Harbhajan in 2015, further cemented his place in the first team, while Bhuvneshwar Kumar, who had slipped out of India's starting XI earlier that year, restored his confidence and eventually regained his spot.
Three years ago, Mohit Sharma made his senior debut against the African minnows and took his place in India's frontline attack at the 2015 World Cup. Both Jayadev Unadkat, whose career kick-started in the tour in 2013(and is also part of the current squad), and Pragyan Ojha were selected for future tours on the basis of their Zimbabwe performance - but eventually failed to hold down a spot in the team.
Performing in Zimbabwe has its benefits, especially if you have many years ahead of you. But matches against weaker opponents always come with a caveat. It's often a lose-lose situation.
Good performances are usually taken with a pinch of salt whereas bad ones often sound the death knell for a player's career. Just ask Cheteshwar Pujara, Manoj Tiwary and Robin Uthappa, whose ODI careers in all probability may have ended on a Zimbabwe tour due to unimpressive displays.
With Dhoni travelling to African shores, the newer faces will at least have a senior mentor to learn from. But the skipper has never been a fan of rotating his playing XIs. He will need to mend his ways so that his entire young squad gets enough international exposure on this tour itself, lest they wait for the next Zimbabwe series to come along.
also read
First Cricket News
CSK have qualified for the IPL Playoffs in 12 of the 14 seasons that they've played - winning four titles.
First Cricket News
MS Dhoni's possible retirement has been the biggest talking point this IPL 2023 but there's no confirmation of it.
First Cricket News
Lasith Malinga has disagreed with MS Dhoni's view that Sri Lanka pacer Matheesha Pathirana stay away from red-ball cricket.