India vs West Indies: Virat Kohli and co dominate 'gutless' Windies with ruthless bowling
Team India won the third Test in St Lucia against the West Indies, a game reduced by rain to only four days, and secured the series with a match to go.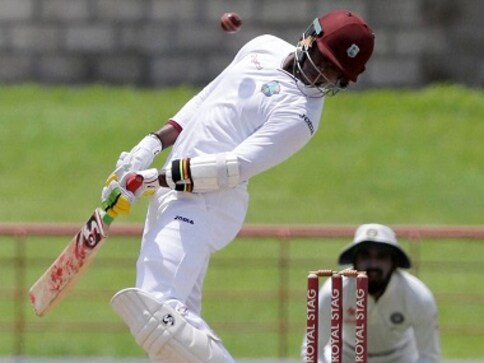 Congratulations to team India. They won the third Test in St Lucia on Saturday, and with it secured a series win – with one match still to go. In a game reduced by rain to only four possible days of play, the positive cricket played by Virat Kohli's men drove them forward and put them into a winning position, which they converted with aplomb.
India ended this match looking like a quality, experienced, professional Test outfit. West Indies, having promised so much in the first two days, and on the last day of the previous Test, ended it looking like clowns.
Credit where credit is due: India were enterprising in the two days subsequent to the third day washout, and entirely merited their victory. But let us also be honest about their opponents – they were poor, and capitulated in their second innings in dire fashion. In the final reckoning, India did ever-so-well, while the West Indies did ever-so-badly.
West Indies' rapid descent began shortly after lunch on day four: they'd reached the interval on 194-3, looking fairly secure – and the game appeared bound for a second successive draw. In just over a further twenty overs after the break, they were all out – the last seven wickets tumbling for a paltry twenty-three runs.
That collapse, in tandem with their woeful second innings effort of 108 all out, meant that collectively they lost seventeen wickets for 131 runs in 63.5 overs – these are figures that are beneath Bangladesh, Zimbabwe, and even the hapless Australians, who are currently being humiliated in Sri Lanka.
To be fair to West Indies, their embarrassment on Friday was less due to terrible batting than it was due to some fabulous bowling by Bhuvneshwar Kumar. No such excuse could be made on Saturday. India were attacking in their bowling and proactive in the field – Kohli's energy and positivity infecting his whole team – but the West Indies were masters of their own downfall.
They could not claim this time to have been the victims of a magnificent spell of devastating bowling – the havoc wreaked was generally self-inflicted. And some of the dismissals were just downright idiotic. How else can you describe guys getting out stumped? Or run out? Or making room to cut a good length ball? Is that any way to bat for a draw?
West Indies were set a nominal target of 346 runs to win the Test, and level the series. This was never likely to be a realistic option, and many observers felt that Kohli had been a tad over-cautious in the timing of his declaration on the final morning.
One man who was pleased at the delay was fast-bowler Miguel Cummins, who managed to pick up several late wickets during the Indian pursuit of quick runs. The Barbadian finished with an impressive 6-48. This included the scalp of wicket-keeper Wriddhiman Saha, caught behind of a massive no-ball which was missed (and worse, not checked for) by umpire Nigel Llong – the latest clanger from an official not short on errors.
To make the game safe in the fourth innings, West Indies' first task – and biggest test of technique and fortitude – was to successfully negotiate the new ball: the pitch had been far more responsive when the ball was at its hardest throughout the match.
In the first innings, Kraigg Brathwaite and Leon Johnson had been steady and largely untroubled, and had only been parted by a brilliant run-out. This time around, they failed miserably, and were both gone inside five overs. Johnson prodded an ordinary delivery without undue pace, bounce or movement to short-leg at easy, catchable height; and Brathwaite played across a straight ball and was plumb lbw. It may have kept a little low, but that made scant difference, since he missed it by a wide margin – he was aiming through square-leg when he ought to have been playing straight down the wicket.
Darren Bravo and Marlon Samuels, the team's most experienced batsmen, were now the pair West indies needed to rebuild confidence and assurance. Instead, they both batted skittishly, looking anything but dependable, and not for the first time appeared as though they'd both really rather be somewhere else.
From his second ball, Bravo pulled extravagantly at a delivery high and wide of off-stump – and toe-ended it towards gully, where it fell to safety. The shot, given the match situation, beggared belief, and indicated a scrambled mind. Later, he was nearly caught in the covers and slips on a number of occasions from ludicrously loose drives that just evaded fielders.
Samuels too looked vulnerable – anchored on the back foot, and susceptible to anything that might keep low on this fifth day pitch. And when he did use his feet, it was to essay ambitious, quixotic strokes – he looked set on a course of self-destruction. He greeted the introduction of off-spinner Ravichnadran Ashwin into the attack with a flashing cover drive to the fence, followed by a ferocious on-drive for four. Next ball he drilled him to mid-off for no run, succeeded by a mistimed airy hook to midwicket for a single.
Next over, from Ishant Sharma, he pulled the bowler high over mid-off for two. On commentary, Sanjay Manjrekar pondered what was going through Marlon Samuels mind? Sanjay is not alone – many have been similarly curious for some time, and wonder whether Marlon himself really knows.
Next ball, Samuels was bowled: he shaped flat-footedly for a premeditated cut, going neither forward nor back – in fact not moving either foot one inch – but rocked his body back in an arch, and lost his off-stump. He then had the temerity to laugh – amused at his misfortune, that the ball had kept so low. It did no such thing. He should have been forward and into line. It was a disgraceful demise.
From then on the procession was fairly inevitable. Roston Chase, pinned to the crease, was bowled through a large gate by a superb off-cutter from Sharma, that jagged back off the pitch after hitting the seam. Jermaine Blackwood was sloppily stumped: aiming a flamboyant drive at Ravindra Jadeja, he dragged his back foot out and Saha smartly whipped off the bails.
Shane Dowrich failed to get forward properly, and his low, soft-handed edge was brilliantly anticipated by Kohli, who was standing a full two yards closer than normal at second slip. Jason Holder, bizarrely, ran himself out, sent back by Bravo seeking a non-existent quick single. Quick single? What on Earth are you doing looking for a quick single when you are 88-6, trying to save a Test Match?
The tail was cut off for a further twenty runs (including Alzarri Joseph bagging a 'pair' on debut) and only Bravo, caught at bat/pad for a scratchy 59, emerging from the ignominious debacle with some dignity.
West Indies' batting performance on Saturday was feckless. It was also at times reckless, thoughtless, spineless and gutless. Needing only to bat for something like ninety overs to avoid defeat for a second successive Test Match (a rare achievement in recent times for this team), some of their cricket was acutely brainless as well.
These are harsh words, and I will be delighted if they somehow filter back to the team. Some of West Indies' best performances in the last eighteen months have come after they've been on the end of stinging criticism they resented, but may have been justified: Chairman of the England & Wales Cricket Board, Colin Graves described them as "mediocre" last year.
West Indies were determined he'd eat those words – and were good enough to draw the home Test series versus England. Earlier this year, commentator Mark Nicholas dismissed West Indies' chances in the ICC World T20 tournament because they were "short on brains". In victory, Daren Sammy made sure Nicholas knew how inspired and fired up his team had been by the insult.
I'm afraid sometimes the West Indies bring castigation upon themselves – and this was one such day. Many, many fans in the Caribbean will be voicing similar opinions in the bars and rum shops – but they do not like to hear it said of them by outsiders. The team still has one last opportunity remaining to react to this defeat – and to the resultant disparaging remarks – in the final Test in Port-of-Spain, Trinidad. I hope they seize it.
First Cricket News
Kyle Mayers, whose 146 was the fulcrum of the West Indies first innings total of 148, took both the Man of the Match and Man of the Series awards.
First Cricket News
Kohli was stranded in two minds as he leaned forward to a short of good length delivery but wasn't sure if he should play or leave the delivery