India vs West Indies in Florida: 'Cricket-starved' USA gets ready for big-ticket T20 series
For the Indian expats, it's a first-ever chance to see India play in their adopted home. For American cricket fans, there are questions about whether these two matches offer hope for more cricket opportunities.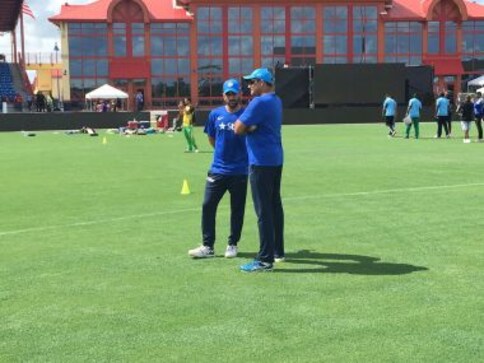 Saleem Aijaz sells many things at the Little Market Indian Grocery and Spices in Wilton Manors, Florida. He sells breads, spices, teas, sweets and entire shelves of foods you can't get in any Florida supermarket. On Thursdays, he sells fresh vegetables. He offers rice cookers and other kitchenware, as well as a good selection of the latest Bollywood films, one of which is usually playing on the shop television.
What he doesn't sell is tickets to cricket matches. Lately, that's been a problem.
Wilton Manors is a suburb of Fort Lauderdale, a mid-sized coastal city 30 miles north of Miami. Unlike New York or the major cities of the US west coast, Fort Lauderdale doesn't have a particularly prominent Indian community. So shops such as Little Market become important hubs, places people go to when they're looking for just about anything from home.
Which might explain why Aijaz' phone has been ringing so much lately. People just assume he's got tickets to the matches everybody is talking about.
"People are calling here asking about tickets," he said. "It's their passion. People are flying in from all over."
West of Wilton Manors, in another Fort Lauderdale suburb called Lauderhill, sits the reason for all the excitement. Central Broward Regional Park is home to the United States' first ICC-sanctioned ODI-level cricket stadium. The sign outside the stadium gives its name as "Main Event Field," and that name has never been as appropriate as it is this week.
This week, India has come to town. They face defending World T20 champions West Indies in two T20 matches at the stadium. For the Indian expats who shop in Little Market, it's a first-ever chance to see India play in their adopted home. For American cricket fans, there are questions about whether these two matches offer hope for more cricket opportunities.
Cricket fan and sports blogger Jon Marthaler understands the significance of India coming to the US. He's among the American fans who hopes these matches mean the beginning of more elite cricket, played by current stars. Marthaler, who lives in Minnesota and also loves traditional North American sports such as baseball and ice hockey, respects the matchup's history – and hopes the series bodes well for the future.
"I'm excited for India to play T20 in Florida because it's a match with two of cricket's greatest, most storied teams," he said. "We usually have to make do with a few over-the-hill superstars playing a friendly exhibition match against a few other over-the-hill superstars. It's exciting to see India come to the country to play an actual match – and hopefully, the team will come back again in the future."
Indeed, in recent years when top-level cricketers have played in the United States, it's most often been in post-retirement exhibition matches. The Lauderhill stadium has hosted a number of charity matches featuring former legends, including one last spring featuring a team captained by Brian Lara. Lauderhill did not host any of the 2015 Cricket All-Stars matches; Sachin Tendulkar and Shane Warne's foray into America instead went to larger baseball stadiums. When the Caribbean Premier League came to Lauderhill for six matches a month ago, it was the first high-level cricket the stadium had seen since a pair of T20 internationals between New Zealand and West Indies in 2012.
Cricket-starved as American fans are, this weekend's matches are still not universally popular. To Terry Coffey, a cricket fan from Indiana, they feel like a money grab that won't help cricket in America.
"Don't get me wrong, I'm all for making money, and these teams have fan bases here," he said. "But there's no attempt to get outside that small group. That's why it just feels like an effort to make some quick bucks but not really help advance US cricket."
The ICC insists that development of the game in the US is part of the larger plan. When the matches were announced in early August, ICC Americas' Ben Kavenagh explained what they hope to do.
"We are working at a number of levels across the sport in the US at the moment including facilitating events such as the ICC World Cricket League tournament that will be held in Los Angeles, as well as the preparation of the US team and the development of facilities," he said in a statement. "We are also focusing on coach education that will support growth of local systems and we are about to launch an introductory cricket programme across a number of American universities ...
"We will also look to explore how a proportion of the money can be invested locally in Florida around the matches through school and community engagement, but it is important that this is part of a wider plan for cricket there and not just a one-off exercise."
If such development does happen, it will help alleviate another concern many American cricket fans have – that even when the sport is in the United States, it's not of the United States.
Bandon Decker, a cricket fan from Kansas City, feels "neither excitement nor indifference, but more a very keen interest" about the matches. Decker may be from the American Midwest, but he's as much of a cricket purist as the most stoic Yorkshireman.
"For me, as someone who doesn't watch much T20, the matches themselves are almost a sideshow, but I'm really hoping the staging goes well. I think South Florida is a natural extension of the West Indies and a good back door, as it were, into the US market."
Cricket's biggest superstars can only help raise the sport's profile in the United States but beyond that, Decker believes people need to change the way they think about the sport in America.
"I want to see a sold-out ground and I want to see the matches considered a success – and having India play probably helps that. But longer term, I also want cricket in America to lose the perception of being an expat sport.
"At some point, and I'd like to think at some point soon, that marketing and that perception will have to change," he adds.
First Cricket News
Kyle Mayers, whose 146 was the fulcrum of the West Indies first innings total of 148, took both the Man of the Match and Man of the Series awards.