India vs West Indies: Hosts undone by masterful display of seam bowling by Bhuvaneshwar Kumar
The cricket between India and West Indies was sedate, and unassuming — and the pitch especially so. But that did not mean India's seamers, led by Bhuvaneshwar Kumar, were not going to give it their all.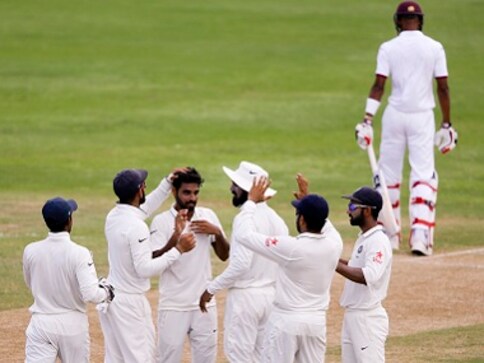 With an entire day's play of the third Test in St Lucia lost to heavy rain on Thursday, the odds were that the Test would progress towards a tame draw on the final two days of the Test, on Friday and Saturday. The first two days of this Test had seen some keen — but not greatly entertaining — cricket, the efforts of the two teams to impose their will and some impetus into the match stymied by a sluggish pitch and a preposterously slow outfield.
The scoring rates and lengthy passages of attrition indicated that both sides would be hard-pushed to force a victory in five days, let alone in four. Nonetheless, a magnificent performance by India, led positively by Virat Kohli — and inspired by a truly great spell of bowling by Bhuvneshwar Kumar — has placed the visitors in a position of authority that could see them win on Saturday, and thus take an unassailable 2-0 lead in the four-match series.
West Indies had begun steadily in reply to India's first innings score of 353, and had closed day two at 107-1, denying their opponents with a safety and security rarely seen in West Indian batting performances of late. Indeed, India had only been able to affect their solitary dismissal through a brilliant run-out, so surely had the batsmen blunted the bowling.
Resuming after the 24-hour hiatus, the opening session gave little hint of what was to follow: Opener Kraigg Brathwaite and Darren Bravo at No 3 appeared comfortable and assured, despite the best efforts of the Indian attack. The run-rate, which was unlikely to have induced finger blisters for the match scorers, was especially so now that the dampened outfield was even slower.
The cricket was sedate, and unassuming — and the pitch especially so. But that did not mean India's seamers were not going to give it their all. There is a perception that Bravo is uncomfortable against the short ball — but in order to unsettle him this way, the quicks had to put their backs into it to produce an "effort ball", one that could achieve an inquisitive length and test the Trinidadian.
This happened in the day's ninth over, when Ishant Sharma induced the left-hander into a flapping, reckless hook that went straight to deep long leg for a regulation catch. TV replays indicated that Sharma probably didn't have any part of his foot behind the line, and on another day with another third umpire, Bravo could have been reprieved. But the fact is, his dreadful stroke did not merit such an intervention, and justice of a sort was done.
Brathwaite followed shortly after, unfortunate perhaps to feather a wayward delivery from Ravichandran Ashwin, which bounced and turned down the legside into the wicket-keeper's gloves. But the speedy, accomplished work by Wriddhiman Saha in taking the catch meant it was well-deserved.
Not for the first time did Ashwin and Saha combine to impact upon this match. Saha didn't instantly leap in appeal, but rather supported Ashwin's claim, but the lack of any disappointment expressed by the batsman at Nigel Llong's upraised finger suggested the umpire had got the decision right.
The two new men at the crease were Jamaicans Marlon Samuels and Jermaine Blackwood — both renowned for their attacking instincts and dangerous stroke-play — but their partnership was sensibly muted and studious, in line with the needs of the match situation and the pitch.
Blackwood played sensibly in the 'V', while Samuels batted primarily off the back foot with soft hands. The pair did unfurl the occasional big shot — Blackwood striking a clean straight-drive back over Kumar's head to the boundary, and Samuels aiming intermittent lofted hits over the infield to the fence. But by and large, their partnership was measured and cautious, seemingly steering the West Indies innings towards a decent total, and the inevitability of a drawn match.
Three overs before the lunch break, the new ball was due, and was taken straight away by Kohli. Although any fears the batsmen may have had were allayed swiftly, when Ishant Sharma hurled it immediately yards down the legside to the boundary. Umpire Llong signaled byes to collective bemusement, and to 'keeper Saha's annoyance.
In the first session, the Windies had added 87 runs for the loss of two wickets. Which makes the events of the post-lunch session even more unforeseen — and absolutely marvellous! Despite the torpid pitch, Kumar took over with the new ball — and boy, did he make it work!
Resuming on 194-3, West Indies' fourth-wicket partnership was broken eight runs later and this instigated a spectacular collapse — including their last seven wickets tumbling for 23 runs — and turning the match entirely upon its head. Quite simply, this was one of the best spells of seam bowling on an unresponsive pitch that we've seen in recent times, and it was a privilege to witness — though it was highly distressing viewing for a West Indies supporter.
Anyone not lucky enough to witness the excellence and energy of Kumar's performance, and merely checking the scores online, will presume this was simply the latest example of pitiful, negligent batting by the callow Caribbeans. But that was not the case: Blackwood was taken in the slips by a fine ball that hit the seam, bounced and left him from off-stump; Samuels was undone by a beauty — having had several balls run away from him, Kumar ran a big, swinging in-ducker back into the batsman who played late and chopped on; Holder was trapped on the back foot, the ball hitting him high, but not too high; the pace and bounce were too much for Alzarri Joseph, who registered a duck in his first Test innings; Dowrich was last out (having been missed twice already), caught at slip.
In between, Roston Chase, after his valiant efforts at Sabina Park, was out softly, caught at slip to a limp prod off Ravindra Jadeja; and Miguel Cummins was caught behind off Ashwin.
On the whole, and for a change, the West Indies batsman were got out, rather than giving it away. In fact, the only accusatory finger that can be reasonably pointed at a Windies' batsman would be at Bravo. But nothing should be allowed to detract from the brilliance of Kumar's spell — and his dramatic intervention in this match.
His epic endeavours moved the game forward apace, giving India a first innings lead of 128 and allowing Kohli to instruct his batsman to bat positively in their second dig, in pursuit of quick runs so a declaration can be made early on Saturday to push for victory. Naturally, in looking to score quickly on a slow pitch, some wickets fell for India in the last session, but a close of play score of 157-3 reflected a healthy run-rate of above four runs per over, and an overall lead of 285.
The story awaiting us on the fifth day will be whether this young West Indies team have the skill and fortitude to resist an Indian victory charge for a second Test in a row. They will certainly be hoping that lightning does not strike twice in the shape of Bhuvneshwar Kumar.
First Cricket News
Bangladesh closed the truncated day at 132/6 in their second innings, still needing another 42 runs to avoid an innings defeat
First Cricket News
Kyle Mayers, whose 146 was the fulcrum of the West Indies first innings total of 148, took both the Man of the Match and Man of the Series awards.