India vs West Indies: Bhuvneshwar Kumar's superb fifer and other stat highlights of Day 4
Statistical highlights on day 4 of the third Test between India and West Indies at St Lucia.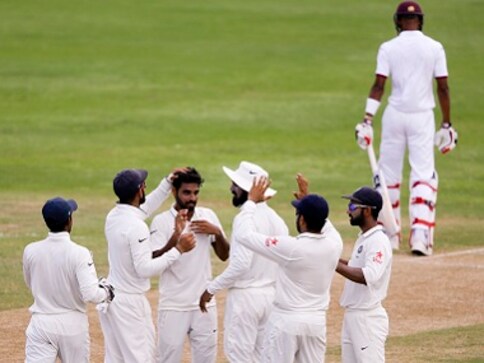 Gros Islet: Statistical highlights on day 4 of the third Test between India and West Indies at St Lucia.
# Ajinkya Rahane (51 not out off 93 balls) has recorded his eighth Test fifty - his first vs West Indies.
# Rahane, in the current series, is averaging 108. 00 -his aggregate being 216 in four innings, including a hundred -108 not out at Kingston.
# Rahane is averaging 51.23 under Virat Kohli's captaincy - his tally being 871 in 21 innings, including four hundreds and three fifties.
# Shikhar Dhawan, in his 37-innings Test career, has got out below thirty on 24 occasions.
# Bhuvneshwar Kumar (5/33) has recorded his third five-wicket hauls in Tests. His excellent figures are his second best behind the 6 for 82 vs England at Lord's in July 2014.
# Kumar's only other five-wicket haul is 5 for 82 vs England at Nottingham in July 2014. As compared to his wicket-aggregate of 25 wickets (ave. 28.28) in seven overseas Tests, Kumar has claimed only 9 wickets (ave. 37.88) in six home Tests.
# Kumar's superb figures are the best by any bowler in Tests at Gros Islet, eclipsing Kemar Roach's 5 for 42 for West Indies vs Bangladesh in September 2014.
# Virat Kohli (3 & 4) has managed just 7 runs in the Gros Islet Test - his joint-lowest match aggregate when he batted in both the innings of a Test match. In the 2014 Old Trafford Test against England, he had made 7 (0 & 7).
# Kohli's aggregate of seven runs is the third lowest by an Indian number three batsman while batting in both the innings, in the Caribbean - the first two being Gulabrai Ramchand (0 & 2) at Georgetown in March 1953 and Ravi Shastri (5 & 0) at Kingston in April/May 1989
# Kohli is averaging just 19.40 in six innings as number three batsman - his aggregate being 97 runs in six innings without a fifty.
# Rohit Sharma has registered three sixes during his unbeaten 41 off 57 balls - a feat recorded by him for the first time in a Test innings outside the subcontinent. On two previous occasions in a Test innings, he posted three sixes -vs West Indies at Mumbai in November 2013 and vs Sri Lanka at Colombo (PSS) in August 2015.
# Since registering 50 vs Sri Lanka at Colombo (SSC) in August/September 2015, the above innings is Rohit's highest in six outings in Tests.
# West Indies' last six wickets have recorded just 23 runs - their second lowest in a home Test.  Against Australia at Port of Spain in 1998-99, they had added only 18 runs.
# Three stands of 50-plus have been recorded for the first four wickets for West Indies, - the last instance for them in a Test match vs India in the West Indies being in the 2002 St John's Test.
Find latest and upcoming tech gadgets online on Tech2 Gadgets. Get technology news, gadgets reviews & ratings. Popular gadgets including laptop, tablet and mobile specifications, features, prices, comparison.
First Cricket News
Pakistan bowling coach Waqar Younis said English pitches have become "slow and sluggish" in nature, as evidenced by its behavior in the ongoing England-West Indies Test series.
First Cricket News
Jofra Archer had to sit out of the second England-West Indies Test at Old Trafford after making an unauthorised stop at his home in Hove while travelling between Southampton and Manchester, an act for which he was fined by the ECB.
First Cricket News
England recovered from 122-4 just before tea to close on 258-4, with Pope on 91 as he goes in search of his second Test century and Buttler on 56.