India vs West Indies: Bhuvneshwar Kumar surprised by five-wicket haul
India's Bhuvneshwar Kumar has said that he did not expect a handsome return on Day four of the third Test, even as his 5 for 33 broke the back of West Indies' innings and bowled them out for 225 runs.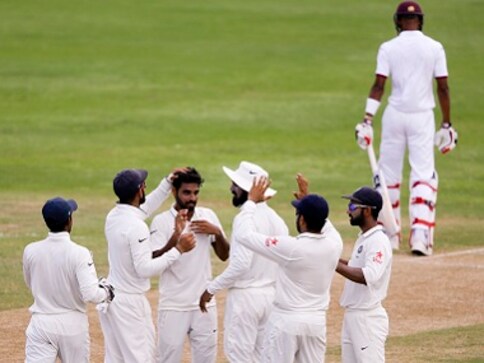 Gros Islet: Indian medium pacer Bhuvneshwar Kumar has said that he did not expect a handsome return on Day four of the third Test, even as his 5 for 33 broke the back of West Indies' innings and bowled them out for 225 runs.
At stumps, the visitors were leading by overall 285 runs with a day to play.
"The biggest point was that the ball was swinging and when that happens it is a boost for me. I have a better chance to take wickets," said Kumar after the day's play.
"After lunch, I could do that and when you get one wicket you get the confidence that you can bowl further. When I was bowling it was the same in my mind that these are the 7-8 overs in which I can take wickets. I did not think I would take five wickets but that comes with the momentum," he added.
The slide began after lunch as West Indies crashed from 194/3 to 225 all out within 20.4 overs.
Kumar bowled 10.4 overs on the trot and took 5/14 as the hosts lost their last six wickets for just 23 runs.
"We had a talk within the team if we can get them out before tea we will have enough time to get them out twice. We discussed our plans and we knew what we had to do.
After lunch when I got the first wicket I knew that this is the time if we can get one or two wickets we can get them out.
"So our mindset was such that we had to get them out quickly if we had to win the match," said the medium pacer.
Kumar said it's difficult to say he will get the swing on Saturday.
"If you see earlier in the first innings, I did not get as much swing. Maybe the wicket was a bit damp. Today I got a lot of swing, maybe the ball was a good one. It is tough to predict for tomorrow, but there is something in the pitch for the bowlers so I think we can get them out again," he added.
Kumar's last Test was in Australia in January last year, and while he has been playing limited-overs cricket on and off, he had mainly been forced out of the first eleven owing to injury problems. It had resulted in slacking form with the ball, but now he seems to be back at full fitness and moving the ball at will once again.
"I played Test cricket after almost one and a half years. I did not do anything specific during this duration except working on my fitness because that is most essential in Test cricket. Then we had the preparatory camp in Bengaluru, so that's the time when I started preparing for this series in particular," he said.
"I just knew that it will swing a bit here and there will be something for the fast bowlers to exploit. It is not necessary that you might get wickets, but it should not be that you are not prepared," he added.
He said he was a bit nervous when he found out that he was playing this match.
"There was no pressure as such but if you are playing after so long there are some nerves, whatever format you play. If I play in club cricket even then I have some nerves. But when I came to the ground and bowled the first ball everything felt normal," he said.
"Maybe because I was thinking only about the process and focusing on that came from practice. I practice the way I am bowling in the match but it is not easy to sit outside for so long and then come back. It is not frustrating always, but it is not easy either," he added.
India finished day four at 157/3, and considering their first innings' lead of 128 runs, they already have a sizeable total on the board.
With 98 overs to go on day five then, skipper Virat Kohli will be hoping to press for a win.
But will he declare the second innings in the morning?
"We have not discussed that yet. Maybe tomorrow morning we will discuss this and make a plan during the team meeting. But yes, the aim definitely is to have as many overs as possible to bowl them out for a second time," Kumar signed off.
First Cricket News
India are playing a four-day practice match against English county Leicestershire.
First Cricket News
Shehzad said that the seniors and ex-cricketers in Pakistan cannot digest the success of younger players and it is unfortunate for Pakistan cricket.
First Cricket News
India batter Virat Kohli's childhood coach Rajkumar Sharma said that the former India captain will play a great inning in the last and final Test match against England