India vs Sri Lanka: Virat Kohli's main dilemma ahead of first Test is picking the appropriate pace attack
India's head coach Ravi Shastri spent a good period of the intense net session with pacers Umesh Yadav, Mohammed Shami, Ishant Sharma and Bhuvneshwar Kumar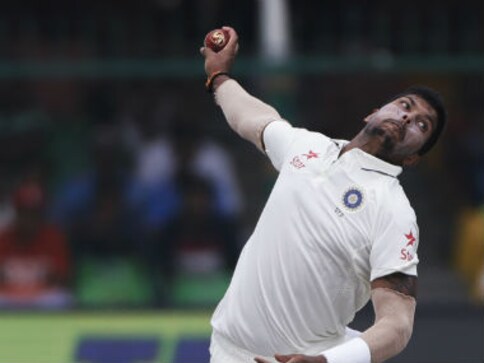 On Monday morning, just under 48 hours before the first Test against Sri Lanka in Galle, Team India had their first proper net session ahead of the new season. There was an obvious familiarity about the proceedings – Ravi Shastri is well underway in his second stint at the helm of affairs.
There is a certain method with which he goes about this preparatory process. He doesn't interfere with what the players are trying to do in their own individual build-up. He allows the support staff to do the dirty work, mingling with players and getting into throw-downs at the nets.
It is in deep contrast with what Anil Kumble used to do. The former leg-spinner didn't have a bowling coach (like Shastri does with Bharat Arun), and worked hard on the technical aspects with pacers and spinners alike, baseball glove in hand, akin to what Sanjay Bangar does with the batsmen. Shastri though keeps a watchful eye on proceedings, whether with the batting group or the bowlers, moving around talking to different players at different times.
On Monday then, he spent a good period of the intense net session with India's fast bowlers, studying their preparation and talking to the likes of Umesh Yadav, Mohammed Shami, Ishant Sharma and Bhuvneshwar Kumar. Hardik Pandya was somewhere in that group as well.
On any trip to Sri Lanka, it is a common assumption that spin will play a major role. Truth told it isn't a wrong one, particularly with the opposition lining up Rangana Herath as their main wicket-taking hope. For India, the combination of Ravichandran Ashwin and Ravindra Jadeja will do a similar job, which would put the world's top three-ranked Test bowlers in a direct shoot-out for supremacy. In this melee though, the hosts will do well to remember what damage India's pacers can cause.
The dependency on pacers has been a constant theme for Indian cricket over the past season or so, when this battery of fast bowlers has come into its own. Two pacers have always been picked, even at home when there was a tendency to shift to a three-spinner combination. All four of them – Shami, Yadav, Kumar and Sharma – are different to each other, and yet have a similar weapon in their arsenal – reverse swing – that is very valuable in sub-continental conditions.
Sri Lanka differs from other countries in the region in a peculiar way. Yes, there will be obvious spin as the game goes on, but pitches in this country have often given ample support to pacers. You only need to look back at India's tour here in 2015. The first Test at Galle was all about spin on a square turner. For the second and third Tests at the P Sara Oval and the SSC in Colombo, there was much in the wicket for pacers, particularly the third Test, which was played on a near-total green top.
This time around too, starting from Galle to Colombo and moving on a bit north to Kandy, similar conditions can be anticipated. The question for skipper Virat Kohli ahead of the first Test then is what pace combination to go in with?
Kumar is the swing specialist; you see a green top, you immediately know who among the four bowlers is surely playing. In a way, he is the most different from this group as his strength vastly differs. Shami and Yadav are most alike, while Sharma is now reduced to a holding job as a senior pro. The contrast is very apparent, in terms of pace and bounce they generate, and the movement extracted in different conditions, and it is this variation that makes the Indian pace attack a wholesome one.
At different points in the home season, Kohli talked about this particular strength of the Indian team. While batsmen made hay as the sun shone, and spinners found delight in tailor-made conditions, India's pace quartet didn't let spotlight go away from them. It gave hope to their captain to look ahead at a gruelling overseas schedule with confidence.
For, make no mistake as this Lanka trip heralds the onset of another foreign sojourn for this Indian team. Over the next 18 months, this side has to visit South Africa, England and Australia in quick succession, culminating in the Summer
of 2019 with the ODI World Cup. And unlike the 2013-14 cycle, 2017-18 will be vastly different for the team can no longer put forward any sort of excuses, particularly in the experience category.
It is in this light that the Lankan tour assumes significance. It is the launch pad, a take-off for sterner tests ahead, in varying conditions, akin to how the West Indies tour played out before a long home season. It allows Kohli to fine tune his place as regards with his pace options, playing around more with his spinners but understanding the vitality of the much-improved fast bowlers from two seasons ago.
The key to this will be in rotation, of course. If another green top is laid out at the SSC, the Indian skipper might be tempted to play three pacers. Otherwise, two will be the norm, whether in a four or five bowler attack. Additionally, Kohli will also look to see possible answers to the Pandya question for the all-rounder is expected to make his Test debut at some stage during this new overseas cycle.
In summation then, India's ascendancy to the No 1 ranking was dependent on how its spinners performed in 2016-17. Their continued stay at the top will depend largely on the pace quartet as the hectic 2017-18 schedule kicks off.
First Cricket News
Rishabh Pant has collected 281 runs in 11 matches at a strike rate of 152.71 but has struggled to convert his starts into meaningful contributions.
First Cricket News
Gujarat Titans skipper Hardik Pandya rued that technology did not come to their rescue when Matthew Wade was adjudged LBW in a controversial call but said overall on most occasions it has helped in taking right decisions.
First Cricket News
The T20 rubber against the Proteas will start in the national capital on 9 June with the remaining matches being held at Cuttack, Visakhapatnam, Rajkot and Bengaluru respectively