India vs Sri Lanka: Virat Kohli hints at handing Hardik Pandya Test debut, lauds all-rounder's wicket-taking ability
India had lost to Sri Lanka at Galle during the 2015 series when Kohli went in with a combination of five specialist bowlers with a batsman short in the playing XI.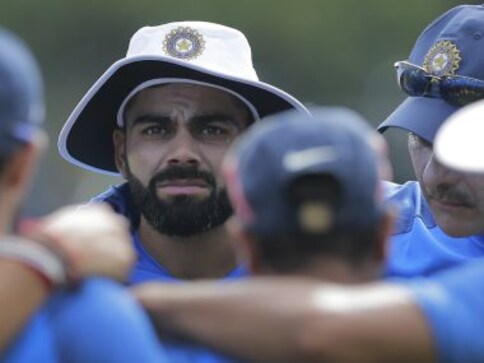 Galle: India captain Virat Kohli on Tuesday hinted that Hardik Pandya may get his maiden Test cap against Sri Lanka on Wednesday as he chose to underline the all-rounder's wicket-taking ability on all kind of tracks.
India had lost to Sri Lanka at Galle during the 2015 series when Kohli went in with a combination of five specialist bowlers with a batsman short in the playing XI.
However the presence of Pandya, who bowls fast medium close to 140 clicks and is a capable batsman, provides Kohli with the balance that he so aspires.
"Last time, we felt we probably were a batsman short and the fifth bowler did not do much in the game. We have those options again, but we have great balance in the side as well. We have got a guy like Hardik Pandya, who is a wicket-taking bowler. Every game that he plays, on any surface, he has a knack of picking wickets. He has a great chance of playing as well," Kohli explained.
He referred how Stuart Binny's small contributions became important in next two Tests that India won.
"In the next two Tests on that 2015 tour, we played an all-rounder (Binny) and that made all the difference. The extra batsmen would give us more solidity. We have taken learning from that and we will surely apply those straightaway in the series instead of getting a feel of how things will go. You need to have your best strike bowlers in order to pick up 20 wickets," Kohli added.
Kohli reckoned that it will be a good wicket to bat on.
"There is a good grass covering and we expect it to be a good batting wicket. It was rolled yesterday (on Monday) and I am sure today (Tuesday), it would have been rolled in very nicely as well. And underneath the surface, it looks very hard. There is grass covering on it to keep the surface bound up and it should be a very good batting track," the Indian skipper observed.
India will be missing Kl Rahul, who is down with viral fever. He is expected to be available later in the series but for now, Shikhar Dhawan will partner with Abhinav Mukund.
"Rahul is an established player and he has done very well for us in all formats over the past year. He is a very solid player, but these kinds of scenarios present opportunities to other players in the team to step up and show what they are capable of.
"They can have a solid performance and stay with the team for a longer period and get more chances to play in the future. So, our players look at these scenarios as opportunities and it is a great opportunity for Abhinav or Shikhar to string in a strong performances again," said the skipper.
Kohli had words of encouragement for Rahul, who is just coming back after a shoulder surgery.
"It is difficult to keep the players positive when they are injured. I have also been injured recently and it's a not a nice feeling. The only thing you can do is to accept the reality and know what needs to be done. There is not much you can do apart from doing rehab and all those sort of things.
"This (viral fever) is not an injury (for Rahul) and I am sure he is not that disappointed. He has had a major surgery and he has been able to comeback. So three-four days more will not make a difference to him because he batted well really in the practice game and he is really looking forward to step back on to the field," he added.
Talking about Sri Lankan attack, the discussions veered towards veteran left-arm spinner Rangana Herath.
"He (Herath) is a quality bowler. Last time, he really dented us in that small chase. It's something that actually was a great eye opener for us. We worked on those things in the next two games and we were able to win the series. He played both the games and the ball was still doing a bit.
"I think our batsmen came up with the goods and they had the counter plans in place. So we understand what he brings to the table and understand what needs to be done," the skipper concluded.
First Cricket News
Lucknow Super Giants captain Rahul achieved the milestone during his knock against Kolkata Knight Riders at the DY Patil Stadium
First Cricket News
Virat Kohli has struggled for runs in the ongoing edition of the Indian Premier League.