India vs Sri Lanka: One-man show Nuwan Pradeep proves he is truly Chaminda Vaas' successor
In his short injury plagued career, Nuwan Pradeep has already proven his worth as Chaminda Vaas' successor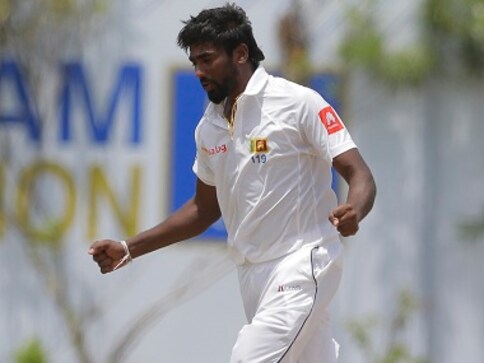 The joy and pain of watching a lonely warrior battle it out is something Indian cricket fans understand as well as anyone. We have been blessed with fast bowling riches of late. So much so, that the biggest problem for India's captain in the seam bowling department is whom to exclude. India's seam bowling show had otherwise always been a solo act, a one-man show.
For years we have seen a Kapil Dev, a Javagal Srinath and a Zaheer Khan toil away tirelessly in a long spell. Over after over, session after session, grimacing back to the top of the run-up, wiping sweat off the forehead, wondering if it's going to be another long day, then gritting teeth in the knowledge of the expectations from the captain and the whole country. That was the quintessential tale of an Indian fast bowler.
Sri Lanka's fast bowling story hasn't been all that different. A team that has relied on two champion spinners for most of their Test history, fast bowlers in Sri Lanka have traditionally been there largely to make up the numbers. Chaminda Vaas was a rare exception. A versatile bowler who had the ability to play the support role when bowling on slow subcontinent pitches and make the new ball talk in seamer-friendly conditions.
In his short injury-plagued career, Nuwan Pradeep has already proven his worth as Chaminda Vaas' successor. Against South Africa, earlier this year, Pradeep took four wickets for one run in a spell of seam bowling rarely seen before by a Sri Lankan overseas.
Before the first Test against India at Galle, all of Pradeep's best performances in Test cricket were four-wicket hauls. Given Sri Lanka's recent fielding form, all six of those wicket tallies must have included a couple of dropped catches, at least. Not to mention all those times when he would have found the outside edge of the bat only to find an empty slip cordon with his team looking to survive rather than attack.
At Galle, Pradeep was looking to make amends for missing out Sri Lanka's last game due to injury. He got Abhinav Mukund early with a real teaser from round the wicket that moved ever so slightly to take a faint nick through to the keeper.
The pitch at Galle has always provided some assistance for the fast bowlers. In 2000, against India, Dilhara Fernando had ripped through India's middle order taking five wickets and bundling them out for 187 in the first innings, scripting a famous win for Sri Lanka. Dilhara had Vaas and Muttiah Muralitharan for company though, while Pradeep was waging a lone battle.
The pitch for this Test looked like a batting beauty but it still had something for the fast bowlers prepared to bend their back. Shikhar Dhawan made full use of the reprieve he got early on to punish every Sri Lankan bowler. Pradeep managed to frustrate Dhawan by not conceding any boundaries and induced a false shot just before tea on the first day to pick his second wicket.
The wicket of Virat Kohli may have given Pradeep the most satisfaction, hurrying the Indian captain into a pull with a well-directed bouncer. At the end of Day 1, Pradeep was the only Sri Lankan bowler with something in the wickets column, having taken all three wickets to fall in the day.
Three became four when Pradeep found the outside edge of Cheteshwar Pujara's bat early on Day 4 with a perfectly pitched delivery that had Pradeep's trademark nibble away from the batsman.
Surely, Pradeep wasn't going to miss out on his first fifer from here. The fifth wicket finally came after lunch when Ravichandran Ashwin tried to pull awkwardly giving a simple catch to the wicketkeeper. The look on Pradeep's face was more of relief than delight. An elusive landmark crossed at last.
To celebrate the landmark, Pradeep delivered a classic fast bowler's "jab and cross punch" when he bowled a bouncer and followed it up with a yorker to disturb Ravindra Jadeja's furniture.
Like many of Pradeep's top performances, this one too may be forgotten easily given India's dominant position in the match and Sri Lanka staring down at a defeat or at best a draw. But to those who follow the proceedings closely, the solitary act of defiance, the last stand, just one man fighting when everyone else around him is falling down, is probably more glorious than a win.
First Cricket News
In a significant push to popularise cricket in the US, a USD 120 million funding has been secured from prominent Indian-American business leaders.
First Cricket News
The PCB chairman Ramiz Raja had in principle agreed to a 25 to 30 per cent increase in the monthly retainers of the players who will be given contracts.
First Cricket News
The T20 rubber against the Proteas will start in the national capital on 9 June with the remaining matches being held at Cuttack, Visakhapatnam, Rajkot and Bengaluru respectively