India vs Puerto Rico: Can return of international action turn the fortunes of ailing Mumbai football?
When India play Puerto Rico at the Andheri Sports Complex on Saturday, Mumbai's 61-year-long wait for an international match will be over
When India play Puerto Rico at the Andheri Sports Complex on Saturday, Mumbai's 61-year-long wait for an international match will be over. It was back during the golden age of Indian football – February 1955 – that the Indian team previously played an international game in the financial capital of the country.
Lack of an international-standard football stadium kept the action away from the city for six long decades, but a refurbished Andheri Sports Complex stadium has managed to get the nod from Fifa to host an international game and end Mumbai's longing for football action of the highest order.
"We have had the Indian football team play in Mumbai in the last sixty years against Brazilian club Santos and another club side. The matches were held at Brabourne and Wankhede stadium. But there has been no international match for the last 61 years," Henry Picardo, Mumbai FC's team manager and a former Air India player told Firstpost in an exclusive chat.
Picardo who has been at the thick of football in Mumbai both as a player and as a manager is overjoyed by the city hosting an international match after such a long period. "People of Mumbai have been waiting to have a football stadium that can host an international match for a long time. This offers people a great chance of watching an international game live," he said.
Picardo wasn't the only ex-footballer from Mumbai to express his delight at the return of international football to the city. Steven Dias, perhaps one of the greatest Indian players to have come out of Mumbai, hailed AIFF's move to host India's match in Mumbai. "Hosting an international match is a huge thing for Mumbai football. I think it's a great move by the AIFF to give a match to Mumbai, where the crowd can now go and experience a live football match after so many years," Dias told Firstpost.
The Indian winger who was called 'The Indian Beckham' for his pin-point crosses and accurate set-pieces, made 51 appearances for India across a time span of ten years. Having scored seven goals for India, while providing many more assists, Dias never got a chance to play in Mumbai – his home city.
"I played for India for over ten years, but I never got to play in Mumbai. You know it's a very different feeling to play in your own city, but I never got that chance. I am happy that international football has finally returned to Mumbai," Dias said.
Unfortunately, when international action has finally arrived in the city, it has no representation in the national team. Keegan Pereira was the only player from Mumbai in Stephan Constantine's squad for the Puerto Rico game, but he was released from the camp couple of days ago due to an injury.
It comes as a bit of a blow for Mumbai football to have no player in the national team having contributed several players like Abhishek Yadav, Steven Dias over the years.
"It's sad to see no local player in the Indian team. Had there been a few players from Mumbai, there would have been few more thousands who would have poured in to watch the match," said Dias.
Mumbai FC, the city's solitary club in the I-League managed to pull a decent amount of crowd for their home games thanks to a number of local players playing for the side.
"There are a few good players from Mumbai like Raju Gaikwad and Jayesh Rane, but unfortunately they aren't in the squad. Those players would have given something extra for the crowd to cheer about and would have improved the overall atmosphere," said Picardo, the Mumbai FC team manager.
Ever since the shutting down of Mahindra United – which was the last club from Mumbai to win the national league – Mumbai football has gone on a downward spiral. Air India and ONGC, two clubs who were regulars in the I-League were disallowed from participating in the competition leaving only Mumbai FC as the solitary club from the city in the top flight.
"I think Mumbai football has gone down in recent years. Mahindra United shut down, Air India couldn't participate in the I-League, Mumbai Tigers closed down. So there are very few teams for the players from Mumbai to play in. That's why maybe we aren't seeing anyone from the city representing the national team now," Dias reasoned.
In addition to the problems faced at the top end of the Mumbai football's pecking order, the local leagues run by the Mumbai District Football Association (MDFA) have failed to provide the players with a good enough platform to develop. The problems have extended to the school-level games as well, where a lack of proper infrastructure has thwarted the grooming of young kids who are highly enthusiastic about the game.
Over 300 clubs take part in the district-level football leagues in the city across five divisions and a similar amount of schools compete in the annual league organised by the Mumbai School Sports Association (MSSA). The numbers clearly portray the high interest levels for the sport in the city.
"There is plenty of talent in Mumbai. But the problem is that we lack infrastructure, planning and organisation. If our local leagues can add these aspects, we could have at least 2-3 players going to the national team camp," Oscar Alva, the assistant coach of Kenrke FC, a team from Mumbai participating in the second division I-League, told Firstpost.
Kenkre has three teams playing the Mumbai Football league across the top three divisions. The club boasts one of the finest academies in the city and three of their players - all from Mumbai - were recently a part of the star-studded Premier Futsal League.
Alva highlighted the lack of football turfs as one of the major reasons for Mumbai struggling to produce top quality players in recent years. "In Mumbai there is only one turf ground at Cooperage. When I went abroad, even their public grounds had football turfs and that really helps in player development," he added.
While infrastructure at the recently rebuilt Cooperage stadium meet certain standards, the facilities at St. Xavier's ground in Parel – a ground that is host to all the other divisions apart from the top tier and some MSSA matches – are  sometimes appalling.
"The water at the St. Xavier's ground is often muddy. There is a enough water, but it's not always the most hygienic," Yamik Holkar, a player playing for Jupiter FC in the third tier league told Firstpost.
Apart from the unhygienic water source, local leagues in Mumbai aren't always provided with enough medical aid. Recently, during a inter-school game between St. Pius, Mulund and Cambridge school, an injured player had to be carried on shoulders till the taxi before being driven to a hospital for treatment, due to the absence of a stretcher, medical staff and an ambulance, reported DNA.
Alva, who also coaches the St Stanislaus U16 school team, admitted that local leagues aren't always equipped with enough medical care as required. "During inter-school matches, there is a physiotherapist who's present, but in certain cases a he's not enough to take a call. Football is a contact sport and anything can happen. So it's very important to have an ambulance at the venue, which isn't always there," he revealed.
The lack of organization gets worse for the lower divisions, that are often the breeding ground for some young players. Problems of a lack of transparency in match timings, match duration and miscommunication have plagued the local leagues of Mumbai.
"Sometimes matches are scheduled randomly. There is a fixed duration of a game for a particular division, but sometimes that's changed at per convenience of the team or referees. The refereeing standards are inconsistent. Some referees are excellent, while some are poor. These inconsistencies can affect the outcomes of the matches. It is demotivating for players who take time out from the daily work routines to play for pure passion and love for the game," said Aniket Bhatkhande, who's currently playing his twelfth season in the MDFA leagues.
"Things were much better before. I have seen top MDFA officials get down on the ground and mark the ground themselves. There was lot of discipline earlier and most importantly our passion was respected. It's all gone a bit downhill recently. As a country who's trying to develop its football, every person who's passionate about the sport is very important for it to make progress in it," Bhatkhande added.
However, the city's football authorities have managed to clear one of the major roadblock in it's path to developing the game. By coming up with a football stadium of it's own which is good enough to host an international match, it has provided Mumbai with a world class facility at a location that has a good connectivity with whole city.
Whereas Indian stadiums have otherwise struggled to prepare a top quality playing surface, the pitch at the Mumbai Football Arena at the Andheri Sports Complex has got the thumbs up from the very best in the country. "At first I was shocked to see the pitch in Mumbai. I think this is one of the best venues in India right now," said Indian goalkeeper Subrata Pal, when asked about his first training session at the Mumbai Football Arena.
Gurpreet Singh Sandhu, who plays in Europe, also found the facilities in Mumbai to be of a very good standard. "I think the new facility is very good. I feel it's one of the better ones in India. I like this stadium as the fans are pretty close to the playing surface. That really helps create a wonderful atmosphere in the stadium," said Sandhu during a media interaction in the week leading up to the match.
The new venue is likely to host certain top tier local league matches as well, and the new facility would only increase the standard of the overall game in Mumbai, according to Steven Dias. "The new stadium looks really fabulous, and with such facilities, I'm sure it will boost Mumbai football. Mr Aditya Thackeray is doing a great job for Mumbai football. There will be more games at this venue and people will become aware about the sport. I'm sure this will help see players from Mumbai, play in the national team," the former Indian midfielder said.
The district body for Mumbai football has also managed to resolve the problem of the conflict between different refereeing bodies that functioned in the city. Now the best referees have been brought under MDFA and Western Indian Football Association (WIFA). "MDFA and WIFA have done an excellent job with the referees. Thanks to the secretary of the new referee body, Mr Shirzad Bhathena, the standards of refereeing have been taken to the next level. Earlier we faced a few of problems reaching a certain standard, but it's now all been sorted out," Ivo Benson Fernandes, a referee who's part of MDFA's new panel, told Firstpost.
The visit of Puerto Rico to play India in Mumbai has already been ground-breaking for not just football in Mumbai, but Indian football on a whole. Admirers of the beautiful game in Mumbai are hoping for it to serve as a springboard for the football in the city to scale greater heights. Some feel it will awaken few football enthusiasts, while some see it as a great education for young aspiring footballers.
"I have a very strong feeling that this international friendly is going to change Mumbai football," Henry Picardo stated with great confidence. For the good of football in Mumbai and India, we hope his prediction comes true.
Find latest and upcoming tech gadgets online on Tech2 Gadgets. Get technology news, gadgets reviews & ratings. Popular gadgets including laptop, tablet and mobile specifications, features, prices, comparison.
Sports
In the biggest attendance so far for a football team in Germany during the coronavirus pandemic, Union Berlin welcomed 4,500 fans for their 2-1 win over Nuremberg on Saturday.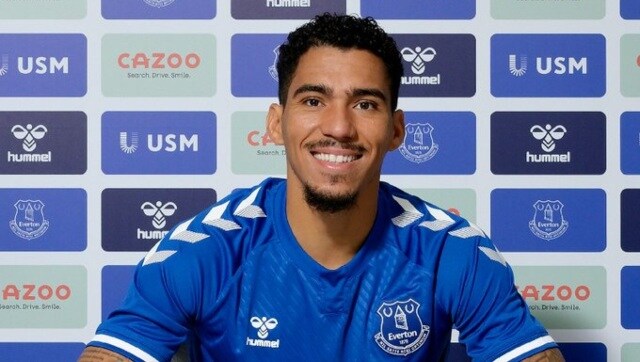 Sports
The 29-year-old Allan played 61 games under Ancelotti when the Everton coach was in charge at Napoli.
Sports
Because of coronavirus restrictions, a maximum of 5,000 fans are allowed at games, unless clubs get a special dispensation from their local authority.