India vs Pakistan hockey Asian Champions Trophy 2016 Highlights: India fight back to win 3-2
LIVE NEWS and UPDATES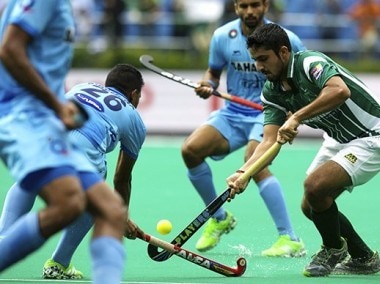 17:45 (IST)

That's all from the Kuantan Hockey Stadium in Malaysia. Thank you so much for following our live coverage.

17:44 (IST)

And that's it. India have won a tense encounter 3-2.

India now have 7 points. Pakistan are on 3.

17:29 (IST)

India attacking with under 2 minutes left. Talwinder had the ball but the pass to Ramandeep finds a Pakistan defender.

17:26 (IST)

Finally India get the ball rolling. They need to hold their nerve and avoid making errors.

Five minutes left in the match...India lead 3-2.

17:25 (IST)

Pakistan still pressing. India are unable to take the ball out from their own half.

17:23 (IST)

Seven odd minutes left in this tense clash as Pakistan are pressing on the flanks. Snap shot from Pakistan but Sreejesh is there to save it.

17:20 (IST)

Nikkin's reverse shot almost gives India another goal but Butt brilliantly blocks it.

Pakistan are not getting rattled. Still playing disciplined hockey and pushing Indians on the defensive.

17:19 (IST)

Sundeep Misra from Malaysia: The drizzle is getting heavier as the final quarter begins. Pakistan goalkeeper Imran Butt makes a good save of Chinglensana's shot.

17:18 (IST)

Seconds left for the whistle to go, India need to hold the ball and play out the quarter. The 3rd quarter is over with India leading 3-2.

17:17 (IST)

Sundeep Misra from Malaysia: Lalit pases to Talwinder whose deft pass is deflected into Pakistan's goal by Ramandeep. It's 3-2 for India.

17:16 (IST)

GOAL! A superb move gives India the lead. India 3-2 Pakistan.

17:16 (IST)

Sundeep Misra from Malaysia: Straight, powerful flick from Rupinder Pal Singh and the score board reads 2-2. After those errors, the goal should help Rupinder regain some confidence.

17:15 (IST)

GOAL! Rupinder scores for India.

India 2-2 Pakistan.

17:14 (IST)

India are asking for a referral. They believe there was a penalty corner for a stick-check.

India gets the penalty corner. It's their first of the match.

17:11 (IST)

India are panicking. Pakistan easily pick their spot and relay the ball.

17:07 (IST)

Sundeep Misra from Malaysia: It's error after error in the Indian defence. Rupinder first loses control, and then Kular and then an unguarded Muhammad Irfan finds the space to give Pakistan the lead.

17:06 (IST)

GOAL! Muhammad Irfan Junior puts Pakistan ahead. India 1-2 Pakistan.

16:58 (IST)

Sundeep Misra from Malaysia: It's going to be tense from now on. Players from both the sides will try and not make errors. Like the one that gave Pakistan the equaliser. Pakistan showing more intent. Rushing up to meet the Indian players.

16:57 (IST)

GOAL! And Pakistan find the equaliser. Muhammad Rizwan Senior's snap shot leaves the Indian goalkeeper Sreejesh slightly off balance. It's India 1-1 Pakistan.

16:53 (IST)

Pakistan may have conceded a goal but their defensive structure of Muhammad Arshad, Niwaz Ashfaq and Muhammad Bilal have been extremely alert and confident.

Third quarter about to begin. Pakistan will look for the equaliser. India will aim to build on the lead.

16:52 (IST)

Sundeep Misra from Malaysia: India cannot sit on their 1-0 lead and will have to find a few more goals. Pakistan is still dangerous on the counter and with their captain Fareed Ahmed playing pivot, they are breaking time and again.

After a jittery 1st quarter, the defence is finding it's feet. Birendra Lakra has been magnificent and his return gives an air of confidence at the back. India missed him at the Olympics as he was out due to an injury.

16:51 (IST)

Half time! The 2nd quarter is over and the teams get a 10-min break. But India have a lot to reflect on. Towards the end of the 2nd quarter, they were coming alive after being in a slumber for most of the 1st quarter.

16:39 (IST)

Pakistan down to ten men for 2 minutes as Shakeel Butt gets a green card. Nikkin was about to break through but a football tackle brought him down.

16:38 (IST)

Sundeep Misra from Malaysia: India need to control the game. They need to find spaces on the left and right flank to stretch Pakistan defence. They are concentrating in the middle of the pitch which is not paying off. Uthapa's move was down the right flank and Mor's cross had enough power to deflect off for a goal.

16:35 (IST)

GOAL! Long ball from Rupinder to Uthapa and then Pradeep Mor's cross into the circle deflects into goal. India has the lead in the 2nd quarter. India 1-0 Pakistan.

16:33 (IST)

Sundeep Misra from Malaysia: India pressing into the Pakistan circle but finding it difficult to break in. India now slowing the pace of the game trying to gain control.

16:28 (IST)

Teams are back for the second quarter. Pakistan are more disciplined. Not giving away anything in the defence and keeping up the pressure in the midfield.

16:25 (IST)

Sundeep Misra from Malaysia: First quarter is over with Pakistan having the advantage with at least three good moves. India would consider themselves slightly lucky to not have conceded a goal.

16:24 (IST)

Brilliant tackle by Kular at the back. With just under two minutes left, India would be looking forward to the first quarter break.

16:23 (IST)

Sundeep Misra from Malaysia: India's structure seems to be all over the place. Thrice they have been caught at the back. Once, Lakra had to tackle through three forwards to clear the ball.

16:22 (IST)

Talwinder's shot goes past the goalkeeper's gloves and over the post.

16:18 (IST)

Sundeep Misra from Malaysia: With Fareed Ahmed as the main holding man in the middle, Pakistan are playing relaxed and not forcing the pace till they have a man in place. India need to regroup as at the moment. The Indians are going for hasty shots which are invariably finding Pakistan sticks than their own.

16:16 (IST)

Five minutes into the match and Pakistan have advantage as India start to find their bearings.

16:14 (IST)

Defensive errors from India and Sreejesh is seen screaming at his back line for letting Pakistan in.

16:13 (IST)

Sundeep Misra from Malaysia: Back to the middle of the pitch as both teams try and create openings. Pakistan is playing the long ball and finding their forwards.

16:12 (IST)

Sundeep Misra from Malaysia: Two consecutive saves by PR Sreejesh and Pakistan is kept away.

16:10 (IST)

Pakistan break with a long ball and get their 1st penalty corner of the tournament. Pakistan start with a flourish.

16:10 (IST)

And there they go...the match begins!

16:08 (IST)

Both national anthems have been sung and the teams are raring to go!

Uthapa is the captain for India as the team gets into a huddle.

16:04 (IST)

Sundeep Misra from Malaysia: Will be interesting to see Oltmans play Uthappa in the central midfield while giving Sardar a roving role.

15:59 (IST)

Three minutes left for the game to start. Both teams are on the ground and warming up.

15:57 (IST)

Former India coach Terry Walsh said the first quarter could be crucial and if the Indian forwards convert like they did against Japan, Pakistan will have difficulty holding the Indians.

15:56 (IST)

Both the coaches have under-played the clash between India and Pakistan saying it's just another match in the rivalry and that the focus is to win the Asian Champions Trophy.

15:52 (IST)

In the last match that India and Pakistan played, India won 5-1 in the 2016 Azlan Shah Tournament in April this year.

15:49 (IST)

India have scored 318 goals while conceding 384 against Pakistan. In the Asian Champions Trophy, India have played Pakistan 5 times - they have won once, drawn twice and lost twice.

15:46 (IST)

Today is the 166th match between both the nations. Pakistan are ahead on the head-to-head count. India have Won 53, Drew 30 and Lost 82.

15:45 (IST)

Both the teams are on the ground going through their various drills. Both have played two games each with India on four points from one win and a draw. Pakistan have 3 points from a win and suffered a defeat in their first match.

15:44 (IST)

Firstpost expert from Malaysia: Welcome to the Kuantan Hockey Stadium. The big game between India and Pakistan begins in around 15 minutes from now.
Preview: Pakistan's encounter against India is the showpiece match of the Asian Champions Trophy and will provide an exhibition of attacking sub-continental hockey.
Pakistan were missing from the Olympic Games line-up after failing to earn qualification through the Hockey World League. A loss in the final of the 2014 Asian Games in Incheon to India meant the automatic Asian qualification went to the Indians, who were the only Asian team featuring in the Olympic men's event in Rio de Janeiro.
India had won the inaugural Asian Champions Trophy in 2011 by defeating Pakistan in the final. Pakistan reversed the result in the title encounter the following year.
Pakistan retained the title by defeating Japan in the final in 2013, when India sent their under-21 team and finished fifth.
Pakistan hockey team coach Khawaja Junaid his team will be pitted against a side that had gained a lot of international experience in recent years.
"After the 2012 Olympic Games in London, where India finished last in the12-team event, the Indian team has worked on a five-year play," said Junaid.
"Since then, the Indians have played more than 200 matches and their international experience is a reason for climbing up the world rankings," he said.
The Pakistan coach was pleased at the way his boys had soaked in the pressure to prevail 1-0 over South Korea after suffering a shock 2-4 loss to hosts Malaysia.
Junaid implored his players to keep their emotions in check and stick to the game-plan.
"The players need to keep their emotions in check. It was our exuberance that squandered away the lead against Malaysia. We must also maintain the structure of our game," he added.
The Indian captain, PR Sreejesh had also implored his players to play it cool when they take on Pakistan.
Seeking to cool the nerves of his players, Sreejesh said the preliminary league fixture against Pakistan was just one of the matches.
Find latest and upcoming tech gadgets online on Tech2 Gadgets. Get technology news, gadgets reviews & ratings. Popular gadgets including laptop, tablet and mobile specifications, features, prices, comparison.
Updated Date: Oct 23, 2016 17:50:39 IST