India vs Pakistan Hockey Asian Champions Trophy 2016 final: Twitter hails 'perfect' Diwali gift as India beat Pakistan
Twitter exploded in praise for the Indian hockey team who became the champions of Asia after scoring 30 goals in the tournament and without losing a single game. The nation who rejoiced a victory over arch rival Pakistan, hailed the victory as the 'perfect Diwali gift.' Here are some of the best reactions from the Twitter
India's hockey team gifted the country on Diwali its second Asian Champions Trophy hockey tournament title after defeating arch foes Pakistan 3-2 in the final at the Wisma Belia Hockey Stadium in Kuantan on Sunday.
India's two second-half goals from Rupinder Pal Singh (18th minute) and Affan Yousuf (23rd) were cancelled out by Aleem Bilal (26th) and Ali Shan (38th) but Nikkin Thimmaiah (51st) scored the winner for the reigning Asian Games champions.
Amid the diplomatic feud between the two countries who are erstwhile hockey masters, the result of the match bore much more significance than the title.
And both the teams lived up to the expectations of the highly-anticipated clash. However, it was India who started the match brightly as Pakistan looked defensive at the beginning.
Twitter exploded in praise for the Indian hockey team who became the champions of Asia after scoring 30 goals in the tournament and without losing a single game. The nation who rejoiced a victory over arch rival Pakistan, hailed the victory as the 'perfect Diwali gift.' Here are some of the best reactions from the Twitter
Yesterday Moral of the story :
Maa ki Mamta Jeet aasan bana deti hai.
Today Moral of the story :#BaapBaapHotaHai#IndVsPak #NoMaukaMauka pic.twitter.com/MTFhRjJl24

— Virender Sehwag (@virendersehwag) October 30, 2016
CHAMPIONS!!! India beat Pak 3-2. Well done Team India #ACT2016

— Viren Rasquinha (@virenrasquinha) October 30, 2016
Congratulations Team India. Well done. 👏👍 #INDvPAK

— Rajyavardhan Rathore (@Ra_THORe) October 30, 2016
What a win by the Indian hockey team! @TheHockeyIndia #IndVsPak #AsianChampionsTrophy2016

— sachin tendulkar (@sachin_rt) October 30, 2016
Superb contest, great win for India! #ACTHockey #INDvPAK

— Cricketwallah (@cricketwallah) October 30, 2016
FT! India beat Pakistan to clinch the 4th Men's #ACT2016 trophy in a #INDvPAK Final that lived up to its billing!#IndiaKaGame pic.twitter.com/BrO5xShyfa

— Hockey India (@TheHockeyIndia) October 30, 2016
Superb Diwali gift by our Men's team @TheHockeyIndia to d nation by defeating Pakistan in the finals & winning Asian Champions Trophy title

— Rani Rampal (@imranirampal) October 30, 2016
India defeat Pakistan 3-2 once again
This time in the #asianchampionstrophy2016 in the #ACT2016 final #MensHockey

— Mohandas Menon (@mohanstatsman) October 30, 2016
Very good win for India. Well played under pressure,after Pakistan made it 2-2. Congrats @TheHockeyIndia and @OltmansOltmans diwali gift.

— Boria Majumdar (@BoriaMajumdar) October 30, 2016
We've got another CHAMPION this #दिवाली  - #TeamIndia @TheHockeyIndia wins #ACT2016 #INDvPAK ! Well played boys! pic.twitter.com/FP7dqDngmQ

— Lt. Anurag Thakur (@ianuragthakur) October 30, 2016
India in #ACT2016
-Jap 10-2
-S Korea 1-1
-Pak 3-2
-Chn 9-0
-Malaysia 2-1
Semi- bt Korea 5-4 (pen)
Final - bt Pak 3-2.
Unbeaten, 30 goals.

— jigar mehta (@jigsactin) October 30, 2016
Now this is a superb Diwali gift to the country..india beat Pakistan in hockey..#asianchampionstrophy2016 #India #happyDiwali #champions

— parthiv patel (@parthiv9) October 30, 2016
This is Super #Diwali gift 🎁 to the Nation by @TheHockeyIndia . Congratulations to @TheHockeyIndia for winning #asianchampionstrophy2016

— Paresh Rawal (@SirPareshRawal) October 30, 2016
A heartwarming Diwali gift from the Indian Hockey Team. Congratulations on being crowned Asian Champions. We are immensely proud of you!

— Gautam Gambhir (@GautamGambhir) October 30, 2016
Champions again! Celebrations begin as the Indian team are Asian champions. Congrats @TheHockeyIndia winning #ACT2016 #INDvPAK #Final

— Anjum Chopra (@chopraanjum) October 30, 2016
Congratulations @TheHockeyIndia , what a great Diwali gift to a billion people.
Great Victory.#IndVsPak pic.twitter.com/83620JQz5T

— Mohammad Kaif (@MohammadKaif) October 30, 2016
Congratulations to @TheHockeyIndia for winning #ACT2016 final against Pakistan!👏👏#IndiaKaGame #INDvPAK https://t.co/IsTEluIA3x

— Tottenham Hotspur (@Spurs_India) October 30, 2016
Bumper #Diwali gift from our #Hockey players, beat #Pakistan 3-2 to win the #ACT2016 title! Congratulations Team #India 🇮🇳💐🏆🎉🎆#INDvPAK https://t.co/YXq5WYtOAN

— Vijay Goel (@VijayGoelBJP) October 30, 2016
Congratulations Team India on winning the #Hockey Asian Champions Trophy by beating #Pakistan by 3-2 in the final. #ACT2016 #INDvPAK pic.twitter.com/uTRIUiqvrF

— Dept of Sports MYAS (@IndiaSports) October 30, 2016
All hail the QNET #ACT2016 champions - @TheHockeyIndia, who beat Pakistan 3-2 in a thrilling final! #INDvPAK pic.twitter.com/zmlcTZFQMh

— Star Sports (@StarSportsIndia) October 30, 2016
A gift from Indian Hockey team to nation. Congratulations Team India for winning Asian Champions trophy #ACT2016

— Lalu Prasad Yadav (@laluprasadrjd) October 30, 2016
Thank you Indian Hockey Team for this Diwali gift to the nation by winning the Asian Champions Trophy. Congratulations. #ACT2016 pic.twitter.com/KtpAzIy8ku

— Sarbananda Sonowal (@sarbanandsonwal) October 30, 2016
Sports
The Hisar-born player is currently part of the 25-member senior women's core probable group for the national camp in SAI, Bengaluru.
Sports
Odisha CM said Hockey India had recently approached the Odisha government to support them for the Men's Junior World Cup to be held in two months time.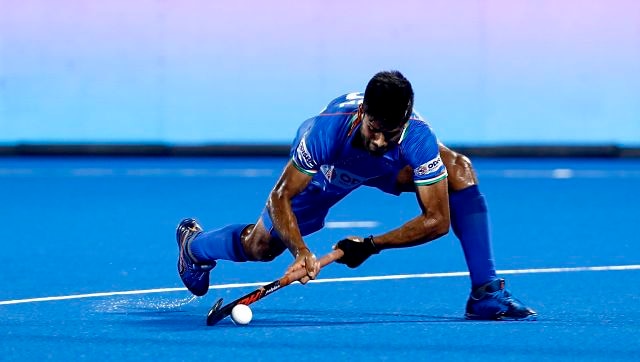 Sports
Varun further stated that skipper Manpreet Singh's one-on-one chat with him before the team left for Tokyo helped him a lot.