Having beaten New Zealand convincingly in Tests and ODIs, India are now ready to take on England in a five-Test series at home. India have not lost a Test at home since going down to England at Kolkata in 2012, and under Virat Kohli, they are looking good to get the better of Alastair Cook's men.
England, on the other hand, come to India following a shock defeat at the hands of Bangladesh in the second and final Test at Dhaka. But they have some quality players in Cook, Joe Root and Stuart Broad, who can put India in trouble.
Here's a comprehensive statistical preview of the five Test series between India and England.
For India, England have always been a competitive visitor as they have beaten India in 13 Tests at home, which is the second most among all other Test nations who have played in India. The record is held by West Indies, which beat India 14 times in Tests played in India so far.

India have lost only two Test series' in last sixteen-and-a-half years at home, one against Australia in 2004/05 and other against England in 2012/13. So, India will not be inclined to take England lightly in the upcoming series, starting with the Rajkot Test on Wednesday.

England's performance has been a roller-coaster of late – they have won five, lost four and drawn one game in their last 10 Tests. On the other hand, Virat Kohli's men are unbeaten in the same period. This track record along with recent form suggests that India start favourites.

Traditionally, most teams take time to adjust to the Indian conditions, but England have largely done well in the opening Test of a series in India, winning four out of 14 Tests so far. However, it should also be noted that England have not won the first Test of a series in India in their last five attempts.


Unlike other touring teams, England have played well in India over the years as their win/loss ratio – the second best among all Test nations who have played in India – shows. Therefore, it will be intriguing to see how Cook's men will approach the upcoming Rajkot Test.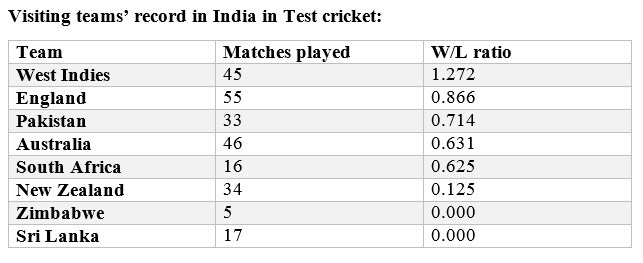 Cricket can be a captain's game at times, as skipper have to often lead by example. Both India and England have prolific leaders in Virat Kohli and Alastair Cook. However, Cook is certainly more experienced than Kohli and has won a series in India before. It will be interesting to see England's second most successful Test captain go up against a captain who has not lost a single Test at home yet.

When it comes to batting, India appear to have a far superior lineup compared to England. However, it will be imperative for both Indian openers to use of this chance to seal their positions in the absence of Lokesh Rahul and Shikhar Dhawan. On the other hand, the Indian middle-order and lower middle-order will look to continue the form they showed against New Zealand.
A major roadblock for England might be the inexperience of their batsmen. From the current England squad, only two batsmen have played Test cricket in India – Alastair Cook and Joe Root. It will be important for these two to play to their potential as well as guide other inexperienced players like Haseeb Hameed, Gary Balance and Jos Buttler in order to challenge India. The key here will be to tackle Indian spinners.

While England bowlers are also relatively inexperienced, their Indian counterparts, especially the spinners, have a enviable record at home. England will hope that James Anderson will be fit to play the second Test in order to get some experience and depth in their lineup.  It will be interesting to see which side's bowlers will dominate the series – India or England.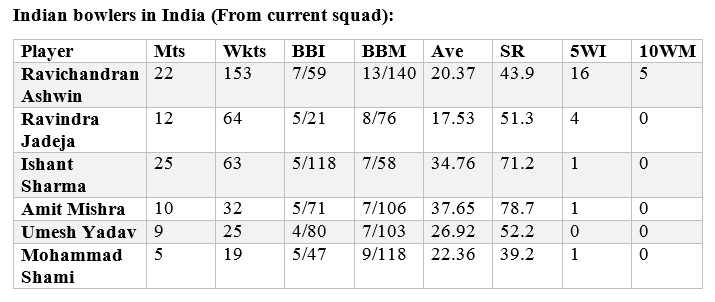 The first Test, to be held at Rajkot's Saurashtra Cricket Association Stadium, will be the first ever Test in the city. This will be followed by Tests at Visakhapatnam, Mohali, Mumbai, and Chennai.
India's home stadium record against England is strong at Punjab Cricket Association Stadium and MA Chidambaram Stadium, however at the Wankhede Stadium, both teams have won three Tests against each other with one ending in draw from seven contests so far.
This series will be first time that India and England will be up against each other at Dr YS Rajasekhara Reddy ACA-VCDA Cricket Stadium of Visakhapatnam, which will also be the first Test in the city.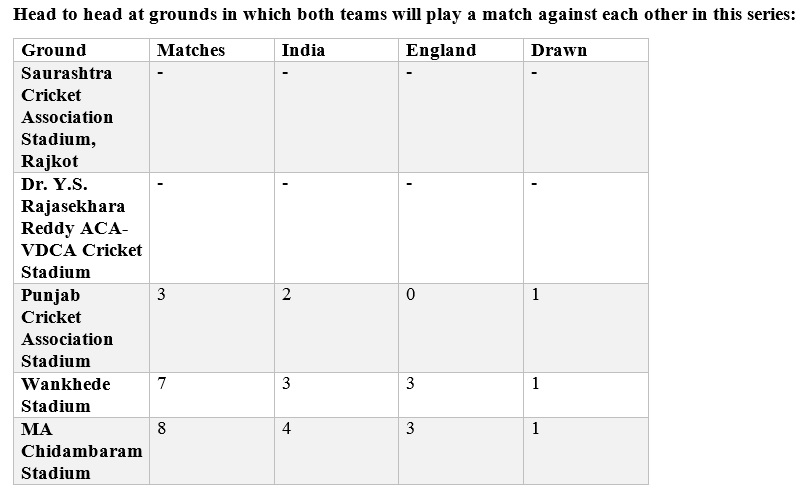 Here are some individual records in India-England Tests held in the India. 
Leading run-scorers:
For India: 1331 runs by Sunil Gavaskar in 22 Tests
For England:  866 runs by Alastair Cook in 8 Tests
Leading wicket-takers:
For India: 64 wickets by Bhagwath Chandrasekhar from 14 Tests
For England: 54 wickets by Derek Underwood from 16 Tests
Leading wicket-keepers:
For India: 35 dismissals by Syed Kirmani from 17 Tests
For England: 27 dismissals by Alan Knott from 10 Tests
Leading fielders:
For India: 21 catches by Sunil Gavaskar from 22 Tests
For England: 15 catches by Keith Fletcher from 14 Tests
Highest total:
For India: 591 at Mumbai in 1993
For England: 652/7d at Chennai in 1985
Lowest total:
For India: 83 at Chennai in 1977
For England: 102 at Mumbai in 1981
Highest individual score:
For India: 224 by Vinod Kambli at Mumbai in 1993
For England: 207 by Mike Gatting at Chennai in 1985
Best bowling in an innings:
For India: 8/55 by Vinoo Mankad at Chennai in 1952
For England: 7/46 by John Lever at Delhi in 1976
Best bowling in a match:
For India: 12/108 by Vinoo Mankand at Chennai in 1952
For England: 13/106 by Ian Botham at Mumbai in 1980
Updated Date: Nov 08, 2016 17:58 PM