India vs England, 4th Test, Day 5, Highlights: Hosts win series 3-0
LIVE NEWS and UPDATES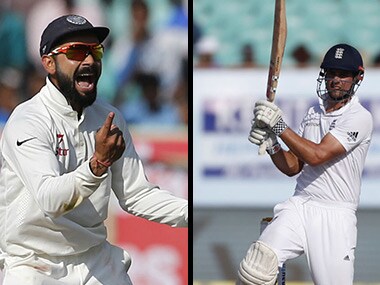 10:55 (IST)

You have to admit Mumbai put out an excellent track for the test

— Harsha Bhogle (@bhogleharsha) December 12, 2016

10:52 (IST)

Watch our cricket expert Ayaz Memon review the fourth Test.

10:50 (IST)

"We enjoy defending balls". Telling line from @imVkohli about how crucial defence is to batsmanship.

— Harsha Bhogle (@bhogleharsha) December 12, 2016

10:47 (IST)

Most consecutive Test series wins for India:
5 2008-2010, 2015-2016*
4 1993-1994
3 1971-1972, 2000-2001, 2007#IndvsEng

— Bharath Seervi (@SeerviBharath) December 12, 2016

10:47 (IST)

Virat Kohli: Its a very special feeling to win the series. I was having a chat with Ashwin about the last series in that victory lap. This is the match where we lost the momentum to England four years ago and lost the series mentally. But, the way the crowd came out and supported us gave us a lot of energy to push through the tough moments.The guys were mentally ready to fight it out. The game was wrapped as soon as we got 230 (231) run lead. We haven't played one on Indian pitches that have had too much of bounce. Guys adjusted really well. Specially Vijay, he thrives on his Test game. Jayant, very very special. Maiden hundred comes at the home of cricket in India in front of a big crowd. I was pretty focused on this game, I knew we were 2-0 up and we had the chance to make it 3-0 and go to Chennai and really express ourselves freely. The plan was to get stuck. I knew I had to score many more, wanted to level scores first. An hour or two can change the complexion of the game. This is probably the sweetest win in the last 14-15 months You have to apply yourself. It was a test of patience. The advantage was that England had a spinner less. If you don't bowl your fast bowlers consistently, even they lose confidence. Ashwin obviously is a champion bowler, we are running out of words to describe him. Where we stand today, 50 to 60 percent is because of Ashwin. Such an intelligent bowler. He's a real boost for Team India. Its about the application. The defence is very important in India. If you dont have a good defence. They are not sure of taking it long. Thats been one difference.

10:41 (IST)

Cook: Yeah, I thought 400 was a pretty good score on this wicket. We were 230/2 (at one stage), there was an opportunity to get 450. They were 300/6, obviously Virat played an extraordinary innings. Yadav also played well, we gave him a couple of chances as well. Full credit to India they have played extremely well in the series. We really wanted to see what four seamers will look like. Our best two spinners have been Mo and Rash. It was a mistake to go for the fourth seamer. Would've, could've is simply not good enough. Spinners got tired. Even Ashwin gets tired when he bowls a lot of overs. We scored almost 600 runs on this wicket. To me we batted better than we have done in the previous two games. We lost because of the missed chances. Incredible form. He's (Virat) having a dream series as a captain and player. Clearly one of the best batsman of our generation.

10:29 (IST)

Watch cricket expert Ayaz Memon discuss the events of the final day of the fourth Test, with the Indians winning by an innings and 36 runs, and clinching the series 3-0.

10:27 (IST)

Virat Kohli declared as Man of the match for his 235 in first innings

10:22 (IST)

Ravichandran Ashwin is the Jana Bankable player of the match.

10:19 (IST)

VIjay: Its a great feeling to contribute to the winning cause. To do what we did today is unbelievable. I'm looking forward to the home game (at Chennai), both of us, and we'll look to entertain the home crowd.

10:18 (IST)

Ashwin: There's more to come in the first place. We lost to England mentally the last time they were here. I thought there wasn't much bounce in any of these wickets before. I think it is a bat-friendly first innings, and the red soil comes loose in the second. Vijay and Kohli played really well.

10:16 (IST)

Anil Kumble: Very special because in the four Test matches we have played we lost three tosses, and we had to chase whatever they setup. Too get 600 that too with seven down was exceptional. Ashwin is constantly working on variations. He's never satisfied at any point. He sets batsmen up. On this surface, he knew that his carrom ball was something that he could come up with, and that showed in Bairstow's wicket. You cannot compare the different eras, but this team is the No 1 team in the world, and has the ability to become one of the greatest of all time. We'll just see what comes our way, and go 4-0. Going to Chennai, we'll see how the pitch is, and hopefully take a call.

10:14 (IST)

What a magnificent performance by the Indian team. They were put under pressure after England posted 400 in the first innings. But Murali Vijay, Virat Kohli and Jayant Yadav ensured that India gains a sizable lead of 231 runs to comeback in the match. They have regained the Anthony De Mello trophy winning the series 3-0. As usual, it was Ravichandran Ashwin who lead from the front with ball.

10:10 (IST)

It is very rare that a team scores 400 and loses by an innings; especially in India where 1st innings runs are gold!

— Harsha Bhogle (@bhogleharsha) December 12, 2016

10:09 (IST)

England (in 1930 & 2016) & Sri Lanka (2011) are the only sides to lose a Test by an innings after making 400 or more batting first!#IndvEng

— Mohandas Menon (@mohanstatsman) December 12, 2016

10:07 (IST)

Indian team goes on a victory lap, appreciating the fans and the support they got throughout the Test. Wankhede crowd too acknowledges the team.

10:06 (IST)

India's 8th Test win under Virat Kohli in 2016- most any Indian captain has won in a calendar year. MS Dhoni had won 7 in 2010.#IndvsEng

— Rajneesh Gupta (@rgcricket) December 12, 2016

10:04 (IST)

OUT! Anderson chips it straight to midwicket. Ashwin has took all the four wickets today as India win the fourth Test and the series by an innings and 36 runs. Anderson c U Yadav b Ashwin 2(6)

10:02 (IST)

Most times 25+ wkts in a Test series
4 - Kapil Dev and now R Ashwin!
3 - Bishan Singh Bedi#IndvEng

— Mohandas Menon (@mohanstatsman) December 12, 2016

09:55 (IST)

OUT! England are not helping thier cause at all. Rashid flicks it straight to KL Rahul at deep midwicket. India needs 1 wicket to win as Ashwin picks up his second five wicket haul in the match. Adil Rashid c Rahul b Ashwin 2(7)

09:52 (IST)

After 53 overs,England 191/8 ( Jos Buttler 5 , Adil Rashid 1)

Strange. Buttler takes a single off the last ball to put Rashid on strike. England's No 10 hits it straight, Jadeja manages to get his hand to it but fails to catch it. He takes a single.

09:50 (IST)

After 52 overs,England 189/8 ( Jos Buttler 4 , Adil Rashid 0)

Buttler charges down the ground against Ashwin and almost gets stumped. But he manages to get his bat in the way and hits it with one hand to fine leg. Ashwin castles Woakes to scalp his 10th wicket of the match.

09:48 (IST)

OUT! Ashwin goes through Woakes' defence. India are in a hurry to wrap this up and England seem to do nothing about it. Woakes departs for a duck. Woakes b Ashwin 0(6)

09:44 (IST)

Okay then, Viru has already made his plans. What are your plans for the afternoon?

Just booked flight tickets for 3pm .
1 hour for post match show,1hour to reach airport,45minutes before departure.This will end before lunch

— Virender Sehwag (@virendersehwag) December 12, 2016

09:42 (IST)

OUT! Ashwin strikes early and gets rid of Jonny Bairstow. Bairstow reviews after a discussion with Buttler. He played the wrong line and missed it completely. Three reds and he has to go! The only question was that will it miss the off stump? But no it was clearly hitting it. Bairstow lbw b Ashwin 51(107)

09:38 (IST)

What can we expect on Day 5? Watch our cricket Ayaz Memon preview the last day of fourth Test.

09:31 (IST)

Jonny Bairstow and Jos Buttler are at the centre for Day 5. Ravichandran Ashwin to complete his unfinished over.

09:27 (IST)

India vs England, 4th Test: Visitors should look to play positive cricket and delay hosts' win - Firstpost}

England need to understand that surviving for a day against spin is not feasible. They should approach the innings positively and mix aggression with caution.

https://www.firstpost.com

09:22 (IST)

Hello and welcome to the live coverage of Day 5 of the fourth Test. England still trail by 49 runs, with four wickets in hand. Can Jonny Bairstow and Jos Buttler turn things around or India will bundle the visitors out in first session itself? Stay updated with our live coverage.

17:24 (IST)

Thats it from us today! Do join us tomorrow for Day 5 of fourth Test.

16:55 (IST)

Watch our cricket expert Ayaz Memon review the day's play with our correspondent Kaushal Shukla live from Wankhede.

16:53 (IST)

Jayant Yadav: Things are going good, but there's certainly room for improvement (in all departments). I had a good mindset with Virat, he made everything pretty comfortable. When they were bowling short balls he (Virat) told me to pull. I think if you can contribute with the bat, you should work on it I am working with it with Sanajay (Bangar) bhai and in Haryana. I pride my wicket. (On batting with Virat Kohli) Watching the batting is completely different, it simplifies many things for you as you feel his energy. More than anything, its situational advise (by Ashwin while bowling). Brilliant atmospthere to play cricket in (at Wankhede).

16:48 (IST)

Stumps, Day 4: India firmly on top. Joe Root played a sublime innings of 77 before Jayant Yadav trapped him LBW. And despite scoring at a brisk rate, England are 49 runs behind. Jos Buttler will be the next man in tomorrow. Stay tuned as our cricket expert Ayaz Memon review the day's play with our correspodent Jigar Mehta.

16:32 (IST)

OUT! Ashwin gets rid of Ball in the last over. The batsman lunges forward to defend, but nicks it Parthiv in the process. Bairstow asks Ball whether he wants to review, he refuses. J Ball c Parthiv Patel b Ashwin 2(18)

16:30 (IST)

After 47 overs,England 182/5 ( Jonny Bairstow (W) 50 , Jake Ball 2)

Kohli asks Jadeja to bowl it ahead. Ball is not picking it all. Kohli urging the fielder to throw the ball fast. So that India can sneak in one more over. Ball retains the strike again. Ashwin to bowl the last over before stumps

16:27 (IST)

After 46 overs,England 181/5 ( Jonny Bairstow (W) 50 , Jake Ball 1)

5 fielders around Ball against Ashwin. He defends it towards covers to retain the strike — India wouldn't mind that at all!

16:23 (IST)

After 45 overs,England 180/5 ( Jonny Bairstow (W) 50 , Jake Ball 0)

Jake Ball is the new man in. Bairstow plays out Jadeja.

16:22 (IST)

After 44 overs,England 180/5 ( Jonny Bairstow (W) 50 , Jake Ball 0)

A good tight over from Ashwin which saw the departure of Ben Stokes.

16:19 (IST)

OUT! Bairstow goes for the reverse sweep, finds the inside edge which hits his boot and Vijay catches it on the rebound. Outstanding decision by Oxenford after a couple of howlers. The decision was taken upstairs and replays suggested it came off his bat and Stokes started walking. Ashwin strikes! Stokes c Vijay b Ashwin 18(30)

16:17 (IST)

FIFTY! Bairstow flicks it midwicket to get to his 14th half century. He struggled early on, but he's looked confident after settling down.

16:15 (IST)

After 42 overs,England 176/4 ( Jonny Bairstow (W) 46 , Ben Stokes 18)

Jadeja angles it in, Bairstow works it around to pick a couple. He's 2 short off his fifty. A huge turn, Bairstow leaves it alone. Bairstow defends it towards midwicket. Kohli asks him to got for it. He doesn't even want to allow easy singles. Slightly short, Bairstow flicks it to midwicket for a single.

16:11 (IST)

After 41 overs,England 174/4 ( Jonny Bairstow (W) 45 , Ben Stokes 17)

Plenty of turn and bounce — the first ball of this over, pitched outside off, carries all the way to Kohli in the slips. Meanwhile, Bairstow enters the 40s after a series of appeals and reviews.

16:11 (IST)

After 41 overs,England 174/4 ( Jonny Bairstow (W) 45 , Ben Stokes 17)

Pitched on off stump line, Stokes defends it. The southpaw cuts it the vacant cover-point region for an easy single. Bairstow glances to deep square leg to rotate strike. Stokes looks to drive, misses it completely. Is that a drop by Parthiv? No, not at all, he hit the ground, huge gap between bat and ball.

16:04 (IST)

After 40 overs,England 167/4 ( Jonny Bairstow (W) 40 , Ben Stokes 16)

Umpire Bruce Oxenford raises his finger after Ashwin and the close-in fielders appeal for a catch at FSL. Bairstow goes for the DRS straightaway, accompanied with the shake of head, and it turns out to be a howler of a decision — the bat is absolutely nowhere in play, and the ball raps on his front pad before lobbing towards short-leg.
Report, Day 4: Centuries by Virat Kohli and Jayant Yadav backed up by some excellent bowling put India in a strong position to win the fourth Test against England in Mumbai early on Day 5.  England were reduced to 182/6 in their second innings and still trailing by 49 runs, heading into the fifth day's play at Wankhede Stadium.
With Kohli's double ton and in-form rookie Jayant Yadav scoring 104 at the other end, the duo put together a partnership of 241 runs to help the hosts amass a formidable first innings score of 631 runs.
England skipper Alastair Cook (18), debutant and first innings centurion Keaton Jennings (0), Moeen Ali (0), Joe Root (77), Ben Stokes (18) and Jake Ball (2) were dismissed -- five by Indian spinners. Jonny Bairstow was unbeaten on 50.
England had posted a fighting 400 in their first innings.
India pacer Bhuvneshwar Kumar (1/11) dismissed Jennings in the very first over of England's second innings to start their slide.
Their grief deepened when left-arm spinner Ravindra Jadeja (2/58) accounted for both Cook and Moeen Ali to leave India in a very strong position.
Jayant Yadav (1/39) took the prized scalp of Root while star off-spinner Ravichandran Ashwin (2/49) inflicted further damage to push England into the corner.
Earlier in the day, Kohli and Yadav displayed some excellent strokeplay to put the England bowlers under pressure.
Kohli had scored 200 against the West Indies and 211 against New Zealand earlier this year. He became the fifth man ever to post three double centuries in a year, joining Austraian legends Donald Bradman (1930), Ricky Ponting (2003), Michael Clarke (2012) and New Zealand great Brendon McCullum (2014).
He also topped 2,500 runs across all formats in a year -- in 2016 -- only the 11th player to do so, and the first man to score a double century in three consecutive series.
Kohli continued his supreme form from where had he left on Saturday, leading India's charge to swell the lead. He and Yadav resumed action at 451/7, a lead of 51 runs, and continued to dominate.
With inputs from IANS
Updated Date: Dec 12, 2016 11:02:25 IST