India vs England, 3rd Test: Virat Kohli happy over talk on 'unfair tracks' giving way to 'good wickets'
India captain Virat Kohli on Tuesday expressed happiness over the changing nature of questions posed to them after victories, with the phrase 'unfair tracks' giving way to 'good wickets'.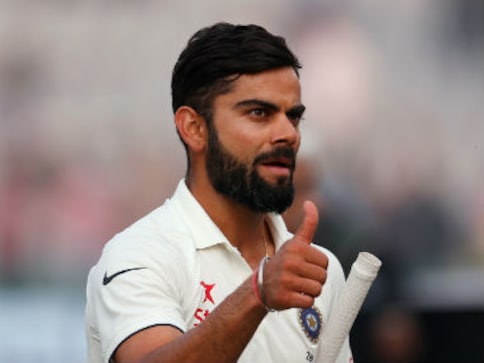 Mohali: India captain Virat Kohli on Tuesday expressed happiness over the changing nature of questions posed to them after victories, with the phrase "unfair tracks" giving way to "good wickets".
Kohli and the team management copped a lot of flak during the South Africa series at home where some of the pitches were square turners.
However the wins against England at Visakhapatnam and Mohali came on tracks where there weren't much help for the spinners.
"It's exactly been 12 months that I was asked a question about we playing on unfair pitches and the question has turned itself. So we don't need to say much about the pitches," said Kohli, making it clear that he has not forgot what all was said back then.
"As I said, we are focused on good cricket and we are a team that looks to play good cricket and win sessions. It was a perfectly good wicket for cricket. Even for pace bowlers as well as our guys really rushed in and put in an effort and got results. It was a wicket where you will get results that you want if you persist long enough .
"Even in Kolkata, we showed that we don't want dry square turners, we have enough skill to play good cricket and win against any team in the world. That's the belief we have created in the change room. That can only happen when you are not bothered what's happening outside that door and focus on your own skills," the captain said with a lot of conviction.
There was a point in time when Indian teams would allow the opposition tail to wag but the skipper is happy that now they have turned the tables on the opposition with the kind of effort they are putting in.
"As a side, when you get five or six wickets, you think that the game is going to get over early and the batsmen go into that zone. Suddenly then you have to field for 60-70 more overs and you are confused on whether to focus on batting or the fielding. We have experienced that in the past where other teams have done that with us and we haven't found a way to stop it.
"It's great to see our guys stepping up, actually making it count. Every game, on an average we are scoring 80-85 runs (lower down the order). This match we have scored 200-plus, so amazing to see guys working hard on their batting, understanding that those 70-80 runs put a dent on opposition's mindset. And when they come out to play, they know that they gave away 60-70 runs too many," said Kohli.
He feels that someone like Ravichandran Ashwin takes confidence into his bowling from his batting.
"When they come out with that kind of confidence, with the ball also it helps them. You see Ashwin, he is the No 1 all rounder in world. He scores runs and comes out with the ball and is more confident. Credit to them for working hard in executing the plans."
The skipper said that Mohammed Shami has become stronger and can sustain pace for a longer time since his comeback from injury.
"Yes, he is stronger and he had to train that extra bit because it was a knee injury and obviously he couldn't do anything with it. He came back, trained really hard and is rushing in much more now. He is able to sustain that energy for good four to five overs. He is bowling long spells. He has become more aware of what he wants to do and what he has to do to be a good Test bowler."
On a lighter note the skipper said that with the match finishing on fourth day, the team can unwind without tension at Yuvraj Singh's reception happening at a city hotel in Chandigarh.
"There's a gathering at the hotel. The whole team is invited. We will all go there and it is a nice coincidence (that we have won). We have a chance to celebrate in the evening. So I think the guys will be relaxed attending the function and chill for a bit longer," he concluded.
First Cricket News
Considered one of the modern greats of the game, Root is yet to play in the IPL after going unsold in the 2018 auction.
First Cricket News
Australia may have beaten England 4-0 in the Ashes series but captain Pat Cummins believes they need to test themselves in all conditions and against all countries.
First Cricket News
Virat Kohli signs off as India's most successful Test captain of all time with 40 wins from 68 matches, having taken over the role from MS Dhoni in the 2014-15 tour of Australia