India vs England, 3rd Test, Day 4, Highlights: Hosts win by 8 wickets
LIVE NEWS and UPDATES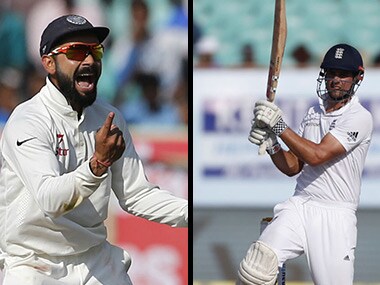 16:09 (IST)

Watch our cricket expert Ayaz Memon review India's emphatic win at Mohali in firstpost Gameplan.

15:58 (IST)

Jadeja: I'm very happy with my performance, especially with the bat. When I went out there, I was looking to play 40-50 balls, I knkew I can convert. Knew I can easily score runs later on. I was just thinking I am not going to take chance against off spinners. Wanted to take chance against leg-spinner. Unfortunately the ball came slow and didn't hit the middle (talking about his dismissal). Next time I reach 90, I'll be careful and play normal shots. There was nothing for spinners.Had a chat with Virat about trying to bowl 5 maiden overs. I was just looking to bowl in the right area and not to give them boundaries. Luckily I got Ben Stokes in the first innings and Joe Root in the second.

15:54 (IST)

Kohli: None of the pitches have been turners. We have just played very good cricket. Amazing to see the lower-order contribute. Professional job by Parthiv to win the game in the end. I was surprised by the cheer after the toss, there was five more days to play after it. We had to show that there is more to cricket than just winning the toss. A proud achievement by the lower order. Guys who are capable with the bat stand up (referring to Ashwin and Jadeja). Ashwin is a champion. Seamers have been standing out in every game. We pushed them on the back foot, and it was pleasing to see them bounce them out. These guys are really motivated to play. Shami also feels the injury was a blessing in disguise for him, and he has been working harder. You have to give him confidence to express himself, and he will continue to be the match winner. Really happy with the way the guys stood up. felt bad for Karun the debutant who got run out, looking forward to the next game. We'll enjoy the break right now.

15:49 (IST)

Cook: It was a good toss to win. To get bowled out for 283. It was frustrating, and we need to improve on that. Stokes is a brilliant player, and is one of the all-rounders who balances the team out. He's one of those guys who's going to get better and better. It's been a frustrating four days, and credit to India. But a few days of now, and we can refresh ourselves and go our separate ways. Unfortunately, Hameed has to go home. It's pretty bad. Real testament to his courage (talking about his unbeaten fifty in the second innings).

15:46 (IST)

Ravindra Jadeja is adjudged as man of the match.

15:42 (IST)

Ravichandran Ashwin: "Yeah a little bit of lower abdominal strain. It was very bad on the second day but it has got better. We were in a bit of bother on Day two but we back backs itself to put on 125 runs every time. We put on a stellar show. We got the wickets because of the pressure. Special mention needs to go to Jaddu. The wicket wasn't doing much, he kept bowling those boring areas. I enjoyed both Cook and Moeen's wickets. I knew he would step out, so I slowed it down. Parthiv plays like the (same) in first-class cricket too."

15:40 (IST)

Parthiv Patel: Absolutely, I was very nervous before the start of the Test. But,the kind of welcome I got from the dressing room, it never felt I was joining them after eight years. That's the beauty of this team. Playing aggressively suits my game. The intent was very important, and I backed myself. (When asked about keeping wickets to Ashwin) Ashwin was brilliant. The way he (Ashwin) varied his pace was brilliant. He deceived even me."

15:37 (IST)

India have been better than England in all the departments. There were a couple of changes in the side after they lost KL Rahul and Wriddhiman Saha early on. While, Parthiv Patel made the most of the opportunities, Karun Nair was unlucky to be run out for 4. Lower order contributions from Ashwin, Jadeja and Jayant bailed India out of the tough position. The same trio continued to haunt the English batsmen in their second innings. They have a 2-0 lead. Stay tuned for our cricket expert Ayaz Memon's review of the third Test.

15:27 (IST)

FOUR! Parthiv goes inside out and drives Batty over extra over for a boundary. India win by 8 wickets and lead the 5 match Test series 2-0.

15:25 (IST)

After 19 overs,India 100/2 ( Parthiv Patel (W) 63 , Virat Kohli (C) 6)

Patel dances down the ground and slams Rashid over the mid-wicket fielder for a four. India one hit away from a win. Parthiv drives to cover and sets off instantly for a single. Kohli defends towards off side and collects a couple to bring up India's 100.
Day 3, report: India's premier off-spinner Ravichandran Ashwin led from the front, claiming three wickets to reduce England to 78/4 at stumps on day three of the third Test at the Punjab Cricket Association (PCA) I.S. Bindra Stadium here on Monday.
After conceding a 134-run lead in the first innings, England lost their top order -- skipper Alastair Cook (12), Moeen Ali (5), Jonny Bairstow (15) and Ben Stokes (5) -- in quick succession, to still trail by 56 runs.
Joe Root, who opened the innings in place of injured Haseeb Hameed, was unbeaten on 36 along with night-watchman Gareth Batty (0) when the umpires removed the bails for the night.
Coming out to bat in the post-tea session after bundling India out for 417 in their first innings, England found the going tough on a pitch which gradually came to the Indian spinners' assistance.
Trailing by 134 runs, Cook with make-shift opener Root batted cautiously for the initial few overs but the southpaw's 49-ball stay was soon ended by Ashwin, who managed to break through his defence.
Cook's wicket brought in Moeen Ali, whose struggle with the willow continued as Ashwin bamboozled him with a flighted delivery -- and fellow offie Jayant Yadav pouched him with ease at mid-on.
Struggling at 39/2, England promoted Jonny Bairstow to No.4 for the first time in his career but the stumper too departed after forging a brief 31-run third-wicket stand with Root.
Bairstow's wicket belonged more to wicket-keeper Parthiv Patel, who took a brilliant low catch off Jayant, when the English right-hander went back into the crease only to end up nicking it behind.
Ashwin then returned to take the wicket of danger-man Ben Stokes, who found himself squared up by a delivery pitched on the off and middle stump.
The controversial Decision Review System (DRS) came to India's rescue by ruling Stokes out after the on-field umpire was not convinced by Ashwin's call for a leg-before as the visitors found themselves tottering at 78/4, still 56 runs behind the host's first innings score.
England's woes seemed to get worsened with opener Haseeb Hameed still nursing a hand injury and it will be interesting to see whether the 19-year-old right-hander will come out to bat on the penultimate day.
Earlier, riding on late-order heroics of all-rounders Ravindra Jadeja (90), Ashwin (72) and Jayant Yadav (55), India managed to cross the psychological barrier of 400 and added 17 more runs in their first essay.
Jadeja produced his career-best Test score while Jayant notched his maiden Test half century to pull India to a sizeable lead.
Resuming the second session at 354/7, Jadeja and Jayant continued their good touch until the Saurashtra batsman was dismissed by leg-spinner Adil Rashid in the 124th over. His 170-ball knock was laced with 10 boundaries and one six.
The fall of Jadeja's wicket brought in Umesh Yadav (12), who along with Jayant forged a crucial 33-run partnership for the ninth wicket before Jayant was sent back to the pavilion by pacer Ben Strokes (5/73).
Umesh and Mohammad Shami (1 not out) managed to add only three runs to the total before India were packed off to the pavilion.
Earlier, India scored 84 runs from 30 overs in the morning session of the play losing the lone wicket of Ashwin (72).
For England, pacer Ben Strokes scalped five wickets for 73 to become their most successful bowler followed by leggie Adil Rashid (4/118).
Updated Date: Nov 22, 2017 11:06:28 IST
Find latest and upcoming tech gadgets online on Tech2 Gadgets. Get technology news, gadgets reviews & ratings. Popular gadgets including laptop, tablet and mobile specifications, features, prices, comparison.