India vs England, 3rd Test Day 2, Highlights: Ind 271/6 at stumps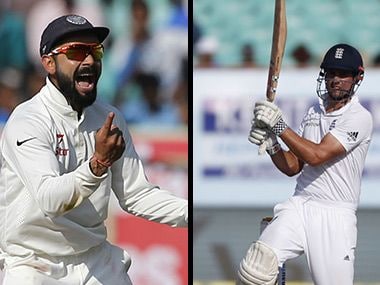 17:23 (IST)

That's it from me today. Do join us tomorrow for Day 3 of the third Test.

17:15 (IST)

Our cricket expert Ayaz Memon reviews the Day 2 of the third Test.

17:10 (IST)

Adil Rashid: "We bowled exceptionally well to restrict them below 270. It was a good effort with the ball and in the field. It was a very important final session.(If) You stick to your plans long enough, you get wickets. The pitch seems good enough. I feel okay but at times you don't feel as good; that is when you have to dig deep. It was nice to have that variation on a good spot against Rahane. We have still got four wickets to get. (When asked about batting) Not looking that far ahead."

17:07 (IST)

If India can see off the new ball tomorrow morning and get a substantial lead, that could just be the series. Such a good test so far.

— Harsha Bhogle (@bhogleharsha) November 27, 2016

17:07 (IST)

From 148/2 to 204/6 to 271/6, that session was Test cricket poetry. Brilliant stuff.#INDvENG

— Vinayakk (@vinayakkm) November 27, 2016

17:06 (IST)

India's scoring rate before Ashwin & Jadeja partnership: 204 (377) @ 3.16 RPO

Ashwin & Jadeja Partnership: 67 (117) @ 3.43 RPO

— Clive (@vanillawallah) November 27, 2016

17:04 (IST)

Stumps, Day 2: After 84 overs,India 271/6 ( Ravichandran Ashwin 57 , Ravindra Jadeja 31) The session started brilliantly for England as they took wicket after wicket. But, how often has this been the scenario? From a spot of bother Ashwin has bailed out India from a tough position yet another time. Despite struggling earlier in the session while rotating the strike, Ashwin along with Jadeja, who played the second fiddle, has took India to a secured position. India are only 12 runs behind with four wickets in hand.

16:57 (IST)

In this form, Ashwin passes the true test for an all-rounder: he can be picked either for batting or bowling.

— Sambit Bal (@sambitbal) November 27, 2016

16:56 (IST)

Most 50+ scores for Ind this year:
7 Pujara (13 inns)
5 ASHWIN (12)
5 Kohli (15)
4 Rahane (15)
3 Saha (11), Rohit (7), Vijay (12)#INDvENG

— Bharath Seervi (@SeerviBharath) November 27, 2016

16:49 (IST)

FIFTY! Ashwin drives through covers to bring up the miletstone. It's his 9th half century. A magnificent innings, one which might decide the fate of the match. His consistency with the bat at crucial junctures has helped India throughout the year and he continues his brilliant batting.

16:44 (IST)

First 50 stand between the spin twins (Ashwin & Jadeja) with the bat!#IndvEng

— Mohandas Menon (@mohanstatsman) November 27, 2016

16:44 (IST)

Jadeja punches Woakes on the backfoot to covers for a boundary which brings up the fifty-run partnership between him and Ashwin.

16:42 (IST)

England have opted for the second new ball straightaway. Woakes to start off with it.

16:39 (IST)

After 80 overs,India 250/6 ( Ravichandran Ashwin 45 , Ravindra Jadeja 22)

Gareth Batty, who has been heavily underbowled, comes back into the attack. He has only bowled 3 overs so far. Jadeja finally breaks free and lofts Rashid over mid-on. MASSIVE! Jadeja slams the leggie over the bowler's head for a six. Kohli stands and applauds the southpaw from the dressing room. Jeez, Jadeja almost hits the next ball straight to Rashid, but it falls just short. Ashwin guides Batty's delivery to third man for a boundary. The new ball is available now and reviews have been reset. India's trail has come down to 33 runs.

16:23 (IST)

After 75 overs,India 228/6 ( Ravichandran Ashwin 39 , Ravindra Jadeja 6)

England introduce James Anderson, to try and finish off things. The pacer starts off with a maiden to Jadeja. Marvellous shot! Ashwin drives it against the turn to covers for a four. Jadeja has been the ideal second fiddle so far, he's been patient and looking to stay at the crease with Ashwin. Anderson has started reversing the ball, but the Indian batsmen have been untroubled so far.

16:16 (IST)

Mr. Consistent!

R Ashwin 3rd Indian to 500+ runs and also claim 50+ wkts in same calendar year
Vinoo Mankad in 1952 & Kapil Dev in 1979 and 1983#IndvEng

— Mohandas Menon (@mohanstatsman) November 27, 2016

16:03 (IST)

After 70 overs,India 220/6 ( Ravichandran Ashwin 33 , Ravindra Jadeja 5)

Ashwin is in some discomfort. He is limping in between the wickets and had to dive to make his ground in the 69th over. But he's back on and declines help from the physio. Despite the pain, he's batting at a brisk rate and is already batting on 33 off just 44 balls.

15:55 (IST)

The ball has gone out of shape and has been replaced in the 68th over.

15:49 (IST)

Time for drinks. England have dominated the hour after tea. India have no one but themselves to blame for the flurry of wickets. Concentration lapse cost Pujara his wicket, while the lean patch in the series continued for Rahane. Karun Nair lost his wicket due to mix up with Kohli, who fell to Stokes.

15:40 (IST)

After 65 overs,India 204/6 ( Ravichandran Ashwin 22 , Ravindra Jadeja 0)

England's brilliant session continues, as Stokes removes Indian skipper for 62. All of a sudden India are struggling at 204/6.

15:35 (IST)

OUT! Big wicket. Kohli falls for 62, he nicks it to Bairstow off Stokes. The all rounder celebrates in a cheeky way, by keeping his palm on his mouth (remember he was reprimanded on Day 1). Nonetheless, a massive breakthrough. Hosts are in a spot of bother. Kohli c Bairstow b Stokes 62(127)

15:33 (IST)

200 comes up for India after a Stokes' delivery goes for four byes. Bairstow dived to save it, but it was out of the glovesman's reach.

15:14 (IST)

After 60 overs,India 180/5 ( Virat Kohli (C) 49 , Ravichandran Ashwin 15)

Ashwin gets off to a cracking start with a couple of boundaries towards the off-side, before Woakes gets one to jag back into the batsman's pad, and appeals for an lbw to keep the batsman in check. Meanwhile, Kohli keeps getting the odd boundary to propel himself towards his 14th Test fifty.

15:04 (IST)

Coach Anil Kumble probably would have shed a nostalgic tear at the sight of Nair's dismissal.

The last Indian run-out on Test debut before Karun Nair - Anil Kumble at Manchester in 1990#IndvEng

— Mohandas Menon (@mohanstatsman) November 27, 2016

15:02 (IST)

Manjrekar: "Maybe, Karun was backing up too much."

Hussain, in shock: "SANJAY, that's your captain, there is no way Karun is not running."

— Vinayakk (@vinayakkm) November 27, 2016

15:01 (IST)

After 56 overs,India 157/5 ( Virat Kohli (C) 40 , Ravichandran Ashwin 1)

It turns out to be a nightmarish session for the hosts after tea, with Pujara getting caught off a fine catch at deep midwicket following a loss of concentration. Rahane continues his horror form with the bat by getting trapped lbw. Karun Nair shows brief promise with a cracking cover drive on Test debut, before getting run-out thanks to Buttler's brilliance at backward point. England are right on top at the moment. It all depends on Kohli and Ashwin at the moment.

14:52 (IST)

OUT! And its a collapse for the Indians after tea, with Karun Nair getting run-out at the non-striker's end thanks to a brilliant collect-and-throw by Jos Buttler at backward point. What an unfortunate manner for his Test career to start off, especially after he got off the mark with a luscious cover drive.

Karun Nair run-out (Jos Buttler) 4(4); India 156/5

14:50 (IST)

OUT! And Rahane continues to disappoint with the bat, getting trapped lbw by a well-planned googly from Rashid that traps him plumb lbw. Even though Marais Erasmus hardly takes time in raising his finger! Rahane desperately tries to review it, but it was too plumb for third umpire Dharmasena to save him. Flurry of wickets after tea for India.

Ajinkya Rahane lbw Adil Rashid 0(6); India 152/4

14:37 (IST)

OUT! Rashid strikes second ball after tea. Pujara looks to go over mid-wicket off Rashid, but Woakes catches it. The decision goes upstairs, but the soft decision was out. But replays clearly show that it was a clean catch. Pujara falls. Pujara c Woakes b Adil Rashid 51(104)

14:34 (IST)

Pujara and Kohli are back on the field for the last session. Rashid takes the ball.

14:17 (IST)

Tea, Day 2: A session which has belonged to India. Pujara and Kohli have put India in a commanding position. England did bowl in patches and created pressure. But both the batsmen kept their patience and played without taking any risks. India scored 88 runs in 29 overs with a run rate of 3.03. Can India consolidate or will England manage to get a breakthrough? Join us in a few minutes to find out.

14:08 (IST)

FIFTY! Pujara brings up the milestone with a single. His good run in the series continues. It's his 11th Test half-century.

14:02 (IST)

After 46 overs,India 127/2 ( Cheteshwar Pujara 45, Virat Kohli (C) 25)

Creating pressure by curbing runs almost works for England. Pujara looks for a cut off Stokes, but top edges it in the process. Luckily it goes over the slip cordon and races away for a boundary. Rashid's delivery keeps low, but Kohli manages to defend it. Tough chance, Pujara tickles and Bairstow dives to stop but doesn't manage to catch it. Very loose from Rashid, short and down the leg-side, Pujara pulls it behind square for a four. Gareth Batty comes into the attack for the first time. Kohli and Pujara bring up the 50-run stand in the 47th over.

13:59 (IST)

Pujara and Kohli bring up their 50-run partnership off 121 balls in the 47th over with a single.

13:50 (IST)

Cheteshwar Pujara completes 11000 runs in First-Class cricket#INDvENG

— Sarang Bhalerao (@bhaleraosarang) November 27, 2016

13:44 (IST)

England have kept the runs down. What Kohli did yesterday. How India responds from here?

— Nikhil 🏏 (@CricCrazyNIKS) November 27, 2016

13:42 (IST)

After 42 overs,India 104/2 ( Cheteshwar Pujara 27 , Virat Kohli (C) 20)

Kohli and Pujara have steadied the Indian innings. But the runs have dried up for the last few overs.

13:36 (IST)

Kohli takes a single in the 40th over to bring up the team 100. Both Kohli and Pujara have ensured that India recovers well after losing the openers.

13:15 (IST)

After 35 overs,India 94/2 ( Cheteshwar Pujara 22 , Virat Kohli (C) 15)

Hint of reverse swing for Anderson in the 32nd over. However, both Pujara and Kohli look in no hurry to pace things up. Give little room to Pujara and he'll definitely punish you, the batsman plays Anderson very late and guides it to backward point for a four. Ben Stokes comes back into the attack and Kohli hits consecutive boundaries on the last two balls. First a drive to mid-off, then a wristy shot through mid-wicket. And time for drinks.

12:55 (IST)

After 31 overs,India 81/2 ( Cheteshwar Pujara 18 , Virat Kohli (C) 6)

Kohli comes out to replace Parthiv at the centre. Pujara plays out Woakes' 6th over. Indian captain gets off the mark with a four, a square drive which marginally beats the sweeper fielder. Just a slip and the silly mid on positioned for Kohli. Cook brings Anderson into the attack to bowl. The English pacer's record against Kohli is brilliant and the visitors would hope it continues. Woakes finishes his 8th over with a maiden.

12:35 (IST)

After 26 overs,India 73/2 ( Cheteshwar Pujara 16 , )

Woakes takes the ball after lunch. England has deployed silly mid-on for both Pujara and Parthiv. Pujara leans forward and drives it through covers for a boundary. Meanwhile, Cook has gone off the filed and Joe Root is the stand-in captain. Rashid and Woakes bowling in tandem. Pujara using his feet, steps out against Rashid and whacks it to covers and runs for two. The odd one that keeps low and Parthiv plays it through the off side. Rashid gets rid of Parthiv.

12:32 (IST)

OUT! England review for lbw. The original decision is not out, and there is no bat involved. Oh wait, three reds and Dharmasena declares Parthiv out. Brilliant use of DRS this by Cook and co. Parthiv Patel lbw b Adil Rashid 42(85)

12:15 (IST)

Parthiv and Pujara are back after lunch. Woakes to start the proceedings for England.

12:11 (IST)

India vs England, 3rd Test: Visitors bundled out early on Day 2, Parthiv Patel leads hosts' reply - Firstpost}

Wicketkeeper-batsman Parthiv Patel led India's first innings reply after the hosts bowled out England for 283 early on day two of the third Test in Mohali.

https://www.firstpost.com

11:57 (IST)

India vs England: Injured KL Rahul, Hardik Pandya released from squad; opener expected to be fit for Mumbai - Firstpost}

India continued to be dogged by injuries as KL Rahul and Hardik Pandya were released from the Test squad, but the opener is expected to be fit for Mumbai.

https://www.firstpost.com

11:39 (IST)

Lunch, Day 2: A session which has thoroughly belonged to India. First, Shami took two early wickets to bundle out the visitors. Then, comeback man Parthiv Patel lead from the front, scoring 37 of the 60 runs that India have managed to score so far.

11:37 (IST)

Watch our cricket expert Ayaz Memon review the first session of Day 2.

11:32 (IST)

After 21 overs, India 59/1 (Parthiv (W) 36, Pujara 8)

Parthiv Patel has grown in confidence. The southpaw leans forward and drives Anderson to mid-on and follows it up with another hit which was straight down the ground in the 18th over. Stokes bowls a maiden from the other end.
Report, Day 1: Wicketkeeper-batsman Jonny Bairstow (89) saved England's blushes as the visitors reached 268/8 at stumps on the opening day of the third Test against India at the Punjab Cricket Association (PCA) I.S. Bindra Stadium here on Saturday.
At stumps, tailenders Adil Rashid (4) and Gareth Batty (0) were at the crease.
Bairstow fell 11 short of what could have been his fourth Test century when off-spinner Jayant Yadav trapped him in front just before the day's play ended. His 177-ball knock included six boundaries.
Despite losing his partners at the other end, Bairstow played the sheet anchor's role well to bring up his half-century in 76 balls.
Coming together at the fall of Moeen Ali (16), Bairstow forged a 57-run stand with Ben Stokes (29) before being separated by left-arm spinner Ravindra Jadeja after the lunch break.
Stokes, who went in for an ambitious drive was cleverly foxed by Jadeja leaving the rest to stumper Parthiv Patel, who lost no time in stumping the English all-rounder.
The fall of Stokes brought in part-time stumper Jos Butler, who was recalled to the England side in place of a struggling Ben Duckett.
Buttler and Bairstow then added 69 runs to help restore some measure of respectability to the England scoreboard.
Just when the partnership looked threatening, Jadeja once again struck after the tea break to dismiss Buttler, who looked set to reach his half ton.
Buttler, who consumed 80 balls, went in for a flashy drive off Jadeja, only to find India skipper Virat Kohli's safe hands at mid-off. His knock included five hits to the fence.
Bairstow then survived a futile review from India to forge another crucial stand of 45 runs for the seventh wicket with Chris Woakes (25) before Jayant found him plump in front from around the wicket.
Woakes then departed in the penultimate over of the day to leave England reeling at 266/8.
The day mostly belonged to the Indian bowlers, who stuck to a tight line and length as England lost the plot right in the first session of play.
For the hosts, Jadeja, Umesh Yadav and Jayant took two wickets each while pacer Mohammed Shami and senior offie Ravichandran Ashwin bagged one wicket apiece.
Earlier, inspired by a disciplined bowling effort, India reduced England to 92/4 by lunch.
Electing to bat after winning the toss, England lost opener Haseeb Hameed (9) before skipper Alastair Cook (27) and Joe Root (15) took them past the 50-run mark.
But the hosts quickly turned it around with three quick wickets of Cook, Root and Moeen Ali (16) just before the lunch break to put the visitors on the backfoot.
Teenaged opener Hameed, who survived 31 balls, was the first casualty for the English side when a short of a good length delivery from pacer Umesh Yadav hit his gloves to give an easy catch to Ajinkya Rahane at gully.
Root then joined Cook in the middle but failed to impress before succumbing leg before to off-spinner Jayant Yadav as the visitors were reduced to 51/2.
Cook, meanwhile failed to capitalise on the two dropped chances -- dropped on 4 by Ravindra Jadeja and then on 23 by Ravichandran Ashwin -- both off pacer Mohammed Shami.
His 42-ball vigil at the crease was cut short by a short and wide delivery from Ashwin, which resulted in a thin edge for stumper Parthiv Patel. Cook batted fluently for his 27, which was laced with six hits to the fence.
Tottering at 51/3, Kohli immediately brought back Shami into the attack and the Bengal pacer responded beautifully by packing off left-hander Ali.
Back for his second spell, Shami induced Ali with a short delivery, which resulted in a top edge only to be caught at fine leg by Murali Vijay.
Ali looked confident in the middle hitting Jayant Yadav for a consecutive four and a six during his 45-ball stay. Thereafter, Bairstow and Stokes survived a few anxious moments to take England to 92/4 when the umpires signalled for the lunch break.
With inputs from IANS
Firstpost is now on WhatsApp. For the latest analysis, commentary and news updates, sign up for our WhatsApp services. Just go to Firstpost.com/Whatsapp and hit the Subscribe button.
Updated Date: Nov 22, 2017 11:07:35 IST