India vs England, 1st Test, Day 5, Highlights: Match drawn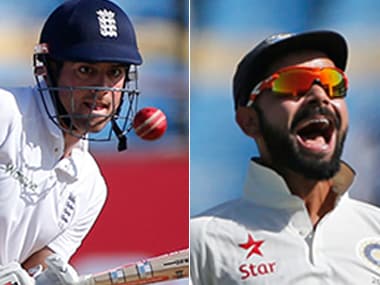 17:30 (IST)

That's it from me today. Do join us for the second Test match. Till then, goodbye!

17:06 (IST)

Moeen: I really enjoyed batting with Root. We feel like we prepared really well and it was good finally to get out and play a game. Something that I have developed in recent times. In international cricket you need to vary your pace. I think they bowled very very well. Ansari didn't go for many runs and Rash picked up the wickets. The boys are confident after this game. We had four hundreds which was very encouraging and a brilliant debut from Haseeb Hameed."

17:04 (IST)

Moeen Ali is the man of the match.

17:04 (IST)

Kohli: "We could have been better on day one and day two. England are a side that we are not taking for granted. If you don't hold on to your chances, it will be tough. We need to accept what happened on the negative side, and learn from it in the next game. The spinners bowled in the first two days and credit to England. They put us under pressure when they got the chance. There are a lot of positives that we can take. Anything can happen in Test cricket. We have the batting line up to score 500 and it anything would have happened (If India had won the toss)."

17:02 (IST)

Kohli: "Good opportunity to find out new aspect of your game. To play against the momentum is a skill you need to develop. That is what I spoke to Jadeja as well. It is very important to convince yourself that you can get through those tough periods."

17:00 (IST)

Cook: (On Adil Rashid) I thought all our spinners bowled really well. Adil stepped up in this game. This is a game where all three of them can be proud of."

17:00 (IST)

Cook: (On Hameed) The way Hass played in the second innings was unbelievable. There were only two chances to win. In the end, they held on. It was really strange, flat for the first three days and turned more and more, but people managed to score runs. It turned for both left and right-handers. It's quite a case. Hopefully I can add to that. Brilliant knock. I thought the way he played, it was brilliant."

16:59 (IST)

Cook: "Yeah, a really tough five days, we played good cricket. It was a good toss to win. In India if you get 530, you usually win. Really proud of the way boys played. To keep them to 480, we bowled really well."

16:57 (IST)

Adil Rashid gets the Jana Bankable player of the match award.

16:49 (IST)

Joe Root: I think credit to Cookie and Haas. Credit to India for making it a little tricky for us, but we get a lot of confidence going into the next one. We have to make sure we put in the hard work before that. Think its a fresh start. Completely different conditions, but we are doing some pretty good work right now. Spinners bowled well today, so many chances that could have gone our way. I don't think our 2nd innings score is a reflection of the conditions. The batsmen batted exceedingly well.

16:47 (IST)

So, the match ends in draw! England came very close to win the match, but Kohli and Jadeja played out the last overs to calm the nerves in the Indian dressing room. The visitors spinners' bowled much better than the Indian spinners this Test, especially Adil Rashid. England have begun really well in the first Test and have managed to stop the walkover talks.

16:41 (IST)

Eng against IND in last 15 tests (since 2008)
D, W, W, W, L, D, D, W, W, L, W, W, W, W, D
9 wins, 3 draws & 2 losses#INDvENG

— JSK 🆎 🏏 (@imjsk27) November 13, 2016

16:41 (IST)

Virat Kohli becomes the only 2nd Indian batsman to remain unbeaten on 49 after Brijesh Patel at POS in April 1976#IndvEng

— Mohandas Menon (@mohanstatsman) November 13, 2016

16:37 (IST)

Rashid continues, Kohli works it on the leg side to take a single and finally Cook shakes hands with Kohli. The match has been drawn.

16:34 (IST)

After 52 overs,India 171/6 ( Virat Kohli (C) 48 , Ravindra Jadeja 32)

Jadeja drives Moeen straight down the ground for a four, and follows it up with another with a loft in the same area. England to bowl another over.

16:32 (IST)

After 51 overs,India 163/6 ( Virat Kohli (C) 48 , Ravindra Jadeja 24)

Kohli clears his front leg and slams Rashid for a four to midwicket. Tries for the glory shot on the last ball to reach his fifty, mistimes, runs two.

16:28 (IST)

After 50 overs,India 156/6 ( Virat Kohli (C) 42 , Ravindra Jadeja 23)

Moeen bowls the next over, and Kohli plays out all the six balls. Rashid to bowl another, Jadeja on strike.

16:25 (IST)

After 49 overs,India 156/6 ( Virat Kohli (C) 42 , Ravindra Jadeja 23)

Rashid to bowl the last over of the day and Jadeja heaves his 2nd ball to the mid wicket fence. Rajkot cheering each and every shot of the local boy. Defends the next four balls. The quota is over, but England can sneak in a few overs till cut off time.

16:22 (IST)

After 48 overs,India 152/6 ( Virat Kohli (C) 42 , Ravindra Jadeja 19)

Jadeja on strike, Moeen to bowl. The batsman works it through on the fourth ball, Rashid chases it and they run three easily, 150 up for India. Kohli on strike. Plays out the last two balls.

16:20 (IST)

After 47 overs,India 149/6 ( Virat Kohli (C) 42 , Ravindra Jadeja 16)

Jadeja calms the nerves at Rajkot, first puts away a full toss through the vacant mid-on region, follows it up with a pull towards mid-wicket. A single off the penultimate ball, 2 overs to go. Kohli tries a pull on the last ball, and misses completely.

16:16 (IST)

After 46 overs,India 140/6 ( Virat Kohli (C) 42 , Ravindra Jadeja 7)

Two short legs, silly point, leg slip. 5 men around the willow. And Kohli plays out Moeen. 3 overs to go.

16:14 (IST)

After 45 overs,India 140/6 ( Virat Kohli (C) 42 , Ravindra Jadeja 7)

Fielders all around the bat. Pressure situation and Jadeja manages to score 6 runs off Rashid's over. Cuts the leggie on the last ball for a four through covers.

16:07 (IST)

OUT! Caught and bowled by Rashid. Umpire says out, India review it. Saha plays it on the bounce, and the catch is clean. The decision stays, Saha departs for 9. England need 4 wickets to win with 6 overs left.

16:01 (IST)

After 42 overs,India 132/5 ( Virat Kohli (C) 41 , Wriddhiman Saha (W) 9)

Saha comes down the ground and lofts Moeen to long-off, the shot impresses captain Kohli. Drives him for another four through covers off the 4th ball. 7 overs to go.

15:59 (IST)

After 41 overs,India 123/5 ( Virat Kohli (C) 41 , Wriddhiman Saha (W) 0)

Just when one thought that the pressure has eased through, India lost Ashwin at a crucial juncture. Saha comes out to replace Ashwin at the centre. 8 overs to go, England need 5 wickets to win.

15:52 (IST)

OUT! Ansari strikes after being hit by Ashwin for three fours in his innings. Ashwin drives it straight to Root at extra cover. Kohli looks upset, Saha comes out to bat in the middle.

15:35 (IST)

After 34 overs,India 95/4 ( Virat Kohli (C) 30 , Ravichandran Ashwin 15)

Kohli and Ashwin have played out the tough phase. There's spin on offer, but both the batsmen have been cautious. England is trying everything to get the breakthrough, but with little success. And it's drinks!

15:24 (IST)

It certainly will.

3 more overs before handshakes but might go down to last hour. #INDvENG

— Sampath 🏏 (@SAMPATHB24) November 13, 2016

15:20 (IST)

Ben Stokes comes into the attack. A short cover, silly mid-off and a silly mid-on in place.

15:18 (IST)

DRS! England review a lbw decision of Ashwin off Moeen. On field umpire says not out, and hawk-eye shows umpire's call on impact. Too little evidence to overturn the original decision.

15:12 (IST)

Five around the bat for Virat. All have hands on head as ball pushed just past one of them... Oh the beauty of this final session! #IndvEng

— Chetan Narula (@chetannarula) November 13, 2016

15:04 (IST)

Wow...game alive. And this is why we love Test cricket. India battling to save the game #EngVsInd

— Isa Guha (@isaguha) November 13, 2016

15:03 (IST)

After 26 overs,India 77/4 ( Virat Kohli (C) 27 , Ravichandran Ashwin 0)

India in a spot of bother. England striked twice after tea and now the hosts are fighting for a draw. England certainly are aiming for a win. Cook has deployed close in fielders to sustain the pressure on Kohli and Ashwin.

14:57 (IST)

OUT! Rahane falls to another loose shot. It hit the crack and turned in sharp, kept low. Deflected off the pad and Rahane is bowled off Moeen's bowling.

14:53 (IST)

Rashid the best spinner on show in this Test. Gets Vijay now.

Still backing a draw.. with less conviction now though, of course. #INDvENG

— Pratyush Sinha (@prat1204) November 13, 2016

14:49 (IST)

OUT! Vijay leans forward to defend Rashid, and Hameed dives to catch it at short leg. Vijay takes the long walk back to the pavilion for 31.

14:39 (IST)

The players are back after tea. Kohli scores a boundary off Rashid in the first ball of the final session of the first Test.

14:26 (IST)

What do you think?

Have the English spinners out-bowled the Indian spinners or have English batsmen out-batted the Indians?

— Sambit Bal (@sambitbal) November 13, 2016

14:24 (IST)

Tea, day 5: India lost Pujara just at the fag end of tea. However, the replays suggested that it pitched outside leg and he should've opted for DRS. England need 8 wickets and hosts need 261 runs to win. The match is more or less set for a draw. Join us for the post tea session.

14:12 (IST)

After 17 overs,India 49/2 ( Murali Vijay 29 , Virat Kohli (C) 2)

Good use of the feet by Vijay, makes room and drives Ansari through extra cover. Cook has now deployed two short legs for Vijay off Moeen's bowling. Rashid comes into the attack and straighaway starts exploiting the pitch, sharp turn off his first, only 1 off it. Rashid gets rid of Pujara for 18. Virat Kohli comes out to bat at the centre.

14:11 (IST)

OUT! Rashid traps Pujara LBW for 18. It pitched outside leg, a review would've saved him.

13:51 (IST)

After 12 overs,India 33/1 ( Murali Vijay 22 , Cheteshwar Pujara 11)

Looks like the message from the dressing room is, "let's go for it." Pujara drives Ansari past mid-off. Vijay walks down the ground and sends it to the long-onf fence off Ansari. DROPPED! Tough one, Vijay slams it straight down the ground, it hits the plams of Ansari who fails to hold on to it. Oh no, now Broad puts down Pujara at backward point!

13:27 (IST)

After 5 overs,India 12/1 ( Murali Vijay 8 , Cheteshwar Pujara 4)

Broad starts off with a maiden. Now what should we expect? Will India aim for a win or they would settle for a draw? Woakes gets the early breakthrough for England, gets rid of Gambhir. FOUR! India finally get off the mark after 23 dot balls, Pujara drives Broad to covers. Vijay just pushes it to covers and the ligthing quick outfield does the rest. Another four by Vijay, this time an outside edge.

13:12 (IST)

OUT! Woakes strikes. Gambhir pokes, and Root catches it at second slip. India are 0/1. Woakes bowls a wicket maiden.

13:06 (IST)

310 in 49 overs?
Get Virat to change into blue and England to bowl with a white ball and we have a game #IndvEng

— Gaurav Kalra (@gauravkalra75) November 13, 2016

13:02 (IST)

Murali Vijay and Gautam Gambhir are at the crease for the chase. Stuart Broad to open the bowling for England.

12:53 (IST)

OUT! Cook caught by Jadeja at long-off off Ashwin. The captain falls for 130. England declare on 260/3. India need 310 runs in 49 overs.

12:45 (IST)

226 - most runs conceded by R Ashwin in a home Test
Previous most was 225 against NZ in Kanpur, although he took 10 wkts then.#IndvsEng

— Deepu Narayana (@deeputalks) November 13, 2016

12:36 (IST)

After 72 overs,England 240/3 ( Joe Root 109 , Moeen Ali 62)

Seems like England want to reach the 300-run mark as soon as possible. Stokes reverse sweeps Mishra for a four. Ashwin to bowl from the other end with a slip in place. Yes, they are accelerating. Cook lofts Ashwin inside out over extra cover for a four. That boundary also brought up his 1000 Test runs in India. Poor bowling from Mishra, 14 runs from his 13th over. Cook first swept him to fine leg, then Stokes hits consecutive fours off the leggie, first to square leg and the next one in the same area. Fifty run partnership too comes up in the 72nd over.

12:26 (IST)

Alastair Cook brings up 1000 Test runs in India with a four through covers.
Report, day 4: Skipper Alastair Cook (46 not out) and debutant Haseeb Hameed (62 not out) put England in the driver's seat with an unbeaten 114-run stand, as the visitors extended their lead to 163 runs at stumps on the penultimate day of the opening Test against India in Rajkot on Saturday.
After dismissing India for 488 and taking a slender 49-run lead in the first innings, the England openers started on a cautious note with the teenaged opener, Hameed getting to his maiden half century off 94 balls at the Saurashtra Cricket Association Stadium.
Coming in to bat in the post-tea session, the left-right opening combo frustrated the Indian bowlers as Cook and Hameed took England over the 100-run mark in the 33rd over.
Hameed, who consumed 116 balls for his undefeated 62, got a life, when the 19-year-old was batting on 40 after the third umpire turned down a leg-before review from the hosts.
Unfazed at the calls, the right-hander went on with his calculative stroke play hitting five fours and a six.
Cook, at the other end, maintained his composure and rotated the strike well as the southpaw took 107 deliveries for his knock, which contained just three hits to the fence.
For India, none of the bowlers looked threatening as even the spin trio of Ravichandran Ashwin, Ravindra Jadeja and Amit Mishra failed to extract the spin and bounce like their English counterparts.
Earlier, leg-spinner Adil Rashid scalped 4/114 to help England restrict India for 488 in their first essay. Rashid was well supported by fellow spinners Moeen Ali and Zafar Ansari, who took two wickets each.
Ravichandran Ashwin scored a half-century and produced a 64-run stand along with wicketkeeper Wriddhiman Saha after Indian captain Virat Kohli and his deputy Ajinkya Rahane went back to the pavilion before lunch.
Ashwin scored 70 runs, studding his innings with seven boundaries.
Saha, who was caught behind off Ali's bowling, scored 35 with two boundaries and a six.
Ravindra Jadeja and Umesh Yadav also returned to the pavilion soon after Saha's departure.
Ashwin was then involved in another partnership of 29 runs with Mohammed Shami before Ali dismissed him to bring India's first innings to an end.
Earlier, Kohli and Rahane ensured that the hosts started the day on a steady note.
Resuming on the overnight score of 319/4, Kohli and Rahane saw off the initial spells from England pacers Stuart Broad and Chris Woakes.
The duo added 30 runs between them before Rahane was bowled by left-arm spinner Ansari.
Cook employed a packed field on the off-side which forced the Indian batsmen to repeatedly try to score on the onside.
The move paid rich dividends as both Rahane and Kohli departed in quick succession while trying to hit against the turn to the onside.
Rahane was dismissed while trying to work the ball to the onside against the spin. But he misjudged the length and could only watch as the ball crashed into his stumps.
The Mumbai batsman scored 13 off 30 balls with one hit to the fence.
Kohli was also dismissed while trying to hit to the onside. The Indian captain stepped too deep inside his crease while pulling leggie Rashid and treaded on the stumps during the follow through.
Kohli scored 40 runs with five boundaries studding his 95-ball stay in the middle.
Ashwin and Saha then took charge and ensured that the hosts went into the lunch break without any further loss of wickets.
With inputs from IANS
Firstpost is now on WhatsApp. For the latest analysis, commentary and news updates, sign up for our WhatsApp services. Just go to Firstpost.com/Whatsapp and hit the Subscribe button.
Updated Date: Nov 22, 2017 11:12:15 IST