India vs China hockey Asian Champions Trophy 2016 Highlights: India thump China 9-0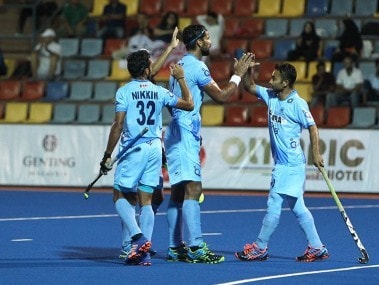 20:09 (IST)

India now have ten points and play hosts Malaysia in what should be a tough match tomorrow.

20:09 (IST)

That's it! India crush China 9-0 to cruise into semi final of Asian Champions Trophy.

20:02 (IST)

Sundeep Misra from Malaysia: Interesting to see Jasjit Singh Kular, advancing like a forward, playing strongly and trying to get goals.

20:01 (IST)

Five minutes to go and India still going all out to get the 10th goal...

19:57 (IST)

GOAL! Jasjit absolutely hammers it into the net. India 9-0 China. India completely in control of the match here. Jasjit Singh Kular gets India's 9th. Uthappa had two tries and then the ball fell free off the GK's pads for Kular standing on top of the circle and he whacked it into goal. India 9-0.

19:55 (IST)

Ten minutes left in the match, Can India increase their tally and score more than the 10 they got against Japan?

19:53 (IST)

India get their 3rd PC. They couldn't stop the ball cleanly. Rupinder's effort to get his 9th goal of the tournament wasted. China on the other hand fast on the counter.

19:50 (IST)

Sundeep Misra from Malaysia: The 3rd quarter has been particularly impressive as India have rotated the midfield, created space on the flanks and got goals by drawing the defenders out.

19:47 (IST)

End of Q3: Rampant India lead 8-0 against China who would be looking for damage control.

19:44 (IST)

India lead 8-0 with over 3 mins left in the 3rd quarter.

19:44 (IST)

GOAL! India 8-0 China. Sardar passes it to Affan Yousuf whose powerful shot beats the keeper.

19:40 (IST)

GOAL! This is carnage. Akashdeep makes it 7-0 for India against China. Another thumping finish. Lovely goal by Akashdeep as he picks the ball of the left of the Chinese circle, runs through to the middle and hits a firm shot for India to lead 7-0.

19:38 (IST)

India are on the rampage here as the pitch gets better to play after the rains.

19:37 (IST)

GOAL!! India are on fire. Lalit makes it 6-0. Brilliant passing once again. Superb counter. Fast counter as Nikkin raced through and passed to an overlapping Lalit who held the ball and flicked it past the bemused Chinese goalkeeper.

19:35 (IST)

Skirmish in the circle as the umpire points for a 2nd one. Chikte saves from the penalty corner, taking it on the gloves.

19:34 (IST)

China counter-attack on the right flank gets their 1st PC of the match.

19:34 (IST)

GOAL! Nikkin makes it 5-0. Lovely spin and finish. His first goal of the tournament. Surender's passes to Nikkin right in the middle of the Chinese striking circle. Nikkin spins beautifully and places it between the GK's pads.

19:22 (IST)

Sundeep Misra from Malaysia: India's win today will take it to the semi-finals. But we still have to play two more quarters. China will find it very difficult to score against the Indians. Yet they have been very fluid, moving very well on the counters.

19:19 (IST)

End of Q2: India have been pretty dominant so far. They are leading 4-0 against China.

19:15 (IST)

It's India's 5th goal as Rupinder converts from the penalty corner but the Chinese have referred it to the video umpire. Goal has been cancelled. It's probably that Rupinder flicked it just outside the circle. India lead 4-0.

19:13 (IST)

India get their 2nd PC with two minutes left in the 2nd quarter.

19:13 (IST)

Rupinder now has 8 goals in the tournament. All of penalty corners.

19:11 (IST)

GOAL! India rampant now. Rupinder Pal makes it 4-0 for India via a penalty corner. Clean, low strike. His 8th goal of the tournament.

19:07 (IST)

GOAL! Jasjit makes it 3-0 with a reverse stick finish. The rebound from defense helped India. IND 3-0 CHN. Jasjit Kular created the move and then got the return pass from Talwinder. Diving forward, he hit a reverse shot past the Chinese goalkeeper.

19:02 (IST)

GOAL! Affan doubles the lead for India. A nicely worked goal but a defensive mistake from China cost them. It's a clean strike, lovely flick to the right of the advancing Chinese goalkeeper. India lead 2-0 in the 18th minute.

19:00 (IST)

China begin with a flourish in the 2nd quarter. Almost get a ball into the striking circle but Jianwei's pass is raised dangerously. China finding some momentum as the slippery turf is making the Indians play a little difficult.

18:58 (IST)

Sundeep Misra from Malaysia: 1st quarter is over as India lead 1-0. But China did create some issues in the Indian defence with speedy runs. Rupinder and Surender Kumar hard pressed to clear from the back line.

18:57 (IST)

End of Q1: IND dominated the quarter & took the lead. CHN didn't make most of the few chances. IND 1-0 CHN

18:55 (IST)

Sundeep Misra from Malaysia: China quite dangerous on the counter. Wenhui time and again giving a tough time from the left flank to the Indian defenders.

18:52 (IST)

China asking for a referral from the umpire. They want a penalty corner. And the video umpire refuses China's referral. It's back to the match.

18:48 (IST)

GOAL!! India take the lead thanks to Akashdeep. A thumping reverse-stick finish. India 1-0 China. Great goal by Akashdeep. Picking up a back pass that was all wrong by China, Akashdeep moved in a wonderful reverse gives India a 1-0 lead in the 9th minute.

18:45 (IST)

First Chinese attack in the 8th minute but the reverse hit zips wide off the mark.

18:45 (IST)

Sundeep Misra from Malaysia: With Rupinder Pal as central defender, others are playing up, creating space outside the Chinese striking circle.

18:42 (IST)

India using the the right flank to build up.

18:41 (IST)

Slow start for India as they enter the 2 minutes mark in the 1st quarter. Play slightly sluggish as the pitch is heavy with water. India pushing to keep the play inside China's half.

18:39 (IST)

Sundeep Misra from Malaysia:

Both

teams now ready to start. The last time, India played China was at the Incheon Asian Games where they won 2-0.

Rupinder Pal Singh is the captain today.

18:37 (IST)

Confirmed: Sreejesh not playing due to injury. Akash Chikte gets first full match.

18:31 (IST)

Sreejesh may not be playing today as there has been an injury during training. Akash Chikte may get his first full match here at the ACT.

18:27 (IST)

China is on the ground. We await India. India Vs China is the next match. The turf will play heavy as a light drizzle is still on.

18:27 (IST)

That's it. Pakistan has beaten Japan 4-3. They now have six points with Japan still to open their account in the tournament.

18:16 (IST)

Sundeep Misra from Malaysia: It's still drizzling. For those waiting for the India match against China, a delay of 30 minutes would be there.

18:14 (IST)

Japan has got a third goal off a penalty stroke. With six minutes to go in the game they are running Pakistan close.

18:10 (IST)

Pakistan, meanwhile, have scored a 4th goal. They lead 4-2 against Japan with under 7 mins to play in the match.

18:05 (IST)

If India beat China today, which they should on present form, then they go to ten points and a match with hosts Malaysia in hand. Victory against the hosts would ensure a No.1 billing in the group.

18:01 (IST)

The drizzle again getting heavy with lighting in the distance. But it might just hold for the 4th quarter in the Pak-Japan match to be over.

17:59 (IST)

Sundeep Misra from Malaysia: Slight drizzle still on. India warming up on the 2nd pitch. This is an important match for Pakistan to win if they want a semi-final place here. At the end of the 3rd quarter, they lead 3-2. Japan has been good and have the makings of a team that in four years might give the rest of the teams at Tokyo some serious competition.

17:58 (IST)

Sundeep Misra from Malaysia: The India match has been delayed by almost 30 minutes due to heavy rains that flooded the turf. At the moment Pakistan is playing Japan and leading 3-2 in the 3rd quarter.

17:51 (IST)

Hello and welcome to the coverage of the Asian Champions Trophy 2016 match between India and China in Malaysia. There is a slight delay in the start because of rains. Follow this space for live scores and updates.
Preview: On a high after their morale-boosting win over arch-rivals Pakistan, India now eye wins against China and hosts Malaysia on successive days to finish on top of the round-robin league stage of the fourth Asian Champions Trophy hockey tournament.
India will play lowly China tomorrow before squaring up against the home team on Wednesday.
The runaway 10-2 victory against Japan and the 3-2 win in yesterday's intense sub-continental contest against arch-rivals Pakistan has kept top-ranked India on course for the leading spot in the round-robin league, which could ensure them a favorable semifinal fixture.
But the draw against South Korea means India are two points behind Malaysia, who have gathered the maximum nine points from three outings.
Defending champions Pakistan are still on three points after suffering two losses, but will now go into two easy outings against Japan and China.
The victory over Pakistan has reinvigorated the Indian team that was stunned by the spirited show from South Korea the previous day, but team coach Roelant Oltmans says the boys need to improve on yesterday's fine show.
"We were much stronger than Pakistan yesterday, but we need to raise our game further. We can improve on this performance," says Oltmans.
Missing some key players who are recuperating from injuries, coach Oltmans says the return to competitive hockey after the post-Olympic break has provided opportunity to several youngsters to showcase their skills.
But he was not very happy with the errors committed in the defence that allowed space for Pakistani strikers to have cracks at the Indian goal.
Updated Date: Oct 25, 2016 21:00 PM