India vs Australia: Virat Kohli needs to be more judicious with his DRS challenges
The important thing for Virat Kohli is to keep reminding himself that DRS is a fail-safe option and he should not gamble with his reviews.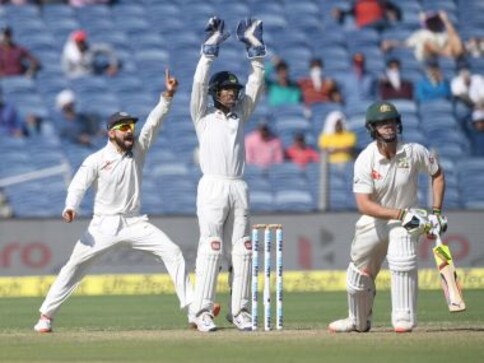 It was the 56th over of Australia's second innings at Pune, and for all intents and purposes, the Test match was well and truly out of India's grasp. Steve Smith, the beneficiary of multiple dropped catches earlier in the essay, was on 73 when Ravindra Jadeja did the almost impossible on this dry, vicious track: bowling a delivery that does not spin extravagantly to beat the bat but rather continues with the arm zeroing on the front pad of the batsman.
Umpire Richard Kettleborough turned down the loud appeal from the bowler but it is anyone's guess whether he, and his captain Virat Kohli, would have resorted to the DRS challenge if it were available to them. The replay suggested that the call would have been reversed if it had been reviewed. Having lost both their reviews by the 37th over to unsuccessful challenges, India were left with no recourse. It was their own damn fault. Smith would go on to register his maiden Test century on Indian soil, and fifth in five Tests vs India.
In the 66th over, Matthew Wade edged one through to Wriddhiman Saha behind the stumps off Umesh Yadav but umpire Nigel Llong seemed to have not heard the nick. No review, no recourse. Wade did not last long as he edged again four balls later, and this time Mr Llong heard it sure enough and sent the Victorian on his way.
Umpires in the ICC's Elite Panel are the best in the business, but they are still human. They do make mistakes, and on a wicket where there was action on every ball, it is only reasonable to expect that, despite their best intentions and abilities, there will be the odd missed calls. And so, the technology in the form of DRS could be used by players as a second line of defence with respect to umpiring errors.
However, since its inception, DRS has been used and abused by the players, and the drama surrounding the previously unthinkable act of dissenting an umpire's decision has been actively encouraged by the commentators. Players routinely employ DRS as a strategic tool to venture a guess; the umpire doesn't seem to agree with it, let's see if the technology can overrule him.
India had long resisted DRS in their bilateral matches since their bad experience in 2008 but in 2016 dawned a new era, with Anil Kumble as coach — also the head of the ICC's Cricket Committee — and the changing of the guard at BCCI and Indian captaincy.
Kohli, a self-avowed disciple of Mahendra Singh Dhoni, is quite unlike the former India captain. Dhoni seemed to keep his emotions in check on the field while Kohli is more than happy to flaunt it. At Pune, Indian spinners did not provide the early breakthroughs that was expected of them on a dry pitch, and in the second innings — following a spectacular batting collapse — India and Kohli were under immense pressure of losing a Test at home for the first time since December 2012. It probably help the Indian captain's mood that catches were dropped like they were going out of style. And so, it could be argued that Kohli burned through the reviews by 39th over in first innings and by 37th over in the second.
However, the data suggests Pune wasn't an isolated case. As the table and the chart provided below indicate, India, in the last seven Tests since they agreed to have DRS used in Tests beginning at Rajkot, had used up their two reviews in six of the 14 bowling innings before the 51st over ended, that is, they put themselves at the risk of an umpiring error without recourse for at least 29.5 overs in those six innings.
In three of the innings where the opposition batted well in excess of 80 overs (the time when teams get their reviews re-upped), India burned through those in 22, 35 and 72 overs at Mumbai, Hyderabad and Chennai, respectively.
Number of overs by which India had exhausted their two DRS Challenges
Kohli has challenged an umpiring decision, in the recent seven Tests at home, 42 times and only nine of those decisions have been overturned by technology on review (See table 2). This information has been manually collected from ball-by-ball commentary at ESPNcricinfo for these matches [Click here for the PDF of the entire listing].
(Note: This includes one review India wanted to take but ran out of time; Review Unavailable indicates the times India did not have any more reviews and the batsmen would have been declared out by DRS; "Did Not Review" were the times Kohli decided not to review the umpire's decision of not out)
Since there is no public data available of how other international captains have utilised DRS challenges – and it's a laborious process to glean the numbers from ball-by-ball commentary for nearly a decade of Tests, the point of comparison of Kohli's futility as a captain challenging the umpire's decision (a mere 21% success rate) with others is not possible for this writer. Indian batsmen have been better than 1-in-2 in asking umpire's decision of adjudging them out to be reviewed, according to a PTI report.
As India trail in a home Test series for the first time in more than four years, and look to rebound at Bengaluru, what is Kohli supposed to do with DRS reviews? Has he been frivolous with them? Has he rushed in to them? Should he consult his keeper, bowler and other close-in fielders more before making the 'T' sign? A reading of the more than 60 instances where DRS could have been involved and how Kohli made his decisions, would allow readers to make their conclusions on whether he needs to pause-and-think/confabulate with his cohorts, or he is doing just fine, etc.
The most important thing for Kohli is to keep reminding himself that DRS is a fail-safe option and he should only ever challenge an umpire's decision if he is certain that the umpire has made a mistake, and not gamble with it. If he continues in his current ways, he will leave his bowlers exposed to human error like he did at Pune. There it did not really matter; the game was already gone. However, on a flatter pitch and with a set Smith or Warner, a reprieve through an umpiring error, with India having no recourse because Kohli was been frivolous with the reviews, could mean India being pushed ever so closer to losing a series at home for the first time in more than four years. Kohli would definitely challenge that, wouldn't he?
First Cricket News
Jadeja sustained the injury while attempting to take a catch during a match against Royal Challengers Bangalore on 4 May
First Cricket News
Aakash Chopra spoke about the 'ill-handling' of Ravindra Jadeja and discussed the assumption that there might be a lot else going on behind the scenes
First Cricket News
Chennai Super Kings player Ravindra Jadeja has been ruled out of IPL 2022 due to a bruised rib.