Australia showed glimpses of their vintage self in the first Test at Pune by pummeling India into submission. They not only outperformed India in all three departments of the game but also seized the initiative at crucial junctures of the game — something which other teams who have travelled to India this season have neither done successfully nor consistently. It is essential for India to rethink their combination because Australia have a decent bowling attack which has shown it is capable of perplexing the Indian lower-middle order. Moreover, Australia have an established batting unit and they would like to carry their first Test form in the second Test also.
History affirms that India can still win the series. They have won a series after losing the first Test of a series on three occasions till date. They have done it against the Australians too, winning the 2001 series after losing the first Test at Mumbai. It will be intriguing to see who will reprise the role which Rahul Dravid and VVS Laxman played in the 2000-01 India-Australia Test series. Additionally, can Ravichandran Ashwin do what Harbhajan Singh did? India are still favourites to win the Test series since they have a far better squad than Australia.
India do not have a decent record at M Chinnaswamy Stadium. Their win percentage of 28.57 is the lowest among all the grounds at which India have played at least 20 Tests. Moreover, India have lost two Tests against Australia and won only one at M Chinnaswamy Stadium till now.

However, India have not lost a single match at this venue in their last five Tests.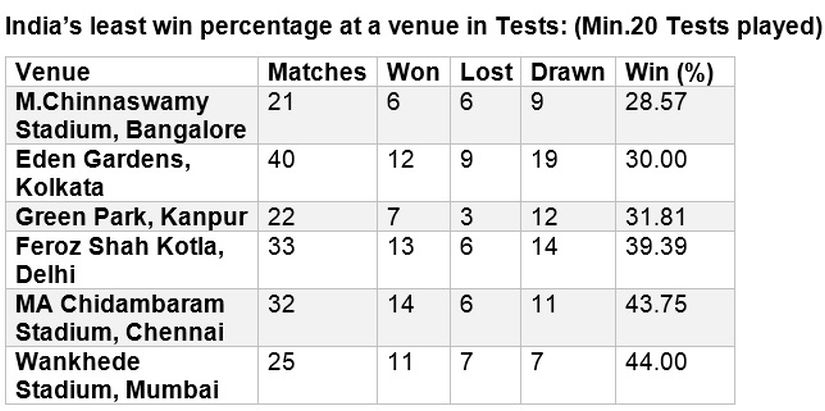 It will be imperative for both captains to win the toss at M Chinnaswamy Stadium and decide to bat first as a team who has won the toss and decided to field first, have not won a single game out of two till day at the venue.

Pacers have performed slightly better than spinners at Bangalore so far in Tests. Therefore Australia will fancy their chances with Mitchell Starc and Josh Hazlewood in their bowling attack.
Bangalore is a free-scoring venue in limited-overs format but in Tests also, average runs per over at Bangalore is the most among all venues in India, where at least 20 Tests have been played so far.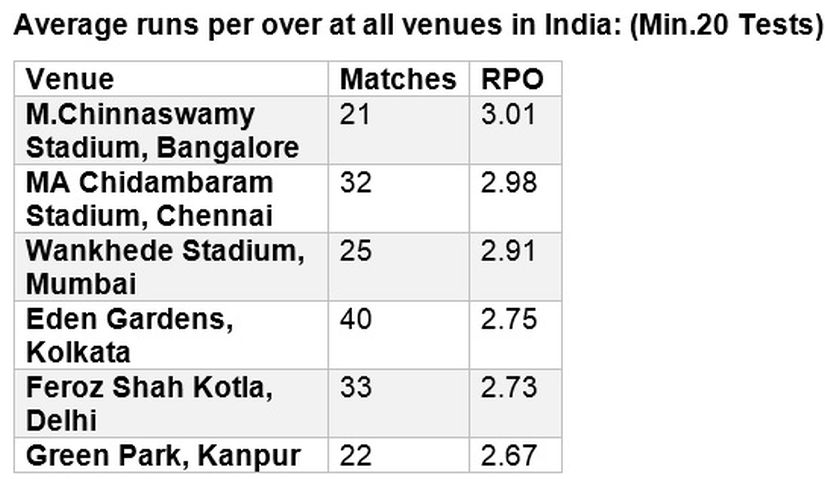 It's sensible to bat first at Bangalore as the average fourth innings score is only 189. Moreover, average runs per wicket in the fourth innings is also less than any innings. Therefore, it's a no-brainer for any captain to win the toss and bat first at Bangalore.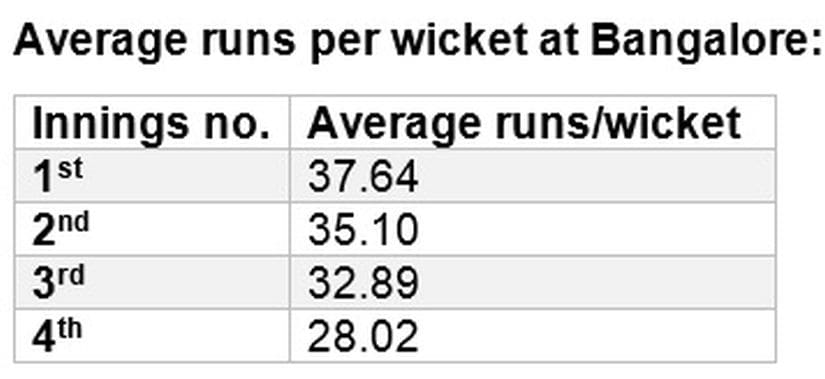 Updated Date: Mar 03, 2017 12:48 PM