India vice president Venkaiah Naidu launches National Sports Talent Search Portal
The Vice President of India Venkaiah Naidu on Monday launched the National Sports Talent Search Portal, a government initiative to unearth sporting talent from every nook and corner of the country.
New Delhi: The vice president of India Venkaiah Naidu on Monday launched the National Sports Talent Search Portal, a government initiative to unearth sporting talent from every nook and corner of the country.
Under the initiative, a child or his parents, teachers or coaches can upload his bio data or video on the portal. The Sports ministry will select talented players and impart training to them at Sports Authority India centres.
Prime Minister Narendra Modi on Sunday made a mention of the portal launch during his 'Man ki Baat' radio programme.
Speaking on the occasion, Naidu said that the provision of infrastructure and training facilities and establishment of academies would be critical to India becoming a strong sporting nation.
"We need to create good infrastructure for sports in all states and nurture sporting talent from an early age. Across the length and breadth of the country, we need more training academies and coaching centres to turn our young men and women into sports stars and role models for succeeding generations," he said.
"Barring cricket and hockey earlier as team sports, our success in sports events is sporadic and more on account of individual effort and excellence, rather than any state patronage and encouragement. That must change. Be it Sania Mirza, PV Sindhu, Saina Nehwal, PT Usha, Milkha Singh or Abhinav Bhindra, all of them did themselves and the nation proud through perseverance and tenacity," he added.
Talking about the Portal, Naidu said, "The platform of National Sports Talent Search Portal will be a game changer and enable the Ministry of Youth Affairs and Sports and Sports Authority of India select the best.
"This initiative will not only help in identifying the best talent, but will also provide a level playing field to all the applicants and create a competitive environment."
As one-seventh of humanity, there is no dearth of talent in our country, especially with more than 450 million youth. In fact, we are overflowing with talent but in order to harness it, we have to put in place a robust system to spot and nurture talent, and develop world champions."
Naidu also praised shuttler Sindhu for winning the silver medal in the World Championships on Sunday.
"Sindhu has shown that India can compete at the highest level. She should not feel disappointed (despite the loss in the final). She has proven that she is a role model for the future generation."
Sports Minister Vijay Goel said he hoped the initiative will go a long way in unearthing talented children in the country.
"It has got a big boost to sports that Prime Minister Narendra Modi talked about the National Talent Search Portal at his 'Man ki Baat' radio programme. The message has gone to all over the country. He also praised the Sports ministry," Goel said.
"Today, the Vice-President launched the programme. I feel it is great achievement of the sports ministry. There will be transparency in this portal and we will get more talented children through this portal," he added.
He said the ministry has also decided to introduce 1000 scholarships of Rs 5 lakh each for eight years.
Asked about India's best performance in the Badminton World Championships in which Sindhu and Nehwal won a silver and a bronze each, he said, "Women have gone ahead of men (in sports). Whether it was in Rio Olympics or in badminton, women have been doing better than men.
"I am a bit sad because India could have the first badminton world champion had she (Sindhu) won. But I will say both Sindhu and Saina Nehwal gave their best and there was nothing lacking from their end."
He said all the stakeholders, including the Indian Olympic Association and National Sports Federations, should play their roles for the development of Indian sports.
"States will have to play a big role in the development of sports in the country. Sports is a state subject and we are bringing the subject in the Concurrent List (of the Constitution of India).
"IOA and NSFs will have to work with more responsibility, it is not that you will become office bearers and after that you will not work. All the stakeholders will have to work there own job."
Goel refused to give any hint on whether hockey wizard Dhyan Chand would be named a recipient of Bharat Ratna, the country's highest civilian award, this year.
"It is the prerogative of the Prime Minister to name a Bharat Ratna. I understand that whatever decision will be taken, the Prime Minister will take it. We (Sports Ministry) have no role in this decision. Whatever role is there, that is for the Prime Minister.
Sports
Sania and Raina were running away with the contest after bageling their opponents but in a dramatic turnaround, the Kichenok sisters came back from the dead to pull off a 0-6 7-6(0) 10-8 win at court 11 of Ariake Tennis Centre.
Sports
Park also addded that Tai Tzu-ying would be Sindhu's biggest rival at the Olympics.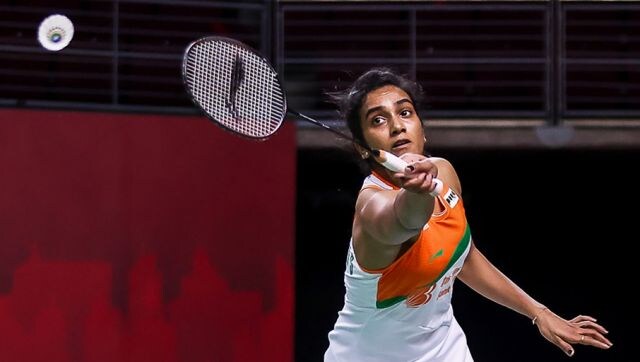 Sports
Sindhu added she used the break to learn more and focus on her technique and skills.