India to host 2018 Women's World Boxing Championship and men's edition in 2021
India has never hosted the men's World Championship but has hosted the 2006 women's mega-event.
New Delhi: In a historic first for Indian boxing, the country will host the elite men's World Championship in 2021 besides conducting the women's World Championship for the second time in 2018, the International Boxing Association (AIBA) has announced.
The AIBA made the announcement at the end of its two-day executive committee meeting in Moscow.
"...We are delighted to have the AIBA Men's World Championships 2019 confirmed for Sochi, and equally excited to announce New Delhi as host city in 2021 as the Boxing Federation of India continues to show its commitment to developing the sport," AIBA President Dr Ching Kuo Wu said in a statement.
"Following the presentation of the Turkish Boxing Federation, I know that Trabzon will also meet the demands of hosting the world's biggest women's boxing tournament in 2019," he added.
India has never hosted the men's World Championship but has hosted the 2006 women's mega-event.
After analysing the presentations, the AIBA Executive Committee unanimously awarded the 2019 women's World Championships to Trabzon, Turkey. The AIBA 2018 Congress was awarded to the Russian capital city of Moscow.
"The strength of all of the bids we have seen today is the clearest indication yet of AIBA's successful efforts to amplify the prestige of its World Championships even further, with the strongest global broadcasting and sponsorship partnerships secured to date already finalised for next month's Men's World Championships in Hamburg," Dr Wu stated.
India
Chairman of All India Bar Association, Adish C Aggarwala, stated that this is the right time to ban PFI as nobody should be allowed to be involved in activities directed against the integrity and sovereignty of India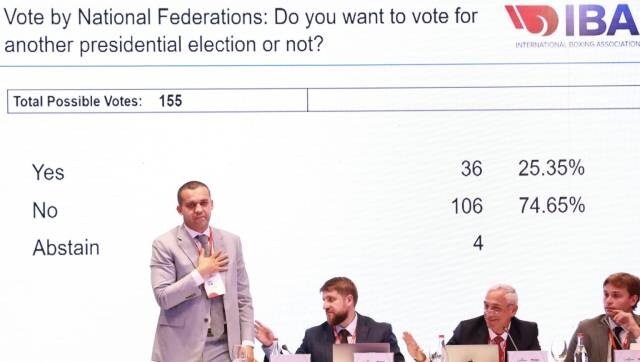 Sports
International Boxing Association (IBA) extraordinary congress sees delegates votes in 106 out of a possible 155 in favour of no presidential election while allowing Umar Kremlev to continue as the chief. The decision could force a ban on the body by International Olympic Committee (IOC).