India Open boxing: Good day for host nation as Shiva Thapa, MC Mary Kom enter semis
MC Mary Kom and Shiva Thapa were among the prominent names assured of medals as host nation continued to dominate the ring in the $100,000 India Open boxing tournament.
New Delhi: MC Mary Kom (51kg) and Shiva Thapa (60kg) were among the prominent names assured of medals as host nation continued to dominate the ring in the $100,000 India Open boxing tournament for men and women on Tuesday.
Seeded 12th, five-time world and Asian champion Mary Kom had no trouble in overwhelming compatriot K Bina Devi. The 35 -year-old Manipuri prevailed 5-0 in a lopsided contest, her nimble footwork standing out.
Also advancing but with a hard-fought win was L Sarita Devi (60kg) as home favourites enjoyed another stellar day and looked good to walk away with most of the medals.
World bronze-medallist Shiva, also a three-time Asian championships medal winner, was up against Uzbek Sherbek Rakhmatulloev.
The top seed started off on a cautious note and spent the first three minutes getting a measure of his rival.
Both the boxers let it rip in the second round and exchanged a fair number of blows before Shiva started taking control of the proceedings.
Rakhmatulloev, on the other hand, began to drain out as he resorted to bending and holding to slow things down.
The tactic fetched him repeated cautions but he was lucky to have not received a warning.
Shiva stepped it up in the final three minutes to get the judges' nod in a split decision.
The Assam-boxer will square off against compatriot Manish Kaushik, who out-punched Filipino Charly Suarez in his quarterfinal bout.
Shiva and Manish had clashed in the national championships final last year in which the latter had come up trumps.
Asian bronze-medallist Amit Panghal (49kg), meanwhile, claimed a dominating 5-0 triumph over Cameroon's Simplice Fotsala to set up a clash with fellow Indian Lalbiakkima Nutlai, who got the better of Kenya's Shaffi Hassan.
First up for India in the women's draw was former world and Asian champion, L Sarita Devi (60kg).
The celebrated Manipuri dug enough from her huge reservoir of experience to edge past Thailand's Peamwilai Laopeam in a split 4-1 decision and set up a clash with compatriot Priyanka Chaudhary.
Priyanka defeated Indonesian Huswatun Hasanboy 5-0.
Former world championship silver-medallist Saweety Boora (75kg) had little trouble in dispatching Nepal's Saraswati Rana.
World youth champion Shashi Chopra made an impressive entry into the senior circuit by out-punching compatriot Y Sandhyarani.
The 18 -year-old stood out for her footwork and sharp reflexes in a bout which saw her taking full advantage of her long reach.
Among the major disappointments of the day was top seed and world championships silver-medallist Sonia Lather (57kg) bowing out of medal contention.
She lost her quarterfinal bout in a split 3-2 verdict to Indonesian Christian Marwan Jembay.
Another top seed to make a quarterfinal exit was former Asian champion and Asian Games bronze-medallist, Pooja Rani (75kg). Pooja was out-witted by a determined Essiane Clotilde of Cameroon in a split 2-3 verdict.
Among other prominent names in the men's section, who made it to the last-four stage were three-time King's Cup gold-medallist K Shyam Kumar (49kg), Asian Games bronze-medallist Satish Kumar (+91kg), and Asian youth silver-medallist Ankush Dahiya (60kg).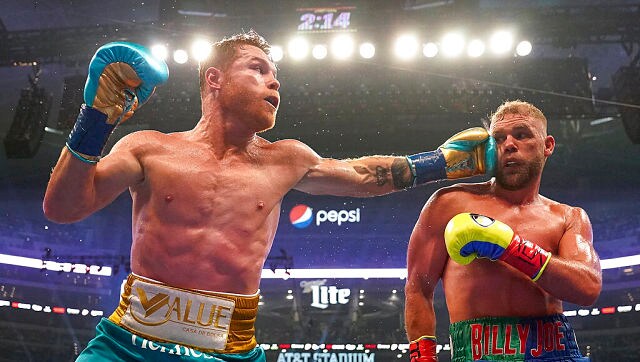 Sports
The wildly popular Mexican added another belt in the super middleweight division, handing Billy Joe Saunders his first loss when the English boxer didn't come out for the ninth round Saturday night.
Entertainment
#DemonSlayer earned $6.4 million, while #MortalKombat made $6.2 million over the weekend
Sports
The 44-year-old, undefeated former welterweight world champion is preparing to make a return to the ring next month with an exhibition fight against internet personality star Logan Paul at Miami's Hard Rock Stadium on 6 June.