India Open 2018: Spain's Beatriz Corrales takes tough route to emerge out of Carolina Marin's shadow
Spanish shuttler Beatriz Corrales takes the harder route to emerge out of the shadow of Marin and have her own identity in world badminton.
New Delhi: Beatriz Corrales loves tattoos. She has a tattoo on her left bicep that says 'heart over mind'. In 2016, when her compatriot Carolina Marin got all the attention after becoming the World No 1, Corrales listened to what her heart said.
That was it for her. The Leganes-born shuttler, who started badminton after watching her brother play, packed her bags and left for Milan, Italy. This was a major step in her career that would more or less decide her relevance in badminton. "I began to explore the possibilities and my federation also respected my decision," Corrales, who reached the quarter-finals of the India Open, told Firstpost.
While Marin continued to floor the top dogs, Corrales felt she wasn't getting proper attention in the Spanish national camp in Madrid. She reached a point where she felt she needed a change. "Despite all the good training, I was missing the key components that I need to become a top player. It wasn't enough in my opinion," says Corrales, who won the Wales and Brazil International titles last year.
For obvious reasons, the focus was on Marin. She was the poster girl of badminton of Spain — a country where sports meant only football and Rafael Nadal, whom Corrales is in love with because of his commitment and on-court abilities. So, in order to emulate the kind of success Marin had, Corrales had to make a decision. "Everything was about Carolina there. She deserves the focus, she is an amazing player but I was feeling that if I need to get better, now is the time to move on," she added.
Before setting off for the unknown, coaches at the national academy often questioned her decision but Corrales did what's best for her. And yet again, the heart had the last laugh over the mind. "They didn't agree with my decision. They didn't think that was the best move to go to Italy. Of course, they wanted the best for me so I told them that moving to Italy would be the best decision at the moment," Corrales says before adding: "But despite separating, the relationship with the coaches is okay."
In Italy, famous for its football and volleyball, badminton is hardly popular a sport. However, familiar faces in Milan came to the rescue. "The head coach and the assistant coach are Spanish. I know them because they used to train me when I was younger," says Corrales, who shares an apartment with an Italian shuttler in Milan.
A headstrong and an independent character, Corrales wanted to make sure that she walked the right path. In other words, she wanted to emerge out of the shadow of Marin and have her own identity in world badminton. On Friday, Corrales went down fighting to home-favourite PV Sindhu, who knows a thing or two about coming out of the shadows of more accomplished compatriots. And, she did after surpassing Saina Nehwal in the BWF rankings.
Although she was without her coach, who was busy handling the national camp, Corrales didn't look nervous at any moment while playing Ruthvika Shivani Gadde in the second round or even World No 3 Sindhu in front of the Indian fans. She wanted to do what her heart says. That's where the strong mentally plays its part.
Come to think of it, moving to a strange place at the age of 23 can be onerous. However, Corrales did not let that affect her because it was a matter of bread and butter. "They welcomed me with arms open. The treatment is great. The culture is different. It's not the same as Spain but a bit similar. I need to adapt to the culture, Italian people but in the end, it's my journey," she says, before adding: "They treat every player equally. Despite representing Spain, it's like a family in Italy now."
To reach the quarter-final stage of the India Open in Delhi was an achievement for the Spaniard as she is finally finding the motivation to up her game. Next up for her will be the European Team Championships in Russia, but before that she'll be heading back to her adopted home.
The 2018 season will be her second season in Italy and slowly, things are falling into place for the Spaniard. "Step by step, I am becoming a better player. I'm always in a better mood to play. That's the difference," she adds with a smile.
Sports
Tsitsipas, who had been given a bye into the second round, took just one hour and 24 minutes to beat 29th-ranked Russian Karatsev.
Sports
Rafa Nadal is aiming for a 12th Masters title in the principality ahead of his pursuit of a 14th French Open success and a record 21st Grand Slam.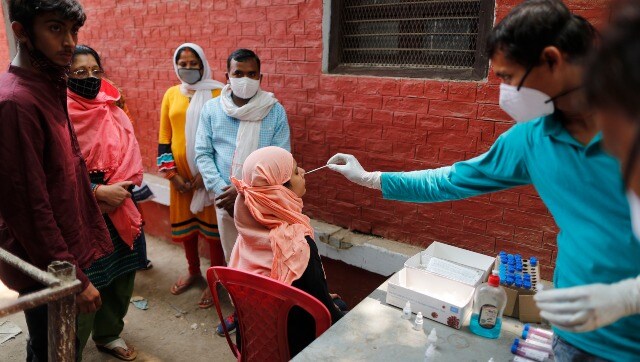 India
India must record suspected COVID-19 cases in addition to confirmed ones to get a more accurate picture, said Gujarat-based healthcare experts Dileep Mavalankar and Sanket Mankad