India Open 2017: Saina Nehwal and PV Sindhu started slow but showed their class to win
It's on the Siri Fort Stadium's courts that Saina has played some of her best badminton. She won the 2010 Commonwealth Games here after being a match point down and then picked up the 2015 India Open and with it the World No 1 ranking.
Winning the first game 21-17 against Arundhati Pantawane might give it a deceptive veneer of a close game but Olympic silver medallist PV Sindhu, whose name on a draw makes the fans reach out for block bookings, decided running away with the match was a better idea than giving credence to the proverb 'making a mountain out of a molehill'. With due respect to Pantawane, the second game was a brutal lesson in watching a champion raise the bar, eventually winning the match 21-17, 21-6. Stories were similar across the five courts of the Siri Fort Indoor Stadium.
Yet another fan favourite remodeling her playing philosophy after her knee surgery is Saina Nehwal, who beat back the challenge of Chinese Taipei's Chia Hsin Lee. The resident of Kaohsiung City with a world ranking of 39, might not have made Nehwal sweat in her pre-match preparations. But the former World No 1 was coming back after a difficult knee surgery. The first game went 21-10 to Saina and her fans relaxed. But Chia suddenly realised that she was here to play a match. With the Chinese Taipei shuttler leading  6-2, Indian fans sat up, though not perturbed yet. Chia was pushing Saina to the corners with deft drops and high tosses. The Chinese Taipei player was trying to finish off the rallies. She didn't want longer engagements knowing the former champion's penchant for carrying on stroke to stroke. After drawing level at 7-7, both players yet again came together at 9-9. But then Saina pulled away. Riding on some great shots and helped by nervous anticipation at the nets by Chia, Saina at one stage led 19-11. Chia came up with some deft moves to cut down the score-line but Saina closed it off at 21-17.
It's on these courts that Saina has played some of her best badminton. She won the 2010 Commonwealth Games here after being a match point down and then picked up the 2015 India Open and with it the World No 1 ranking. "It's always tough to play in front of a home crowd," said Saina. "But I am happy to cross the first hurdle and I look forward to going further in the tournament." Saina did admit that giving away six points in the 2nd game was a gift but gave credit to Chia for playing faster shots to unsettle her. "She is a doubles player and thus is a very tricky player," explained Saina. "She was making the game faster and didn't want to prolong anything on court. In fact, many players do that with me."
Saina also said the courts at Siri Fort are faster and unlike the ones in the UK and Dubai where you can play all your shots, here at the India Open, one needs to control the play first. Not getting into the trap of talking about the much-awaited quarter-final clash with Sindhu, Saina said that almost all players are playing well. "(Carolina) Marin, Sindhu, Ratchanok (Intanon), everybody has a shot at the title, so let's see what happens in the draw now," she said almost enjoying the relative anonymity of being seeded 6th with a world ranking of 8. Marin is the No 1 seed and Olympic Champion while Sindhu is seeded 4th with a world ranking of 5.
"Experience," explained Saina, rather surprisingly, "didn't matter at all." "It's all about fitness and strength. Unless the score is 20 all and 25 all and the opponent is an 18-year-old, it's the fitness that will win the match for you." The former champion also spoke about her quest to drop a few more kilos (she's already dropped four-five kgs) which should be good for her knees. The philosophy has changed and now the race is not to regain the World No 1 ranking but to win tournaments, to win matches. "I have to improve my knee as the rehab is already on," said Saina. "The back, glutes all need strengthening and that's how I will come back to win more."
Sindhu, on the other hand, is looking forward to her clash with Saina though it's constantly peppered with 'let's focus on the 2nd round'. "I think the quarter-final game will be good and if we reach there, we will fight to win. We did play in the Premier Badminton League (PBL) and sadly there can only be one winner in such a clash." Confidence is not something that is in short supply in Sindhu's corner.
Marin may seem a slightly sluggish starter as she beat South Korea's Kim Hyo Min 21-17, 21-10. Marin, however, threw down the gauntlet saying, "I am happy to win the first round and I am here to win the tournament." Analysing her win over an opponent ranked 41st in the world, the Spanish Olympic gold medallist said, "The first game is always about controlling the shuttles and I did expect a tough game and now I look forward to the challenges."
In the men's draw, India had a good outing with both the Verma brothers — Sameer and Sourabh — making it to the second round. Sameer stunned the World No 5 Son Wan Ho 21-17, 21-10 while Sourabh won against HS Prannoy 21-13, 21-16 and almost seemed apologetic about it. "We practice together and know each other well," said Sourabh. "He's had a good run at the All England and the Swiss Open but today I think I had the upper hand." Sourabh put it down to who was the 'better player on the day'.
If there was disappointment in running a top player close and not winning, it was in Ajay Jayaram's court. He played strongly and on an equal footing with the 6'4" Dane Viktor Axelsen. In the head-to-head, before the match, Ajay led 2-1 having beaten him in the 2012 Indonesian Open 21-16, 21-14 and then in the 2015 Korean Open 21-15, 21-15. Viktor had beaten Ajay at the Japan Open and interestingly none of the matches had gone to a third game. And neither did Wednesday's at the India Open. Viktor is a much improved player especially after winning the 2016 Olympic bronze medal beating Lin Dan 21–15, 12–21, 21–17.  Viktor was extremely pleased after his win over Ajay and said, "It's always tough to play an Indian on home soil and I am happy that I have come out a winner." Viktor has been a two-time finalist at the India Open and his 2nd round match against Kidambi Srikanth will be a repeat of the 2015 India Open final.
Srikanth does admit Viktor's game has vastly changed since the time he beat him twice in 2015. "He is more aggressive and precise in his strokes," said Srikanth. "I will have to be more consistent to beat him again at the India Open."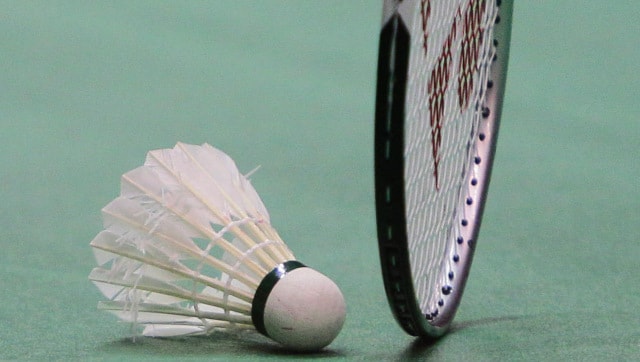 Sports
The Indians thus finished their group engagements at second place behind China, setting them up against Denmark in the last-eight stage on Friday.
Sports
Sindhu just couldn't find a way across the attacking game of An Seyoung, who was always a step ahead during the contest.
Sports
A struggling Kidambi Srikanth was outplayed by his world number 2 opponent and Tokyo Olympics gold medallist Viktor Axelsen, who won the first match 21-12, 21-13 in 38 minutes.