India faces losing Pune Challenger due to increased financial burden following revamp of ATP Challenger Tour
The Pune Challenger could go off the calendar next year due to additional financial burden, expected to be caused by the revamp of the ATP Challenger Tour.
New Delhi: A country which is already struggling to host enough tennis tournaments for its top men's players could see the Pune Challenger going off the calendar next year due to additional financial burden, expected to be caused by the revamp of the ATP Challenger Tour.
The TNTA and the KSLTA are willing to the take the pinch, though.
Among the wholesale changes announced by the ATP, from 2019 the singles main draw size will increase from 32 to 48 players and the hosts will have to provide hotel accommodation to all main draw players.
It is making Maharashtra State Lawn Tennis Association (MSLTA) jittery as the cost of hosting KPIT Challenger, a regular feature since 2014, will increase from Rs 1 crore to 1.5 crore.
"We are already a hosting a lot of tournaments on the ITF circuit for both men and women. We are also hosting the ATP World Tour event Maharashtra Open and one WTA event. Now if we have to provide accommodation to 16 extra players, we have to rethink about hosting it in 2019," MSLTA secretary general Sunder Iyer told PTI.
"The prize money will go up to $60,000 and the ATP will provide a subsidy of $10,000, but it looks difficult to raise more money. It will also be not good to ask government for funds since they are already supporting two big tournaments," Iyer said.
"The rupee is already falling. One dollar is now close to 70 INR. It's not easy to raise sponsorship money for tennis. So, the Challenger won't be commercially viable for us. It's a bad move, it will be a burden on organisers."
MSLTA, the most active state association in the country, spent $850,000 (approx Rs 6 crore) last year to conduct all the tournaments, including the Maharashtra Open.
There has been a steady fall in number of tennis tournaments in India since 2015 when it hosted four ATP Challengers, apart from 19 men's ITF Futures and 16 women's ITF events.
In 2016, only two Challengers were held -- Delhi Open and Pune Challenger. In 2017, the Delhi Open vanished but the Karnataka State Lawn Tennis Association (KSLTA) brought back the Bengaluru Open.
The Challenger tournaments in the country have benefitted the Indian players a lot as Yuki Bhambri re-entered the top-100 after winning the 2015 edition of the Pune Challenger and Sumit Nagal won the Bengaluru Open last year to make a significant jump in the rankings list.
Sunil Yajaman, Tournament Director for Bengaluru Open, says they are committed to host the event for five years, till 2020.
"I know the cost will increase but our players need tournaments, so we will continue with Bengaluru Open. It will surely be difficult for MSLTA since they are hosting lot of tournaments," he said.
Yajaman said providing accommodation to 48 players is not a big issue.
"Earlier, a player was eligible for five-night free-of-cost stay even if he loses first round. But now if you lose first round, you will be given only one night. So there will be marginal increase," he said.
Tamil Nadu Tennis Association (TNTA), which lost the Chennai Open after hosting the tournament for 21 years (1997-2017) due to financial crunch, has welcomed the revamp.
"It is a good move despite the fact that it will increase the hosting cost of the tournament. We need better tournaments. Why everybody is talking about Ramkumar today, because he made the final of the Newport. Our players need to compete against better players in bigger tournaments and only then will they grow," said TNTA Secretary Karti Chidambaram.
"There is no great competition in ITF Futures. The rankings in 300-350 bracket are misleading. There are no quality players. The dynamics of tennis is changing. After revamp only quality players will play on the Challenger Tour. We will continue to host our Challenger despite that there be more expenses," he said.
Among other changes, all main draw players will earn prize money and Challenger tournament will be re-branded in accordance with the number of rankings points on offer as as is currently the case on the ATP World Tour.
There will be five ATP Challenger Tour categories 70, 80, 95, 110 and 125.
From 2020, ATP ranking points will begin at the ATP Challenger Tour only, a change that will significantly reduce the number of ATP-ranked players. As of now players earn both ranking points and prize money while competing on the ITF Futures circuit.
Find latest and upcoming tech gadgets online on Tech2 Gadgets. Get technology news, gadgets reviews & ratings. Popular gadgets including laptop, tablet and mobile specifications, features, prices, comparison.
Sports
Top-seeded Djokovic lost four straight games and had to save a set point before beating Filip Krajinovic 7-6 (6), 6-3 in an all-Serbian match, and No. 2 Thiem nearly squandered a 5-1 lead in his 6-4, 7-5 win over Vitaliy Sachko of Ukraine.
Sports
Goerges reached her highest ranking of ninth in the world in 2018 and was ranked 45th at her retirement. Her most recent match was a second-round loss to fellow German Laura Siegemund at the French Open.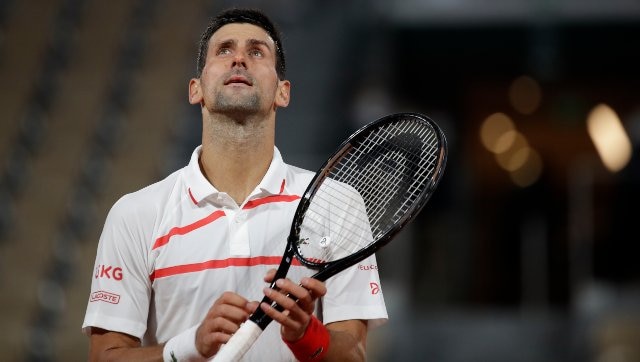 Sports
The 33-year-old Serb has been the top-ranked player at the end of a season five times: in 2011, 2012, 2014, 2015 and 2018.