India at Rio Olympics 2016: Comprehensive look at all athletes' results and performances
Everything that you need to know about Team India's performance in the Rio 2016 Olympics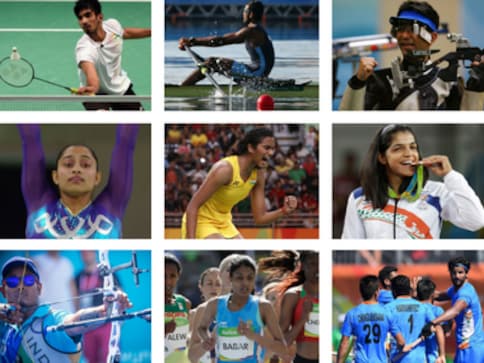 India may not have fared as well as it did in the 2012 London Olympics, but there were many stand-out athletes who impressed with their performances. But the Rio Games made it abundantly clear — not just to the ignorant officials — but also to the people of India, that more infrastructure and investment is necessary for Indian sportspersons.
In terms of medal tally, India finished their Olympic campaign on the 67th position. Defying all odds, shuttler PV Sindhu and wrestler Sakshi Malik became the unlikely heroines and saved India from returning empty-handed for the first time since the Barcelona 1992 Olympic Games.
Archery
Four Indian archers participated in the Rio Games. Atanu Das made it to the men's Individual 1/8 Eliminations, but failed to qualify for the quarter-finals.
Among the women, Deepika Kumari and Bombayla Devi lost the pre-quarter clashes, which was quite disappointing as Kumari was a big medal hope for India. Archer Laxmirani Majhi also lost in the ranking round in Rio.
The three women also made up the women's archery team, which crashed out of Rio 2016 in the quarter-finals.
Athletics
With over 30 athletes representing India, athletics was one of the largest units for Team India. While Lalita Babar recorded the best performance by an Indian in a track event after after PT Usha's fourth-place finish in the 400m hurdles in 1984 Los Angeles Olympics, most of the athletes failed to even match their own personal best performances.
Men
Discus thrower Vikas Gowda, in his fourth straight Olympics, produced a below-par performance with a best throw of 58.99m to finish 28th overall out of 34 competitors. He finished 16th in a field of 18 in Group B qualification round.
In the men's 20km race walk event, Manish Singh Rawat finished 13th with a time of 1:21:21, while his two compatriots, Gurmeet Singh and Krishnan Ganapathi, were disqualified early.
Sandeep Kumar finished a lowly 34th in the men's 50km Race Walk event at the Rio Olympics. The 30-year-old clocked 4 hours 7 minutes and 55 seconds, which was 26:57 behind the gold medallist Matej Toth of Slovakia.
In the men's marathon, Thanackal Gopi and Kheta Ram put up an inspired show and clocked their personal best timings to finish 25th and 26th respectively. Gopi registered his personal best timing of 2:15:25s, while Ram was just a second behind his compatriot, clocking 2:15:26s.
But it was disappointment for India's more accomplished marathon runner, Nitendra Singh Rawat, as he finished a poor 84th by clocking 2:22:52s, way below his personal best timing of 2:15:18s
Muhammad Anas finished sixth in his heat and 31st overall in the men's 400m event with a timing of 45.95 seconds and could not qualify for the semi-finals.
Ankit Sharma finished 12th in Group B with a distance of 7.67 metres in the men's long jump qualifying round and bowed out of the 2016 Olympics. He was the only long jumper representing India in Rio 2016 and had qualified with a jump of 8.17 metres, a distance that would have been enough to see him qualify for the finals had he repeated his personal best in Rio.
In the men's 800m race, Jinson Johnson failed to qualify for the semi-finals after finishing fifth with a modest timing of 1:47.27 secs in his heat. He would have qualified for the semi-finals had he repeated his personal best of 1:45.98.
Triple jumper Renjith Maheswary's flop show in big stages continued in Rio 2016 as he failed to make it to the final round after finishing 30th overall out of 48 competitors in the qualification with a pedestrian best effort of 16.13m.
The men's 4x400m relay team comprising Muhammed Kunju, Muhammed Anas, Ayyasamy Dharun and Rajiv Arokia clocked 3:02.24 in their heat but was disqualified for wrongful change of baton during the anchor leg between Dharun and Rajiv.
Women 
Discus Throw athlete Seema Punia finishing 20th in the Rio qualifiers and failed to make it to the finals. Manpreet Kaur ranked 23rd in the women's shot put qualifications.
Lalita Babar had a top-10 finish in the 3000m steeplechase finals. Babar clocked 9:22.74 in the finals, nearly three seconds outside her national record effort of 9:19.76 in the qualification of the Rio Olympics. Sudha Singh, also participating in the 3000m steeplechase failed to qualify for the final round after finishing a distant 30th in the overall rankings. She clocked 9 minutes 43.29 seconds in Round 1 Heat 3.
Tintu Luka failed to qualify for the semi-finals of the women's 800m race after finishing sixth in the heats. The 27-year-old athlete clocked a season's best of 2 minute 00.58 seconds to finish 29th overall out of a total 65 runners.
OP Jaisha and Kavita Raut finished 89th and 120th respectively in the women's marathon run.
In the women's 20km Race Walk, Khushbir Kaur finished 54th, clocking one hour 40 minutes and 33 seconds to complete the race. Khushbir was way behind her personal best of 1:33:37, and finished 11:58 behind the gold medallist Liu Hong of China. Sapna Punia meanwhile, was unable to complete her race. She retired from the 20km Race Walk after 8 kms, having clocked 37:44.
In the 100m sprint, India's Dutee Chand finished seventh in her heats with a timing of 11.69 seconds to bow out of the Olympics as well. Srabani Nanda, running in the women's 200m event, finished sixth out of eight competitors in her heat with a timing of 23.58 seconds. She has a personal best of 23.07. The Odiya girl finished 55th overall out of 72 competitors.
Nirmala Sheoran had a poor performance in the 400m preliminaries, in which she finished a distant 35th overall after ending sixth out of seven runners in heat 1 in 53.03 seconds.
The women's 4x4000m relay team finished seventh in their heats. The Indian team consisting of Nirmala Sheoran, Tintu Luka, M R Poovamma and Anilda Thomas clocked 3:29:33 to finish just above Cuba in Heat 2 in a field of eight teams.
Badminton
The star of the Rio Olympics was debutant PV Sindhu, who became the first female to win the silver medal at the Olympics. For the 2012 London Olympics bronze medalist, Saina Nehwal, it was a shocking defeat in her second group match against Ukraine's Maria Ulitina, due to a knee injury affecting the shuttler's performance.
In the men's category, another debutant Kidambi Srikanth gave a good fight, but ultimately lost in the quarter-finals against the Chinese badminton legend Lin Dan. The pair of Manu Attri and Sumeet Reddy lost two of their three Group D matches to end the men's badminton doubles campaign. Jwala Gutta and Ashwini Ponnappa suffered three successive losses in their Group A and were ousted early on.
Boxing
Indian participation in boxing clearly went downhill owing to the absence of a national federation. India had just three boxers in Rio in contrast to seven men and one female boxer in 2012.
Vikas Krishan bowed out of the Olympics in the quarter-finals after getting defeated by second-seed Bektemir Melikuziev. Shiva Thapa lost in the Round of 32 against Robeisy Ramirez Carrazana of Cuba. The Cuban boxer was not only the 2012 gold medalist in the 56 kg category, he even went on to win the gold in Rio. It was a disappointment for boxer Manoj Kumar as well as he lost in the pre-quarters to Uzbekistan boxer Fazliddin Gaibnazarov. But despite not winning any medal, it is important to note that all three Indian boxers lost to eventual medallists in Rio.
Golf
Despite finishing 41st in Rio, Aditi Ashok was a standout performer in the sport for India. The youngster finished 16 places above her ranking and shows promise for her career ahead. At one point after the second round, Aditi was tied for eighth place, as she finished the second round at 6-under, having shot 68-68 over the first two days of the event.
India's top golfers SSP Chawrasia and Anirban Lahiri on the other hand finished 50th and 57th respectively.
Hockey
The seventh-ranked Indian men's hockey side, led by captain P R Sreejesh, has come a long way since the Bejing Olympics, where the team failed to even qualify for the Olympics. The team showed promise, but ended up getting defeated by Belgium in the quarter-finals after squandering a 1-0 lead.
The Indian women's hockey team featured in the Olympics for the first time after 36 years. But they ended up losing in the preliminaries. It was a historic qualification the Games for them nonetheless.
Gymnastics
Dipa Karmakar became the first Indian woman gymnast to qualify for the Olympics in three apparatus and all-round events. Dipa has been in the sport for more than a decade. Everyone was anticipating her Produnova vault in the women's vault event. The gymnast ended up with a fourth place finish in the vault finals. The historic athlete is eyeing the Tokyo 2020 Olympics to make it to a podium finish.
Judo
Avatar Singh, ranked 79th in the world, was India's only judoka in Brazil. He ended his run in the Olympics in the Round of 32 eliminations.
Rowing
Dattu Bhokanal qualified in men's single sculls event after grabbing a silver medal in the FISA Asia and Oceania Olympic qualifier. India's sole rower's position in the Final Standing was Rank 13, and he ended on a high note by clinching first place in the Final C round of the men's single sculls event.
Shooting
With a contingent of 12, India had hopes from the shooting squad. But luck was not on the team's side and none of the athletes made the cut for a podium finish.
Jitu Rai was considered one of India's best bets for a medal across all sports. The veteran shooter surprisingly missed the finals of the men's 50-metre pistol event by a whisker. He also finished eighth in the finals of the 10m air pistol event.
Gagan Narang, London 2012 bronze medalist, wasn't able to repeat history. He finished at 23rd position in the 10m Air Rifle event; the 50m rifle prone event was no better where he finished at 13th position. His compatriot Chain Singh didn't do any better at the 36th place in the qualifiers. Narang stood at the 33rd Rank in the 50m rifle 3 positions event.
Abhinav Bindra missed the podium for the 10m Air rifle category by a very small margin to finish fourth in the event. Skeet shooter Mairaj Khan and 25m Rapid Fire Pistol shooter Gurpreet Singh finished ninth and seventh in their qualification rounds respectively.
Prakash Nanjappa finished 25th in the 50m pistol qualifier, while trap shooters Manvanjit Singh Sandhu and Kynan Chenai finished 17th and 19th in the qualifiers respectively.
Among the women, Heena Sidhu, another medal hopeful, didn't qualify for the 10m Air Pistol finals as her qualifying rank was 14, Ayonika Paul and Apurvi Chandela of the 10m Air Rifle event finished 47 and 34 in the qualifiers respectively.
Swimming
Indian swimmers Shivani Kataria and Sajan Prakash failed to move beyond heats, with Sajan ranking 28th overall in men's 200m butterfly event and Shivani ranking 41st in women's 200m freestyle event.
Table Tennis
Indian table tennis quartet of Mouma Das and Manika Batra for the women's singles event and Achanta Sharath Kamal and Soumyajit Ghosh for the men's singles events ended its Olympic campaign on the opening day itself as all four players lost their first round matches.
Tennis
The mixed doubles duo of Sania Mirza and Rohan Bopanna lost in bronze medal play-off at Rio. The doomed men's doubles team of Leander Paes and Rohan Bopanna crashed out in the first round of the Olympics. In the women's doubles category, the Sania Mirza-Prarthana Thombare duo also saw an early exit with a first round defeat.
Weightlifting
India's weightlifting campaign at the Rio Olympics ended in disappointment with Sathish Kumar Sivalingam finishing 11th in the men's 77kg event. In the women's category Saikhom Mirabai Chanu was one of two lifters who did not finish (DNF) in the 48kg category event.
Wrestling
Wrestling was subject to maximum controversies prior to the build-up to the 2016 Olympics in India. Sushil Kumar's off-field battle against Narsingh Yadav and the latter's doping controversy started the wrestling campaign on a sour note even before the wrestlers had set foot in Rio. But Sakshi Malik saved the day for the sport, and for India.
Sakshi won a bronze medal in the women's 58 kg freestyle category. Babita Kumari lost in the 1/8 round and her cousin Vinesh Phogat, who was a huge medal prospect, was forced to concede in the quarter-final bout after a freak knee injury.
Greco-Roman wrestlers Hardeep Singh (98kg) and Ravinder Khatri (85kg) lost in the first round of their respective events. Sandeep Tomar lost to two-time World Champion Victor Lebedev of Russia in the Round of 16. Even Yogeshwar Dutt had a shock exit by losing in the opening round to end India's wrestling campaign in Rio.
While many may believe that the Indian contingent failed to leave an impact in the Olympics this time, the athletes deserve appreciation. They already are receiving gratitude through honors with PV Sindhu, Sakshi Malik, Dipa Karmakar and Jitu Rai getting elected to be awarded the Rajiv Gandhi Khel Ratna award this year. Karmakar's coach Bishweshwar Nandi has also been nominated for the Dronacharya Award. Lalita Babar, Shiva Thapa and Apurvi Chandela are also set to receive the Arjuna Awards for 2016. Watch out the athletes on this list as they may spring a surprise or two in the Tokyo 2020 Olympics next time!
(With inputs from agencies) 
Tennis
As Sania Mirza made her way to the interview room after her last Grand Slam match, there was a common question from many: 'Why are you retiring?'
Tennis
Sania Mirza and Rohan Bopanna lost 6-7(2) 2-6 to the Brazilian pair of Luisa Stefani and Rafael Mataos in the mixed-doubles final of the Australian Open.
Tennis
Sania Mirza finished her glittering Grand Slam career with six titles, three in mixed doubles and as many in women's doubles.