If I hadn't been good, I wouldn't have got 400 wickets: Bhajji
The 31-year-old off-spinner believes having a clear conscience and performing the role assigned to him by the team is what matters most.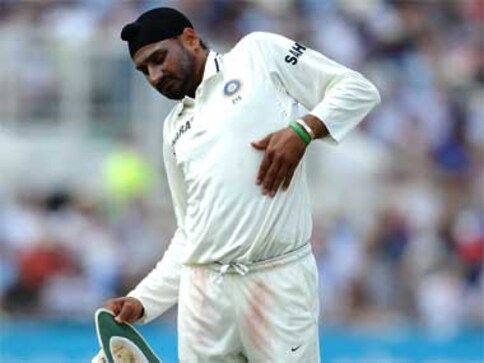 New Delhi: Critics have ripped him apart in recent times for his poor form but an undeterred Harbhajan Singh says having a clear conscience and performing the role assigned to him by the team is what matters the most.
Harbhajan, who is now fit to play after being ruled out of the England series due to an abdominal muscle strain, insists he could not have taken over 400 Test wickets if he
was not good enough at the highest level.
"All these years, I have maintained one thing. After a hard day's play, I go back to my hotel room and look at myself in the mirror. If I know that I have given my 100 percent, that's what matters to me", Harbhajan said in an interview.
"More than what people believe, an individual is the best judge and I can't fool myself," said the 31-year-old off-spinner.
Harbhajan came back after the second Test match in England because of a Grade I abdominal muscle strain and had to undergo intense rehabilitation programme at the National Cricket Academy in Bangalore. He is expected to make a comeback for Mumbai Indians in Champions League Twenty20.
"I started bowling even during my rehabilitation. Now I am bowling around 16-17 overs and gradually the workload would increase to 30 overs which is a standard number of overs sent down by a specialist spinner in a Test match," he explained.
When asked whether he is worried about facing a lot of criticism about playing in Champions League Twenty20 as he was injured during Test series, he replied: "No cricketer invites injuries. I was injured but now I am fit.
"Had there been any other tournament instead of CL T20, I would have even made myself available for that. I have been given a go-ahead by the doctors and physios and that's why I am getting ready for competitive cricket. For me, it's about playing any form of cricket," he explained.
Having seen numerous ups and downs in his 13-year-long international career which has seen him get 665 international wickets (406 in Tests and 259 in ODIs), Harbhajan has certainly learnt the art of keeping his chin-up in crisis situations.
There are people who have been writing him off but the fiesty off-spinner got 15 wickets in three Test matches in South Africa and 11 wickets in three Test matches in West Indies. His 70-odd proved crucial in India's Test win over West Indies. Before that he was adjudged man-of-the-series for his back-to-back centuries and 10 wickets against New Zealand.
"Just after one Test match, people start writing someone off as if he has not performed for 10 matches. If I hadn't been good, I wouldn't have got 400 Test wickets. I have seen a strange thing. When one gets five-for with full-tosses and long hops, he is a great bowler and if you go wicketless despite your best efforts, you are not considered good enough," he said with a touch of sarcasm.
Ask him who is the person he falls back on for technical suggestions, pat comes the reply: "Anil Kumble."
"Apart from Anil bhai, I also speak to our national selector Narendra Hirwani from whom I have got valuable inputs. Also speaking to legends like Rahul Dravid and Sachin Tendulkar who are great players of spin bowling has helped me grow as a bowler. For me, it matters what my teammates feel about me."
Recently legendary off-spinner Erapalli Prasanna had publicly criticised him, terming his technique faulty which certainly didn't go down well considering Harbhajan's record in international cricket for close to a decade and a half.
"Well, if he (Prasanna) feels that way about me, little can I do about it. He is entitled to have his own opinion. But with all humility, I would like to point out that with 25 to 30 percent accuracy as he (Prasanna) has stated, you can't get 400 plus Test wickets."
He admitted that India didn't play well in England but one series can't undo all the good work done by Team India.
"We had just one bad series. This is the same set of players who took you to No 1 ranking in Tests, won the World Cup. We will fight back and it's an earnest request please don't write us off," he added.
PTI
Fwire
A Pakistani provincial assembly "in its (in)finite wisdom" has declared that an ostrich is not a bird but an animal, said a leading daily.
Life
Sitting in faraway Los Angeles, stand-up comedian Aditi Mittal finds herself missing home and the chair that has an indentation of her bum on it.
Politics
In Tytler's whirl of TV appearances, there was not one moment of regret, however insincere. What we got instead was a fantastical, blustering denial that relied on the most outlandish claims.