New York: Did you watch the India-Pakistan WT20 match at Eden Gardens?
Loved it, didn't you?
For me, a born-again cricket fan in New York, brought up on tennis ball cricket on Hyderabad's calm streets when the only interruption was an occasional cycle rickshaw passing by, the World T20 is a great escape from baseball, American football - whatever that means, and Donald Trump.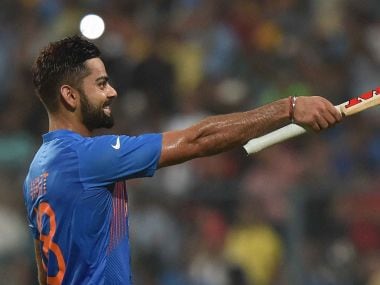 It's my liberation from a genre of Indian cricket I had run away from - the "…if he was in form, he could have…."
M S Dhoni, Shikhar Dhawan and Virat Kohli pulled me back - the Fan.
For those of us who form the swan song of a generation which watched cricket as grainy images on black and white TV sets and read the next morning's newspaper minus mobile phones and Twitter, Virat Kohli is the millennial who sweeps us back to what we loved best about batting brick walls like Steve Waugh, Geoff Boycott, Greg Chappell, Ricky Ponting….
For oracles fretting that T20 is breeding devil-may-care batsmen - Kohli is the best defense we can offer.
Kohli is just 27, and in him we see Test cricket's finest virtue - the art of digging in in the fourth innings, which Kohli showcases at one down in bang-bang cricket.
Take the Kolkata match.
Kohli arrived in the third over at 14 for 1 and faced just two balls by the time India fell to 23 for 3 in the fifth over. Target 118.
Until the ninth over, look at Kohli's numbers:
One boundary
9 singles off 13 balls
Kohli finished off with 55 off 37 - 7 boundaries and one six. Of the 37 balls, Kohli scored off only 28 and his 55 includes 19 singles. That's 9 balls he chose not to meddle with.
Let's bring Yuvraj Singh in here. We know his story - cancer survivor. Digging in is what survivors do. They wait it out, they don't waste time planning - it's the chemo 101.
"Yuvraj Singh is one of the best batsmen to watch in world cricket when he's in form. He is ego personified. Yuvraj doesn't just hit the ball, he lets it rebound off his aura," says Jarrod Kimber on ESPNcricinfo.
But with just 20 overs in all, aura is going at a big discount.
Yuvraj had every chance to shine as brilliantly - how often do you get all this on the same day: Eden Gardens, India versus Pakistan, Sachin Tedulkar and Amitabh Bachchan in the stands, a totally possible 118 target and India's future in the tournament on the line.
Chugging along just fine at 24, Yuvraj pulled a short ball from Wahab to Sami at deep midiwcket when India needed 35 off 36 balls. It's not like India needed 35 off 10 balls.
Virat Kohli is not just the difference between India and Pakistan, he's the fine line between discernment and impetuosity in wham bam cricket.
"The minute you hesitate you are in trouble." Steve Waugh said often but Kohli has added layers of meaning to that - hesitating until it's not too late is better than being the 'other guy' who takes a chance and then a long walk back to the pavilion.
20 overs is the equivalent of a tennis three setter, there's only so much recklessness that can pass for romance.
"Ek player ko chance toh lena padega naa," my neighbour's father who's flown in from Jamnagar tells me about Yuvi's departure.
That one guy could have been anybody, Virat Kohli too.
Kohli decided he wasn't going to be the 'other guy' who played on too early and then blamed a spiteful wicket.
"What makes you such a good chaser?"Nasser Hussain asked Kohli after the match.
"I don't know…it's good to have a score on the board, it helps me calculate, I know how much more we need, I can plan," Kohli said.
Play it late, chase it down
Both teams dealt with the same bunch of stuff, a glossy pitch that turned with venom, pacers bowling cutters, spinners stunned by the bounce and turn. What Kohli got, Yuvraj got too, so did Afridi and Shoaib Malik.
If Yuvraj hurried to loft, Afridi rushed in with four seamers on a spin web. Both find a place in the stats, Kohli in the stars.
Kohli admitted that he did not know that wicket would offer so much turn till Ashwin started bowling.
"I didn't look at wicket till Ashwin started bowling. The way the ball spun, I thought it was going to grip. Even cutters bowled by fast bowlers was gripping. So I told our batting coach (Sanjay Bangar) that since the ball was popping up, I would stand inside the crease and open the bat face rather than hit cover drive," said Kohli.
What sets Virat Kohli apart is a metaphor for winning at anything - play it late, keep it low; something you want will always be just out of reach so do your math and chase it down. Just don't tell anyone you're a gym rat.
For Yuvraj, for all of us, the Kohli doctrine is strong medicine : First, do no harm. Then do your math and work backwards. If T20 is quick, a career resurrected at age 34 may speed away even quicker.
Now that Kohli's brought me back to cricket, this is what I want to see next: The return of an enchanted West Indies team - a Michael Holding apprentice thundering in to bowl, in step with the calypso rhythm rising in waves from a jampacked stadium.
What a sight that will be.
---
Links:
Great Win Team India. Thank you for the innings and gesture @imVkohli! #IndvsPak (1/2)

— sachin tendulkar (@sachin_rt) March 19, 2016
Team India returning to the dressing room after the game, waved to me. Felt like I never left the team...#IndvsPak (2/2)

— sachin tendulkar (@sachin_rt) March 19, 2016
Great win!! Fabulous innings by @imVkohli!! Crucial partnership with @YUVSTRONG12 #IndvsPak #WT20

— Anil Kumble (@anilkumble1074) March 19, 2016
Dhoni on Kohli
"It's very simple. What an innings is all about is how you convert it, when you're under pressure.  There are a few ways to handle pressure. At times we have seen, in Test cricket, or ODI and T20 format, when there is a lot of pressure, often they go for the big shot. It seems at that point of time that that's the best option, but when you're under a lot of pressure, the best way to deal with it is to take a single, go to the other end, because that calms you down, and at the same time you have that positive intent because you're looking for that single. And you know your areas. Everybody knows what their strength is - for some it's a flick, for some it's the cut. So if it's in your area, you have to play your shot. If not, try to take a single, go to the other end. And if you see his batting, that's what he really does. And where he has an edge over the others is, you have to push hard. That's why he loves batting with individuals who can run hard with him. Because running hard is the easiest way to score runs. You hit it in the middle, between long-on and deep midwicket, if you have two good runners, you can convert that one into two, or one-and-a-half runs into two, and that puts a lot of pressure on the bowler and the fielders."
Ian Chappell on Kohli
"Kohli has rightly earned a glowing reputation as a finisher; this innings added a little more lustre, and doing it against Pakistan will only make him more of an Indian favourite. This knock was reminiscent of his second-innings Test hundred in Adelaide. Like in Adelaide, he looked as though he was playing on a different pitch to the other batsmen and was rarely troubled. His ability to score all round the wicket is a great attribute on pitches helpful to bowlers, and his competitiveness drives him on in tense situations. For a player who can be extremely feisty in the field, he remains remarkably calm with a bat in his hand in tense finishes."
Firstpost is now on WhatsApp. For the latest analysis, commentary and news updates, sign up for our WhatsApp services. Just go to Firstpost.com/Whatsapp and hit the Subscribe button.
Updated Date: Mar 21, 2016 07:10:50 IST