ICC Women's World Cup final 2017: England's win, India's loss won't matter; the game has changed forever
It was different. It was intense. It was a real World Cup final.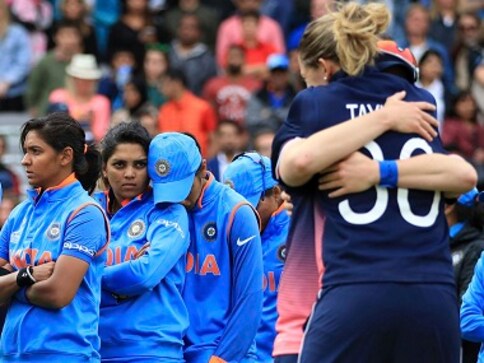 It was different. It was intense.
It was a real World Cup final.
Before the tournament, India were David and England, Goliath. David did the inevitable and silenced Goliath in the tournament opener. They did the unthinkable and raced to the semi-finals to face mighty Australia. In women's cricket, this Australian Women's team is equivalent to the Ricky Ponting-led unit of the 2000s — near-invincible and dominant. Surely, India's journey was coming to an end. After all, they had beat this Australian unit only once in eight games before the semis. Then came that moment of brilliance from Harmanpreet Kaur that turned the game and India cruised to the finals to find England yet again.
They strove, they fought, they dominated, they struggled, they lost.
Not since MS Dhoni slogged Sri Lanka to oblivion in Mumbai had the cricketing world seen such an intense final. The match had everything for which a cricket fan pays to enter a stadium: Drama, action and ambition. India hadn't played a World Cup final at Lord's since Kapil Dev's unassuming men denied a juggernaut of a side called West Indies in 1983. Here, the women returned to the historic venue in hope of completing another heist.
That was not to be as Heather Knight and her troops led by a confidence oozing Anya Shrubsole came back from certain defeat to script a historic triumph in front of their home crowd.
The action
Put in to bat, England lost three upfront but recompiled through Sarah Taylor and Nat Sciver. It took a magical spell from Jhulan Goswami — who, in the semis, bowled Meg Lanning with the ball of the tournament — to halt England's cruise. Goswami took wickets off consecutive balls and England were suddenly reeling. The tail battled. Their uncontrollable sword blades swished in the tense atmosphere around the ground. England were breathing. They had 228 on board. It was by no means a winning total, but they had a straw to clutch on to.
Smriti Mandhana, who won several admirers at the start of the tournament with two game changing innings, was at the crease after a series of failures. She failed again. Surely, the floppy hat-wearing Mithali Raj, their charismatic leader, would take them through. She didn't. Some lazy running handed India a huge blow as Raj departed. But the country celebrated as Harmanpreet Kaur put on another show.
Punam Raut, meanwhile, was nudging singles at will to race past a half-century. The game was well within India's grasp. They had faltered in the past. But this was different. They had immense support and millions watching this time around. They had an experienced skipper and some flamboyant cricketers. But eventually, it all boiled down to who could handle pressure. India couldn't. The women slogged. The conditions were sluggish and they should have known that such shots were unwarranted on this track. They lost one, two and then a whole lot more. Shrubsole shoved in some more of those skiddy leg-cutters to seal India's fate. That was experience playing a huge role. She was 2014 the Women's World T20 player of the tournament. She knew pressure more than most.
England were smiling. Sarah Taylor was smiling. Shrubsole was smiling. Knight, their beloved skipper, was literally giggling.
"I can't stop smiling," Knight said after the match.
The Indians weren't smiling. They had fought and dominated but they lost when it mattered.
But was this result important?
For years, women cricketers had taken a backseat, were neglected and ignored. Their male counterparts were worshipped while the fans could barely blurt out a name or two from women's teams. All that has changed as the women took centre stage in the 2017 event in England.
A record 50 million people tuned in to watch this World Cup, an 80 percent increase from 2013. The tickets for the World Cup final were sold out with a record 26,000+ bearing witness to a remarkable World Cup final. Steve Elworthy, the director of this Women's World Cup, was intent on making this event as good as the men's.
"It's punching above its weight," Elworthy had commented.
"Hopefully this tournament will be a springboard for women's cricket around the country, and around the world," Knight commented after the final.
It sure is.
The intensity of this final has no close comparisons in the men's game. Such was the manner in which both teams fought that the fans barely had a breather. It had everything. From dubious running, dropped catches, missed run-outs, debatable third-umpire calls to brilliantly set fields, sharp cricketing brains, smart bowling changes and game changing spells, this World Cup final was a highlights package right till the very last ball.
When the Women's World Cup started out in 1973, two years before the first Men's World Cup, it was small. The Men's World Cup gained popularity with each year and reached a pinnacle in 2011. The Women's World Cup was barely shown since few watched it anyway. But the cricketing world needed a change. Things had gotten too predictable with the glam and bash of T20s offering the only reprieve.
Enter the women and a tournament to remember fondly forever. Forty-four years ago, when the inaugural Women's World Cup took place, Lewis Carroll's Alice took a giant leap into a hole, chasing a rabbit. She entered a Wonderland in her dreams, a land brimming with immense possibilities and entertainment.
Unlike in the story, women's cricket is waking up to a Wonderland. The golden years are here and this World Cup final at Lord's will be seen as an advertisement for women's cricket. None of India's mishaps or England's joys in this finale will matter years down the lane. All the cricketing world will remember is the feast these teams offered to thousands at Lord's on this day.
Women's cricket will never be the same again. Its players will never be looked upon the same way again.
They have reached Wonderland. Let the adventures begin!
First Cricket News
India skipper Harmanpreet Kaur played a brave knock of 65 runs but was unable to save India from the hands of defeat as Australia won the match by nine runs to clinch the Commonwealth Games 2022 title.
First Cricket News
McGrath tested positive to Covid-19 on the morning of the gold medal match in Birmingham.