ICC Women's World Cup 2017: With Mithali Raj and Co in second final, is this the best Indian team ever?
India first made the final in 2005 and Mithali Raj and Jhulan Goswami are the only players from that squad to also feature in the current team. Take a look at how the two teams compare against each other.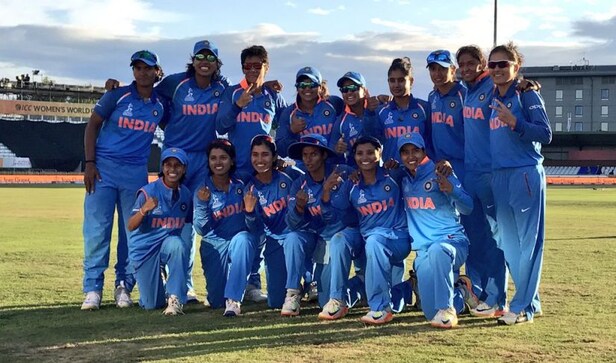 The brand of cricket played by India at the World Cup has won many fans. After a strong start, they lost a bit of steam, but have come back incredibly to book a spot in just their second ever final.
Their good show has prompted a question though; is this the best ever Indian team? And the first point of reference has been the other group of players who made a final, the team of 2005. Mithali Raj and Jhulan Goswami are the only players from that squad to also feature in the current team.
Firstpost lined up the player and the numbers, compared them, to get a clearer picture:
Mithali Raj vs Mithali Raj
In 2005, the World Cup was Raj's first full series as captain. She had played just 56 matches, but even back then, she boasted an average that hovered around 50. She was the fifth highest run scorer in that tournament.
Cut to 2017, and over 185 games, her average is still that high. She is currently on 392 runs, the second highest in the tournament.
Winner: Tie
Jhulan Goswami vs Jhulan Goswami
Goswami had a stellar tournament in 2005, making the most of the support that the South African pitches offered her. She was the third highest wicket taker, with 13 wickets in eight games at an economy of just 2.74.
The pitches in the 2017 edition have not been as helpful for the fast bowlers, and she has only seven wickets from her eight games so far, besides having a high economy rate of 4.48.
Winner: 2005
Smriti Mandhana vs Jaya Sharma
Mandhana started the World Cup of 2017 like she was looking to make up for lost time when she was out with injury, with almost 200 runs in her first two games. She came into the tournament with an average of 31, but after her strong start, has failed to cross 15 in her next six innings.
In 2005, the left-handed Jaya had a torrid campaign, averaging less than 10 with just 68 runs in the tournament. It was disappointing, as Jaya had more than a 1,000 ODI runs to her name before that from just 33 games.
Winner: 2017
Punam Raut vs Anjum Chopra
Raut made a comeback into the Indian team in the series before the World Cup, and since then has scored two centuries. Raut is averaging a healthy 36 in this tournament, although her strike rate of 65 takes some of the gloss off the 295 runs she has so far.
It is healthier than Chopra's strike rate from the 2005 tournament though, which was 46.27. Interestingly, her average for the tournament was identical to Raut's.
Winner: Tie
Harmanpreet Kaur v Rumeli Dhar
With an unbeaten 171 in the semi-final, Harmanpreet propelled India into the final after a quiet first half of the 2017 World Cup. She pitched in 32 overs with her part time off spin, and taken five wickets, but it is in her role at No 4 for India that she has had the most impact.
For the 2005 team, a raw Rumeli Dhar played the all-rounder's role, but picked up only three wickets in eight games. She averaged 33 with the bat though, scoring 101 runs in five innings in the tournament.
Winner: 2017
Veda Krishnamurthy vs Hemlata Kala
Veda did not make the starting XI in the Indian line up, but once she did get an opportunity, she immediately made an impact. With 118 runs from five innings, at an average of almost 30, she has given the innings the push it has needed at the back end.
In contrast, Kala did not make much of an impact in the World Cup of 2005, scoring just 39 runs in eight innings. Kala, now a selector, is travelling with the team for this tournament.
Winner: 2017
Sushma Verma v Anju Jain
Wicketkeeper Sushma came into the 2017 World Cup with hardly any ODI runs, and a top score of 4. She came good in pressure situations though, scoring vital runs in the game against Pakistan to bail India out of trouble. She has 14 dismissals so far, six catches and eight stumpings.
In contrast, the wicketkeeper of the 2005 team was a legend of Indian cricket. Anju Jain opened the batting, and averaged almost 30 in the World Cup of 2005, with 155 runs from eight games. With 17 dismissals, (nine catches and eight stumpings — the most in the tournament), she was one of the best wicketkeeper-batswoman on show in South Africa. Jain retired from international cricket after that tournament.
Winner: 2005
Deepti Sharma v Nooshin Al Khadeer
Deepti currently sits on the fourth position in the highest wicket-takers' list, with 12 wickets from eight games. She has also scored 202 runs in the tournament, batting at various positions in India's top order, with two half centuries.
Al Khadeer, with 11 wickets in the eight games in the 2005 World Cup, was a critical part of India's three-pronged spin attack. She conceded only 3 runs an over in the tournament.
Winner: 2017
Shikha Pandey v Amita Sharma
Pandey has taken a wicket in her first over thrice in the 2017 edition, and has been useful with the old ball as well. She has taken eight wickets in six games, at an economy of 3.69. She has not contributed much with the bat yet.
Amita served India as an all-rounder in the latter half of her career, but played the 2005 World Cup primarily as a bowler. She was the second highest wicket-taker in the tournament, with 14 wickets from eight games.
Winner: 2005
Ekta Bisht/Rajeshwari Gayakwad v Neetu David
India's left-arm spinners, first Bisht and later Gayakwad, have caused the most damage in the 2017 tournament. Both have claimed five-fors — Bisht against Pakistan and Gayakway against New Zealand.
But both have nothing on the peerless David, who was the highest wicket-taker in the 2005 edition by some margin. She took 20 wickets in eight games at an average of just 8.35. She was a full six wickets clear of the second highest wicket-taker, and came into that World Cup with the experience of having played 63 ODIs.
Winner: 2005
Poonam Yadav v Deepa Marathe (nee Kulkarni)
Poonam  has just started her ODI career; she has only played 22 ODIs so far.She has taken only nine wickets in the eight matches in the 2017 World Cup. But she has troubled batswomen with her flight and turn, and has thus gone at less than four runs an over.
In contrast, the 2005 World Cup final was the last ODI for left-arm spinner Deepa, who played 59 ODIs for India. Marathe played a supporting role to David and Al Khadeer, though, keeping the runs down (2.7 runs per over) while taking six wickets in eight games.
Winner: Tie
This count turns up a tie between these two sides, at four-all. The side of 2005 certainly had the better bowling line up, but the team of 2017 bat much deeper. Also, the intangible values of fitness and fielding do not reflect here, but the current team ticks both those boxes when compared to the 2005 bunch.
Snehal Pradhan is a former India cricketer and now a freelance journalist. She hosts the series 'Cricket How To' on YouTube, and tweets @SnehalPradhan.
Sports
With this victory, Team India became the first side to defeat the Aussies at the Gabba in 32 years
First Cricket News
With Virat Kohli's captaincy tenure in all formats coming to an end following his resignation from Test leadership, there are questions about who could be his long-term successor considering that Rohit Sharma will be 35 next year.
First Cricket News
The stylish Southpaw, who is the Indian team's vice-captain in the format, was the country's highest scorer in the format in 2021 with 255 runs at an average of 31.87.