ICC Women's World Cup 2017: Harmanpreet Kaur's knock was made by India, but made in Australia
Before the WBBL, few overseas players spent the Australian summer playing cricket Down Under. Harmanpreet averaged almost 60 in the second season of the WBBL. Six months later, she scored the magnum opus of her career, an unbeaten 171 off just 115 balls, to knock Australia out of the tournament.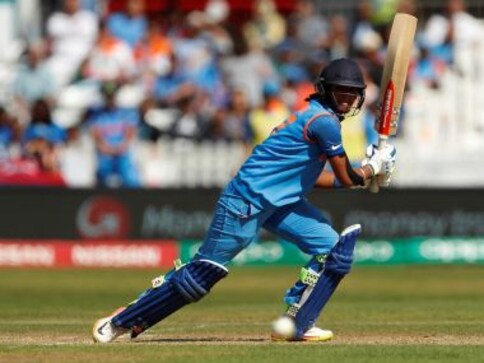 Name a title, and Australia have won it. WT20? They won three in a row starting with 2010. World Cup? They were Champions in 2013 in India, their sixth title. The ICC created a separate competition, the ICC Women's Championship, that lasted three years and spanned 21 ODIs. Australia won that too.
Australia made all the right moves for world domination, with the single mindedness of a super-villain. They made their players the highest-paid female athletes in the world. They sent their age group team to the sub-continent. They held camps to figure out how to bowl and play spin. It was the perfect plan. But they made one mistake.
They started the Women's Big Bash League.
Before the WBBL, few overseas players spent the Australian summer playing cricket Down Under. Mostly Kiwis, a few players from England, even the odd Scot. But the WBBL brought overseas players there like ants to a sugar cube.
In the 2015-16 edition of the WBBL, four West Indians played in the tournament. Stafanie Taylor helped her team the Sydney Thunder win the inaugural title. Hayley Matthews turned out for the Hobart Hurricanes. Deandra Dottin played for Brisbane Heat.
Three months later, Dottin almost bowled a maiden in the last over of the WT20 final. Then Taylor and Matthews combined to chase down Australia's imposing total, and leave them without a trophy for the first time since 2010.
In the 2016-17 season, the Sydney Thunder added another international player to their roster: Harmanpreet Kaur. Harmanpreet averaged almost 60 in the second season of the WBBL. Six months later, she scored the magnum opus of her career, an unbeaten 171 off just 115 balls, to knock Australia out of the tournament.
Australia are now in their second year without a world title. And Harmanpreet and India have a shot at their first.
In February 2017, Harmanpreet played the ICC Women's World Cup qualifiers. After her successful WBBL, she was expected to dominate the tournament that featured the four lower ranked teams. Instead, she had scores of 20, 20*, 7 and 24 in the tournament.
India reached the final, where South Africa set them a record 245. After looking in control, India lost wickets in a heap. Harmanpreet was left to bat with the tail. With one wicket left and eight runs needed off two balls, she smoked a six and then took two to give India a famous win.
In this World Cup, Harmanpreet had had a quiet tournament. Her top score prior to the 171* came in the previous league match —a positively harmless 60 off 90 balls. But on Thursday, the stakes were much higher. The winner would earn the right to contest the final at a sold-out Lord's, besides the biggest prize money pot ever for a women's tournament.
In this backdrop, Harmanpreet conjured a once-in-lifetime innings. If there was any doubt about who the big match players were in the team, the knock made it clear that she was one of them.
Harmanpreet's innings was like a middle-distance race. A brisk start — she made 10 off her first 11 balls. Then the holding period, where the pace is maintained and the cadence of the legs established. Harmanpreet went along at less than a run-a-ball, supporting Mithali Raj (36 off 61). She coasted, the only stumble being a missed stumping chance, when the 'keeper did not   collect at leg side wide. When Raj was dismissed, the score was 100, Harmanpreet was on 39 (57 balls) and already more than half the truncated innings had passed by.
Then came the last phase of the middle distance race: the sprint to the finish line.
Just an over after Raj was dismissed, Harmanpreet found the gas pedal, helped by a no-ball and free-hit from the bowler. She brought up her 50 (64 balls) in the same over, and never looked back. It was the start of the kind of innings that the Australian coach later described as "red hot." Her next 50 runs came in just 26 balls.
Deepti Sharma may have the highest ODI score in Indian cricket, but at Derby she was given a scare from the woman who finished second. She tried to turn down a two that was always on, and in the process almost ran Harmanpreet out on 99. What followed was perhaps the most livid celebration of a century in the history of the game. Usually players remove their helmets in ecstasy, raising them and their bats towards the sky when they get a 100. Harmanpreet took hers off and then smashed it on the ground, where her gloves soon joined her. Deepti stood about 10 yards away, afraid to come any nearer to her furious partner, as if Harmanpreet's very presence was a bonfire which she could not approach.
"It was heat of the moment," said Harmanpreet, "and I really am sorry to her because I don't want to lose my wicket at the that moment and I don't want to lose her wicket too. I got a little bit angry but we are fine now.(sic)"
Their version of "fine" translated into a 137-run partnership in which Harmanpreet scored 106. Once she scored her 100, she went through an extraordinary series of scoring shots to get to 150: 4, 6, 6, 4, 4, 2, 4, 4, 6, 4, 1, 4, 1. These included 22 runs from an over from off-spinner Ashleigh Gardner, who had bowled the most dot balls in the tournament after the group stage. In just 17 balls, she had gone to 150. While she missed out on celebrating her 100, she made up by raising her bat for her 150.
She scored 103 runs off her last 40 balls, using her ability to clear the rope to toy with the field. Her seven sixes were all on the leg side, where she either slog swept or used her feet to hit. Finding the boundary had become brutally common; DC's comic character Deadshot would have been proud of both her accuracy and consistency.
By the time she was done, she had scored her first hundred on foreign soil, the highest score in a World Cup knock-out match, and the joint fifth highest score of all time. The rain that delayed the start of this game had kept many Indian fans away. News of Harmanpreet raining sixes brought them back to the ground.
They came and saw a famous Indian win. Made by India. And perhaps made in Australia.
First Cricket News
The fixtures will serve as a preparation for the upcoming T20 World Cup scheduled to take place in Australia in October and November.
Business
Commerce and Industry Minister Piyush Goyal said a delegation from Italy including its foreign minister is in New Delhi at present with which he will be having deliberations
First Cricket News
Former Australia all-rounder Andrew Symonds died in a car crash aged 46 on Sunday, leading to an outpouring of tributes from ex-teammates and fans from all over the world.