ICC, Hawk Eye representatives give presentation on upgraded version of DRS to BCCI
ICC and Hawk Eye representatives gave a detailed presentation on the upgraded version of DRS to BCCI president Anurag Thakur and coach Anil Kumble.
New Delhi: BCCI president Anurag Thakur and coach Anil Kumble on Wednesday attended a meeting with ICC and Hawk Eye representatives, who gave a detailed presentation of the upgraded version of Decision Review System (DRS).
There are talks that DRS could be used during the upcoming India-England series, comprising five Tests, or during the series against Australia later.
As per initial feedback, the BCCI bigwigs including the president and the coach have felt that there are "some improvements" which meant that some of India's issues have been addressed in the upgraded system.
The hour-long meeting was attended by president Thakur, CEO Rahul Johri, GM (Game Development) MV Sridhar while ICC was represented by their General Manager Geoff Allardice along with two representatives from the 'Hawk Eye' company.
"Yes, we met them today. We saw their presentation," Thakur confirmed the development to PTI on Wednesday.
When asked to elaborate, the president said:"There has been some improvement in what we saw during their presentation. We will now discuss the matter internally and get back to them (ICC) at the earliest."
Kumble's presence at the meeting bears special significance since he has been one among few people who are abreast with the kind of functional changes that has been worked to make the system better and remove BCCI's apprehension.
Incidentally, Kumble visited the Massachusetts Institute of Technology (MIT) lab in the United States where they were working to improve the controversial 'Ball Tracking Technology'.
BCCI and India's contention has always been that 'Ball Tracking Technology' is not 100 percent foolproof.
The doubts have stayed since India's disastrous tour of Sri Lanka in 2008 where the DRS in its initial form was used and the Indians got only one decision going their way.
The seniors at that time including Kumble, Rahul Dravid, Sachin Tendulkar, Sourav Ganguly and MS Dhoni had all expressed their reservations. BCCI's stand has been obstinate for a long time even as ICC had repeatedly tried to reach out to them with Dhoni being at the helm of affairs.
However a change of heart seems to have happened once Virat Kohli took over the charge of the Test side.
Kohli has time and again said that he is open to usage of technology.
With spin friendly tracks on offer during the remainder part of the Indian Test season with Ravichandran Ashwin expected to bowl a decent number of overs, it is only imperative that the parent body provide him with all the backing that he needs so that he doesn't suffer from umpiring howlers for close bat pad catching calls or faint edges which are detected on 'Hot Spot'.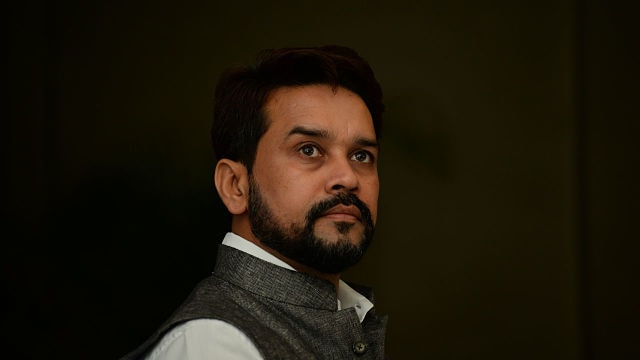 Sports
Thakur said being the main financier of Olympic sports in the country, the government has every right to take calls on matters of national representation.
First Cricket News
Daren Sammy led the West Indies to their second World T20 title, beating hosts India along the way as MS Dhoni's celebrated side once again stuttered in a crunch game.
First Cricket News
The title win was a fitting goodbye to Jayawardene and Sangakkara who announced their retirement from the format after the edition. Even more fitting considering the two legends had lost four finals previously.