IAAF World Athletics Championships 2017: Combative Davinder Singh Kang aims for history in javelin throw final
Doing well at the World Championships has been Davinder Singh Kang's consistent refrain and the training done with an eye on the tournament has paid off.
The National Institute of Sports, Patiala wears a different look when dusk envelops it in an ever tightening embrace. On 2 June, it looked down benignly at an enthralling javelin contest between India's best two exponents. One, a junior breaking his teenage throwing teeth to become a senior contender for the senior tour, while the other had been hurling the spear for close to 16 years.
There was still some light in the middle of the pitch surrounded by the fast-fading tartan tracks. Running in from where an audience of around 70-80 people sat cheering both Neeraj Chopra and Davinder Singh Kang, the spear for a split second wasn't visible till it took a higher trajectory. These two were throwing to loud cheers. Kang had his own small following.
Chopra's first was 85.63m that had killed the competition. Any other thrower would have flung in the towel, just gone through the motions and walked off with silver. But not Kang. After a poor 77.13m throw, Kang threw 81.81m and his audience cheered him on for more. Chopra had 82.11m and then 81.71m. Kang responded with 83.82m, still short of Chopra's first throw, monstrous by Federation Cup standards. Kang wasn't giving up. His last was 81.28m while Chopra got an 83.91m.
Later, as he sat on a bench near the basketball courts, he spoke about throwing the javelin like a priest trying to convince an atheist. There were moments when he spoke adoringly about the sport. At other moments, you could see the dark stain of frustration spread across his face.
"I never give up," he said, when asked if the competition was over after Chopra's first big throw. "I would have beaten it," he said confidently.
If pushed more or challenged, he probably would have thrown the whole night to prove you wrong. Kang is the kind of a man who would climb Mount Everest, and if questioned that he probably used a shorter route, he would summit it once again. In Patiala that evening which fast turned into night, he also spoke about the World Championships and how his focus was to throw in the final.
"Neeraj is very good but I will aim to be with him in the final," he said then. There are times when he comes across as loud, and you wish he would tone it down. But as you get to know him, you realise, he is what he is.
After claiming bronze medal at the Asian Athletics Championships, which for him was a failure as he wanted the top two positions, he was walking away from the media throng that waited for him and Chopra. But he came back half way and said, "Remember, I will win a medal in London. I will be on the podium."
"Remember my words", he told a bunch of TV crew who were hanging on to every word he said. At this moment of time, that would be good archival material to start playing before Kang walks out in that 13-man field to try and create an impression on a bunch of world beaters.
Kang is not your typical Nordic six-footer. He is 5'10 inches tall with a splayed out shoulder that gives him the strength and fluidity in the throw.
"His strength is his rhythm that he brings when all aspects of javelin throwing are working well for him," says Kashinath Naik, his coach and a former Commonwealth Games medallist. "The important thing is how well the other throwers in the field doing. Olympic and World Championships finals are stressful and not big distances are usually achieved."
The first three throws in a final are extremely important as based on that the top eight are chosen and then they get another three throws. In the World Championships final, since there are 13 throwers, five will be eliminated after the first three throws are in. "So it becomes important that Kang throws at least 83 to 84m to remain in the top eight group," says Kashinath. "In the next round of three throws, anything can happen as under pressure, top guys also fail."
In the last 15 editions of the World Championships, 90 and more has been achieved four times; five times between 88m and 90m and five times between 85m and 88m. The lowest winning margin has been 83.54m in Rome '87. Assuming we take out Kang from the top two medals and look at the battle for the bronze, seven times it has been won with distances between 82m and 86m.
"I was fully confident that he would reach the finals because he had done 84-87m earlier as well," says Kashninath. "In January, during his training he used to throw 87m regularly. So 90m is something which he can do. But, because of his shoulder his throw is a bit less. But, in the final he will do better."
Kashinath speaks of Kang's grit in tight situations. He can squeeze out a good throw just when you think it's not his day. "Even in the qualifying, two throws had fallen short. Now the pressure is tremendous on the last throw. But he can calm himself down and bring together the elements needed to get that distance."
Doing well at the World Championships has been Kang's consistent refrain. It's also possible that the training done with an eye on the WC has paid off. Kang has hardly travelled outside the country to participate. It's been largely at the GP's, Nationals and the opportunity of throwing at the Asian Athletics at home. At Bhubaneswar, on the day when he was leaving, he said, "All I need is to train and focus on the throw. Getting everything going towards that throw is important now."
Kashinath also points out that he stayed on and trained in Patiala. "He hasn't gone home in the last year and a half, "says Kashinath. "Technically he is sound now and it also depends on how much he wants that good position and a medal."
The coach says luck is also a factor. "It's always there in the javelin," he says. "There are championships where things have gone according to form. But sometimes, a top thrower can't get the distance and someone who is not favoured does. Luck has a role to play in a big final."
While India looks to Kang to deliver what should be their only second medal in the history of the World Championships, the Germans would be plotting a 1-2-3 podium finish. Johannes Vetter, who moved into the second spot in the all-time list with a 94.44m, also threw a 91.20m in the first throw to qualify for the final. Olympic Champion Thomas Rohler required two throws to qualify, while a third German Andreas Hoffman qualified as the fifth best with 85.62m. Vetter said later that he was dreaming of three medals for Germany.
India's chairman of the selection committee, Gurbachan Singh Randhawa, displayed a strange mix of scepticism and realism when he said the Germans are too good and that it will be difficult for Kang to get a medal. "I don't think one should hope for a medal because the German's are crossing 90m," said Randhawa. "But, he has done well. Our boys are not used to having two throws on consecutive days. And if he gets fully recovered, which I doubt, then he will be able to repeat his performance."
Two-time Olympic Champion ('04 and ;08) and former World Champion, Norway's Andreas Thorkildsen, once said, "The moment you put your leg down and come in at good speed, it's one metric ton of pressure going into the ground. And if you have a joint or a muscle that's not working, it will hit that point harder. That's why we can't throw every day. We would just tear apart."
Kang wouldn't be too mindful of Thorkildsen's word of caution. It's a once-in-a-lifetime opportunity, for him, to be standing on that podium. Kang, in more ways than one, would gladly tear himself up.
Subscribe to Moneycontrol Pro at ₹499 for the first year. Use code PRO499. Limited period offer. *T&C apply
Sports
Vinesh opened up a 4-0 lead in the 53kg final with a throw which she initiated with a left-leg attack but former world champion Kaladzinskay made it 4-4 with her brilliant move.
Sports
Chaudhary, who is under the Target Olympic Podium Scheme (TOPS) of the government, was not available at the Jawaharlal Nehru Stadium complex when a dope control officer (DCO) came to take his sample last month.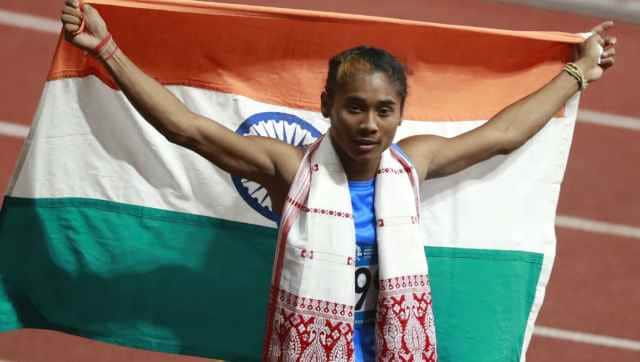 Sports
Dutee Chand blazed the track to win the women's 100m in 11.44 seconds, an improvement on the 11.51 seconds she had clocked last week in the first GP.