IAAF World Athletics Championship 2017: Indian athletics needs old world spit and polish to become world beaters
Govindan Lakshmanan may not have shown us the glitter of a medal but he definitely filled our hearts with pride and also revealed how raw talent, year after year, remains unpolished
Sometimes bluster can fizzle out pretty fast. Though, honestly, with hope riding on one athlete, everything else was a pre-ordained and predictable script. The narrative hasn't changed every four or two years (Since 91' the World Championships are held every two years), since the IAAF World Championships began at the Olympic Stadium in Helsinki in 1983. Only once did we manage to break the glass ceiling; Anju Bobby George winning a long jump bronze with a jump of 6.70 metres at Paris in 2003.
She was slightly unlucky in 2005 when the Athletic circus hit Helsinki and she finished fourth in the long jump with 6.66 metres. Third-placed Yargeris Savigne of Cuba had 6.69 metres.
We all hoped Anju's jump would also catapult Indian athletics onto the big stage; like so many other things in life, sports also need a catalyst, a booster dose. But to use a cliché one swallow doesn't (didn't) make a summer. So when the team left for the 2017 London Championships, there was excitement in the air; not for winning gold but of personal bests and hopefully, slightly genuinely, of Indian javelin unveiling itself on the world stage with a podium finish.
But the front bencher, in this case, Neeraj Chopra, flunked the exam and the back bencher, Davinder Singh Kang, managed to sneak into the final. That, if you summarise was the story in London. But you can't forget the name Govindan Lakshmanan. The man may not have shown us the glitter of a medal but he definitely filled our hearts with pride and also revealed how raw talent, year after year, remains unpolished. It lies there turning grey and then slowly becomes a story that never became The Story.
The deputy chief coach of the Indian team Radhakrishnan Nair is a pragmatic man. Before he left with the team from New Delhi, he said, "We are hoping for some good performances from these athletes and hopefully get a podium finish."
It was as practical as one could get. It's definitely an enormous task to put a 'possible finish' on every athlete. Hundredths of a second, micro-centimetres count for a finish that could decide the fate of athletes moving into the semi-finals or even the finals. Sometimes even the group or which heat you are in decides your entry into the final.
Surender Singh, who holds the national record in the 10,000 metres set at Vigo in Spain with a timing of 28:02.89, now coaches Lakshmanan.
"I think he did his best in London to run a personal best of 13:35.69. But I feel he would have done better in heat 2. With the second group doing a much faster timing, Lakshmanan could have pushed himself and got a better timing and who knows a place in the final and that all-important race so vital for his career against the world's best 15 runners."
The 5000 metres, unlike the 10,000 metres, is an incredible race of power, strength and courage. Timing isn't always the deciding factor. Sometimes the lead groups' split timings are slower, lap by lap. It's only the brave-heart who would risk it all by taking a massive lead and then collapsing in the end. Heat 1 was won by Ethiopia's Yomif Kejelcha in 13:30.07. Heat 2 was won by Ethiopia's Selemon Barega in 13:21.50; a nine-second difference.
Now in the final, the gold went to Ethiopia's Muktar Edris with 13:32.79. Mo Farah got the silver with 13:33.22. Both Yomif and Selemon, winners of the heats 1 and 2 finished 4th and 5th respectively. But the interesting part is that Lakshmanan's timing in heat 1 would have given him seventh spot in the final. Lakshmanan had the legs, courage and the heart. What he didn't have is the constant rigour of running against these great athletes.
Surender feels that the Sports Authority of India (SAI) is doing a great job with the athletes. "But it's not always up to them. The Sports ministry has to understand that just training and training will not do it. People ask why Mo Farah wins and I say go check the science and the infrastructure behind him. Lakshmanan needs world class training, diets, physio and he needs to run on a proper track. Before leaving for the World Championships, he ran on a cinder track in Wellington because the synthetic track is still not ready in Ooty."
Surender doesn't stop there. "At the 2012 London Olympics, Mo Farah came from the high altitude training camp in Colorado straight into a high-altitude chamber built for him in London; and from there onto the tracks to pick up two gold medals in the 5000 metres and 10,000 metres. I am not saying that Lakshmanan will just enter high-altitude training and straight away win Olympic medal. But can we give him half that opportunity that top runners in the world get?"
Surender can look at his own career and how he qualified for the 2008 Olympics after running in Spain. "I wanted Lakshmanan to go to Germany for a meet," says Surender. "But the Germans refused a visa because all the documents were not there." He refuses to elaborate on who didn't give a certain document. "Lakshmanan and not only him, others too who have the talent and capability need to run in Europe and get rid of the fear. Don't judge them by one Olympic or World Championship race," pleads Surender.
Nair admits that apart from a few athletes, the results were disappointing. "You do expect athletes to break national records and do their personal bests," he says. "In the marathon and the walks, we disappointed and I think Nirmala Sheoran (400 metres) did well by entering the semi-finals. We need to understand that Swapna Barman is a solid medal possibility in the Asian Games. And, yes, we should not write off the men's and women's 4X400 metres relay team, even if the women got disqualified because now with a very good coach from the United States, they will surely come up."
On Dutee Chand, Nair said it's very difficult to be among the medal winners at the Asian Games. To be fair to Dutee, though she had an invitation from the IAAF to run the 100 metres, she flew down to London when the mind had accepted that she wouldn't be a part of the World Championship. Yet the lure is great, the setting is perfect and the experience worthwhile for someone who has a good 4-5 years of solid sprinting in front of her.
Dutee's coach Nagpuri Ramesh said after the bronze at the Asian Athletics Championships that Dutee needs to fill out physically so that she gains power and strength. She has done the 100 in 11.24. But to go below 11 seconds will require much more than muscle and strength – it requires exactly what Surender desires for Lakshmanan.
Nair also took the opportunity to fill in his bit about the Davinder Singh Kang controversy after the javelin final where Davinder accused Nair of not asking Neeraj Chopra to sit in the stands where all the coaches' do. "Yes, he did ask me for Neeraj," explained Nair. "And I was ready to give Neeraj my card to sit there. But Neeraj refused saying that you are the coach and you should sit there. In the end, what do we all want, a medal and a good finish for India. Why should I refuse an athlete if something makes him comfortable?"
Nair also said that he has never trained Kang. "But he trains on his own," says Nair. "He even refused to train under Garry Calvert. And the truth is also that he and Neeraj for the last two years haven't trained together either. So a lot of what Kang said after the final was not true."
"But I commend him that he still reached the final after having so many injuries. But it's also true that after missing the qualifying mark in his first two throws, I called him and told him that his hand of release is just too high. He did the changes and qualified on the third throw," Nair said.
With Neeraj Chopra, Nair believes that somewhere, a little over-confidence had creeped in. "He thought he would easily qualify for the final," says Nair. "And he was right to think like that because he had been doing well."
Neerajs' first throw was 82.26 metres and when he disqualified his second throw, the pressure got to him.
"Neeraj wasn't getting sufficient speed in his throw," says Nair. "Neeraj is a speed thrower while Kang uses strength. But the third throw was bad as he barely touched the 80-metre mark. Later Neeraj was shocked that he didn't make it to the final. But one needs to remember that after the Asian Athletics Championships, Neeraj spent a lot of time travelling to Monaco, Germany and didn't get to do what is the usual old-world training for a competition. Honestly, even now, I believe he could have been on the podium," Nair added.
Nair believes that Neeraj will only get better and by the time he hits the 2020 Tokyo Olympics, he would be a medal prospect. "Now that Uwe Hohn is coming and would be training Neeraj and the others (Kang and Annu Rani), I think javelin as a sport will seriously grow. Because Hohn has agreed to come and will be joining in September, I have huge confidence that Neeraj will get the training and insight that he lacks at the moment."
Uwe Hohn once threw the javelin in competition to a distance of 104.80 metres, till today the only man to have crossed 100 metres. He was the favourite to win the 1984 Los Angeles Olympic gold but East Germany boycotted the Games. Indian javelin may enter a new era once the 6"6' German sets foot in India with a contract till the 2020 Olympics.
Despite the benign neglect, Lakshmanan and his like will keep running 180Km a week, day in day out, Dutee Chand, Nirmala and others will continue power-sprinting, Neeraj and Davinder will try throwing beyond their abilities, dreaming of inaccessible distances while the authorities will remain mute spectators afflicted by the gangrene of inaction.
India
The Compartmental exam forms will be filled by the principals of respective schools on the official website, biharboardonline.bihar.gov.in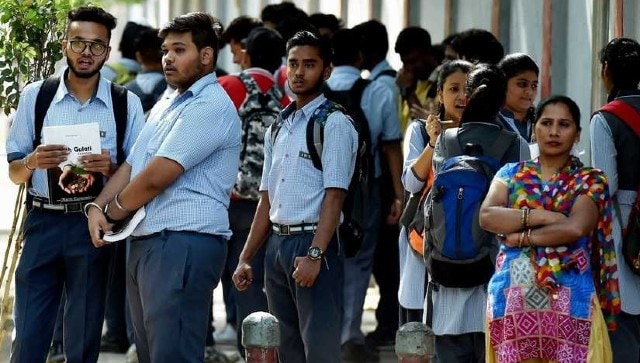 India
A total of 16.8 lakh candidates who have enrolled for the class 10 exam can check the result through the website-biharboardonline.com
India
BSEB conducted the Class 10 exams in 1,525 centres across the state from 17 to 24 February, in which around 17 lakh students had appeared