I need more match practice, increased mental strength before the Olympics, says Saina Nehwal
Left to nurse her Achilles tendons for more than six months, top shuttler Saina Nehwal today said it was the most challenging phase of her career and exuded confidence that she is in a good shape now and looking forward to defend her title at the India Super Series.
New Delhi: Left to nurse her Achilles tendons for more than six months, top shuttler Saina Nehwal in Tuesday said it was the most challenging phase of her career and exuded confidence that she is in a good shape now and looking forward to defend her title at the India Super Series.
Saina had suffered an injury after her runner-up finish at the World Championship in August last but played at the China Super Series Premier, aggravating the injury and leading to the Achilles tendons.
She skipped the Hong Kong Open but participated at the BWF World Super Series Finals in December. She played a couple of matches at the Premier Badminton League (PBL) but had to skip the Syed Modi Grand Prix Gold, SAG and ABC at Hyderabad.
"It was the most difficult injury that I had in my career. Achilles tendonitis takes a lot of time. I had some issue with my shin and I came very close to having a stress fracture also," Saina said.
"After World Championship I was just going through the tournaments without any practice. I was not able to train. I had to play China and Dubai. Luckily I pulled out a match against Carolina. I also had issues with my abdomen too, so I had two bad injuries," she added.
Saina said after the China Super Series Premier she was not even able to walk as she could not put weight on the feet.
"From January, I focused on strengthening my calf muscles. I had lost momentum but after two tournaments I feel much confident now. After such major injury, I was worried about my Achilles. Every morning I was scared to put my right leg. I'm happy that there is no pain now," said the 2012 Olympics bronze medallist.
"But I have to keep on doing the strengthening because if I leave that the pain will come back. The Achilles has become prone to injuries," she said.
"I am quite happy with the way she has recovered. She devoted a lot of time for recovery in February. She needs that confidence for movement and stroke making. There is a lot of pressure on her. The more she plays tough matches she will get going. But I think this is the fittest that I have seen her since World Championship," Vimal said.
"Of course she can get better. But now it can't happen, there is no time. May to July will be the time when we can systematically work on that. She has done everything possible.
She will play two more tournaments at Malaysia and Singapore.
But now she should just focus on India Super Series."
The 26-year-old turned up for All England Championship early this month but she lost in the quarterfinals to Tzu Ying Tai of Chinese Taipei. She also played at the Swiss Open but faced defeat against Wang Yihan in the semifinals.
"At All England, actually there is a lot of pressure and tension when I approached the net and played at the back because such shots put a lot of pressure on my right leg. So I was scared it might happen again. I might get injured again.
So it was difficult mentally," Saina said.
Asked if she was confident of defending her title at the India Open, Saina said: "If I am fit, I will definitely do well. There will always be pressure on you when you are the defending champion.
"The conditions are different here then what it outside India. So unless I made errors, I should be able to pull out matches. I am back again. There were some things here and there which I worked on. I covered then well. So hoping for a good season ahead," said Saina, who opens her campaign against India's Tanvi Lad in women's singles in Wednesday.
Asked if it was a difficult decision to play at the India Open, Saina said: "When you are good again, when you are fitter again, you need to play. You never know when it might come back again. Every year there are these events. It is basically two events to play. It is an Olympic year. So maintaining ranking is also important.
"After next month, I guess in June and July I will get time to train and get back to my 100 percent. It is much better now. It is all about playing more and more matches."
The Olympic bronze medallist will once again carry India's hopes at the Rio Games and Saina said she will have to be physically and mentally stronger ahead of the prestigious event but there is still time for that.
"Olympics is a high pressure tournament. Anybody can win.
There are many top players. Every top players play with a lot of pressure when you perform well because all eyes are on you.
It is not easy.
"Physically, I have to be well prepared for sure as I need more match practice but mentally also I have to be strong. But I guess there is enough time for that. There will be still one and a half months to go for the Olympics after May, so no need to bother now," she said.
Asked how the competition level has changed compared to 2012 London Olympics, Saina said: "The game has become faster.
Not only from China, other country also playing well. Wang Shixian is still playing finals, Li Xuerui is again another player. Tai Tzu Ying, Nozomi Okuhara, Carolina Marin is also good. The Korean girl Sung Ji is also there. It is a positive sign. The sport has become more global."
PTI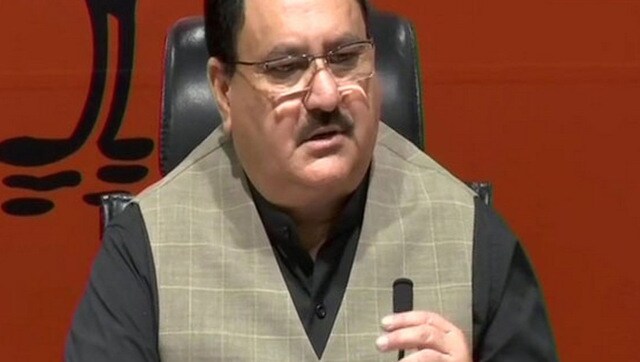 Politics
The BJP chief's letter came a day after the Congress Working Committee hit out at Prime Minister Narendra Modi over his handling of the coronavirus crisis
Sports
Bindra won the 10m air rifle event at Beijing to become the only Indian to win an individual gold in the Olympics, but just after that moment of celebration, he felt a "void". He also said he wanted to quit shooting after 2008 gold-winning feat.
Sports
The tournament is scheduled to be held from 11-16 May, but with Spain announcing a 10-day mandatory quarantine period on travellers from India, it will not be possible for the players to compete in the event.