I might get trapped again: Dutee Chand fears her resurrected career may be ruined
New Delhi: The year-long suffering she faced following the controversial "gender test" in 2014 has hurt promising sprinter Dutee Chand so much so that she still feels that she may get trapped and her resurrected career may be in ruins again.
Two years ago, Chand's dreams of representing her country at the Commonwealth Games and Asian Games came crashing when an indefinite ban was imposed on her, barring her from taking part in women's competitions due to her higher levels of testosterone (hormones primarily produced by male).
Dutee fought the case at the Court of Arbitration for Sports in Switzerland which upheld her appeal, citing no clear cut link with higher levels of these hormones with enhancement in performance. She returned to competitions last year and broke the national record in 100m dash recently.
"I'm not able to trust anyone. I am scared that I might get trapped again. I hardly have any friends," Dutee told reporters on the sidelines of the GAIL Indian Speedstar event.
"I prefer to train alone at SAI camp in Hyderabad. I don't train at national camp at NIS Patiala. Some of the 4x400 relay members don't like me. I am however in touch with M R Poovamma (top quarter-miler)," she added.
At the Asian Indoors in Doha in February, Dutee set a national record in 60m, clocking 7.28 seconds. She also became the first Indian woman athlete to qualify for the World Indoor Meet in Portland in the United States in March, reaching the semi-finals of the 60m.
"It was the most difficult phase of my life. I didn't know what to do. I had no place to train but then coach N Ramesh helped me continue training and arranged for my accommodation at Gopichand Academy in Hyderabad," said Chand, who broke the 16-year-old national record which was previously held by Rachita Mistry with 11.38 seconds, at Federation Cup in Delhi last month.
"I think it motivated me to compete in 100m race and qualify for the Rio Olympics," said Chand, who set a national record of 11.33 secs in the Federation Cup but missed the Olympic qualification mark of 11.32secs by one-hundredth of a second.
20-year-old Dutee also won the gold in women's 100m dash with a timing of 11.37s in the second leg of Indian Grand Prix athletics series at the NIS tracks in Patiala last week and remains confident of making the Rio Olympics cut in the upcoming events.
"I will be travelling to China for the IAAF World Challenge in Beijing on May 18, Taiwan Open International Invitational Meet on May 19-20 and Kazakhstan Open International Invitational Meet and a meet in Kyrgyzstan, both in June," she said.
"I have done well recently. I'm confident I will qualify for Olympics there. Here, there is lack of competition for me. But there I'm sure with more fighters around, I'll improve my timing and make the cut. Once I qualify, I can relax and concentrate on my training for Olympics. I'm targeting 10.99s mark and want to reach the finals of Olympics 100m sprint.
"I will focus on my individual event. In 4x100m relay also we are giving good timings. Relay is for my country and I want to make my country proud. After the last few events, my body has not recovered completely. I will have 10 days to get back to shape," she added.
Dutee was left ruing the fact that she was not sent for training abroad as it would have helped her improve her timing.
"When I asked them (government and federation) to send me abroad for training, they didn't have faith on me. Instead, they were sending 4x400 relay team to Turkey and Poland but one who is doing well in individual event is not being sent. But I tried on my own and did well," said Dutee.
"I could have improved further if I were sent aboard for training. I had applied for TOPs scheme. Now I got the letter for TOPs when there is hardly any time left. Now realistically there is just one month left because one month will be spent in these three-four competitions. Then there is National Inter-State in Hyderabad in June. So just the month of July will be there," said Dutee, who will be leaving for Patiala on Thursday.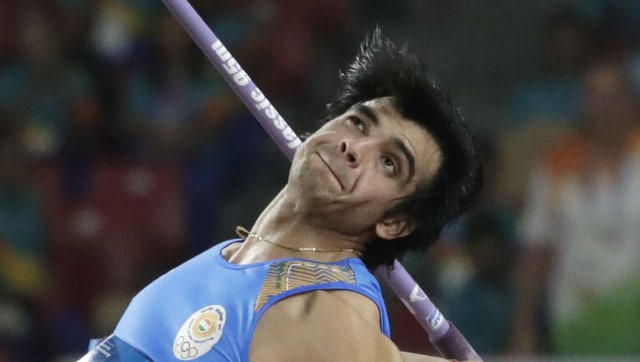 Sports
23-year old Neeraj Chopra was thrust into the limelight after he won Gold in the 2018 Asian Games as well as the Commonwealth Games.
Sports
Here's the complete schedule of Tokyo Olympics 2020 involving Indian athletes on 2 August.
Sports
Check out live action from India's Tokyo 2020 campaign on Day 10 on our live blog