I-League 2018-19: Chennai City's clash with Minerva Punjab outweighs the Kolkata Derby in terms of relevance to current season
For unbeaten I-League leaders Chennai City FC, it will be a matter of regaining their momentum. For the rest, it will be about getting their act together.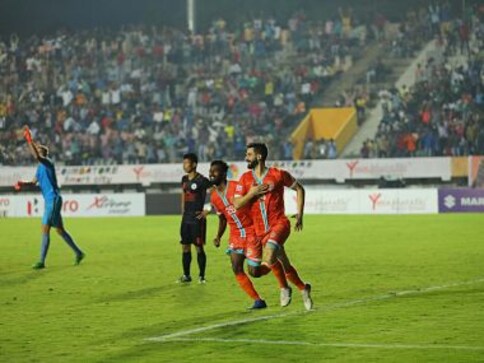 A storm after a lull? Chennai City and Mohun Bagan haven't played in 15 days. Minerva Punjab haven't in 12. And East Bengal in seven. On Sunday, all four teams will be in action on a big day in the I-League season when defending champions Minerva (11 points) host leaders Chennai (17 points) in Chandigarh at 2 pm before East Bengal (9 points) and Mohun Bagan (9 points), languishing in mid-table, lock horns in the Kolkata derby at 5 pm.
For unbeaten leaders Chennai, it will be a matter of regaining their momentum. For the rest, it will be about getting their act together, especially when it comes to their foreign contingent.
A smart and stable set of foreigners is usually the trump card for clubs in Indian football, even more so in a league without India's best talent. In this aspect, Chennai City, with five Spaniards, have stolen a march on their rivals this season. And they have done so with a style of eye-pleasing passing football that is only bettered on Indian soil by Indian Super League club FC Goa—though even Goa cannot match the consistency of their I-League counterparts.
Others, meanwhile, are still putting their houses in order. A gap in fixtures would've helped.
Minerva have missed Japanese forward Yu Kuboki, who could finally make his first appearance for the club against Chennai. In his absence, nine different players, including midfielders, have featured for the club in the forward position, thereby upsetting the balance of the team.
Kuboki will be Minerva's eighth foreign player — the same count as the entire last year — and his inclusion could give a patched-up unit a more complete look. It lends an intriguing angle to a fixture Minerva cannot afford to lose, or they would go nine points behind the leaders.
East Bengal struggled without injured Syrian midfielder Mahmoud Al Amna (who has now been released by the club) and in the absence of the sixth foreigner, which the club could not sign due to a transfer ban that has now been relaxed.
Besides this, French midfielder Kassim Aidara did not start the first four games — he was reportedly out of favour with the new head coach. At the time, it meant that East Bengal were the only club (apart from Indian Arrows and Shillong Lajong) across the two top-tier Indian leagues to play without a foreigner in midfield. Add to this, the club's latest headaches: Mexican striker Enrique Esqueda is reportedly set for a lengthy injury layoff and Costa Rican defender Johnny Acosta was dropped in the previous match.
In recent weeks, though, the Kolkata side has signed Spanish winger Jaime Santos (who will play some part in the derby) and ex-Bengaluru FC midfielder Antonio Dovale (who is eligible to play once the transfer window opens). It could well be little too late to salvage the season.
For Bagan, injury-troubled Haitian winger Sony Norde, who started only two of Bagan's six games, was ruled out for a couple of more weeks and will not be available for the derby — a huge blow for the club. Bagan's recruitment has made the team too top-heavy, with strikers Henry Kisseka and Dipanda Dicka playing as a front two and neither of them suited to a wide role. After a 0-3 mauling by Churchill Brothers, Dicka was subsequently dropped against Chennai to accommodate an extra player, Omar Elhussieny, in midfield. It temporarily stopped Bagan from being overrun in midfield. Of the two Kolkata clubs, Bagan remain the more likely to push on for a title challenge.
In contrast to these, Chennai City hit the ground running. Striker Pedro Manzi and midfielders Sandro Rodriquez and Nestor Gordillo have run rings around opponents from the left side whereas centre-back Roberto Eslava has marshalled the defence well. In the first four games, Chennai played with only four foreigners (clubs are allowed to field five). In the next two, they had only three — Manzi was out injured but Sandro and Nestor stepped up with goals. Only against Bagan did six foreign players, including Slovak forward Jozef Kaplan and Spanish goalkeeper Nauzet Garcia Santana, play a part.
This rightly suggests there is more to Chennai than simply foreigners. The club's Indian players have put in stellar displays. Local players such as flamboyant right-winger Alexander Romario and full-backs Edwin Vanspaul and Ajithkumar Kamaraj, who loves to bomb forward on the left wing, have been exceptional. Pravitto Raju and Charles Anandraj, two more locals, solidify the centre of midfield, along with Mashoor Shereef, who was called upon to halt Norde and did a fine job. Gaurav Bora, who usually plays as a defensive midfielder, has seamlessly slotted in to play centre-back as well.
Chennai City's turnaround has been remarkable both in manner and results. The club has gone from near-relegation last season to the top of I-League, despite losing their best player Michael Soosairaj. Appointing head coach Akbar Nawas and his assistant Jordi Gris Vila early, in March, rather than wait till midsummer was a shrewd move. It gave them ample time to recruit both locally and internationally (the duo flew to Spain) and prepare well ahead of the new season.
Nawas' side have been underdogs only on paper. In practice, and unlike previous winners Aizawl FC and Minerva, they have appeared anything but underdogs. They have displayed the swagger and self-belief of an accomplished side used to winning week-in and week-out, coming back from a goal down to earn points in no less than four out of their six matches.
It's a juggernaut Minerva must stop, or face the prospect of conceding their title well before the final few weeks. Over in Kolkata too, they'll be hoping for a Minerva win to keep slim hopes of a title alive. India's most famous football derby is steeped in mediocrity today and unless Minerva pick up at least a point against Chennai, the result in Kolkata will likely have no national significance, only a local one.
Football
The ongoing Tri-Nation International Football Tournament is the first international football competition to be held in Manipur.
Football
The Kolkata airport was resonating with shouting and joy as the fans carrying ATK Mohun Bagan flags, some donning the club jerseys, gave a welcome befitting for champions to the ATK Mohun Bagan team
Football
ATK Mohun Bagan vs Bengaluru FC, ISL 2022-23 Highlights: ATK Mohun Bagan hold their nerve in a tense penalty shootout against Bengaluru FC to add the ISL title in their third season in the league.