Mohun Bagan-Bengaluru FC fan rivalry is healthy for Indian football: Sunil Chhetri
In a career spanning over a decade, Sunil Chhetri has experienced highs and lows and has etched his name in India's football folklore permanently. And he is not yet done. Because for him, it's always about the next game.
Every sport needs its stars, be it football, cricket, tennis or golf. It's the people we are invested in as much as the sport itself. We connect with them, as they give the sport a face, a name, an identity. They become synonymous with the game.
When it comes to football in India, national team and Bengaluru FC captain Sunil Chhetri is the one name every kid on the street knows. The 31-year-old has spent over a decade kicking ball for clubs and country and today he is not only India's all-time top goalscorer, but also a national icon.
With Chhetri at its helm, Bengaluru FC enjoyed yet another incredible season and were crowned the 2015-16 I-League champions; its second league win in three years of existence. And to serve as icing on the cake, Bengaluru FC also made it to the quarterfinals of the AFC Cup for the first time. The Indian team captain couldn't be happier to reclaim the crown from Mohun Bagan.
"We as a team are really happy. It was a very sad day last year when we lost the league to Mohun Bagan on the final day. I would not say that we played the whole league thinking of revenge in our minds," Chhetri told Firstpost on the sidelines of a Puma Social Club event celebrating Bengaluru's season.
But one could sense an intense rivalry between Bengaluru and Bagan, especially this season. The two clubs, one a historical juggernaut of Indian football and the other a brand new powerhouse; there had to be a power struggle. In its first season, Bengaluru FC scripted a bit of history of its own by winning the 2013-14 I-League, with Chhetri scoring 14 and assisting seven goals for his new club. His former club, Bagan, finished eighth. But it was the Mariners who came out on top the next year, after a dramatic final day showdown to decide the championship. With four minutes to go, Bagan equalised against Bengaluru in their own backyard, Sree Kanteerava stadium, to win the I-League by a margin of two points.
Just as Chhetri says, it must have hurt to lose the league in the last four minutes. But Bengaluru came back strong this year to lift the League title. Bagan finished second, just two points behind.
The Mohun Bagan-East Bengal Kolkata derby is one of world football's greatest rivalries, with almost 100  years of history. But with Bagan's ultra-loyal fanbase and Bengaluru's Sree Kanteerava faithful, a new rivalry in Indian football, albeit not as old, has taken birth. And it has only brought new vigour to Indian football.
"As players we can see it (the rivalry between Bagan and Bengaluru fans). I think it's healthy, " says Chhetri. "Sometimes it's worse, but it's alright, that's football. Especially because the two clubs have been fighting for the league in last two years, also among these two clubs the Federation Cup has been won or lost. I can totally understand why it's happening and it's nice. I've been a part of Mohun Bagan-East Bengal rivalry as well, I've played for both the clubs and I know it is fierce and it's top notch. And it's good to see that a club from Bengaluru has got the same thing, if not the same, but some flavor to it," Chhetri said.
If Mohun Bagan has its fierce following and deep-rooted football fan culture, Bengaluru too has its own army of travelling fans, the West Block Blues. The West Block Blues, loyal Bengaluru and Indian football fans, follow their team around, and are now an integral part of India's very own travelling football fans. Away fans in football are considered to be the fiercest, most loyal supporters of a team. Chhetri recalled an encounter with an away fan in Shillong, and talked about the improving football fan-culture in India.
"They (West Block Blues) are amazing. The more I speak about them, the less it's going to be. There is one story I want to share: There was this lovely lady, I forgot her name, but she flew from Bengaluru to Shillong and she was the only away supporter we had for that match. When Kunal (Majgaonkar), our media guy, asked to take a picture, I thought she was a local who wants to take a picture. But when I was told that she flew from Bangalore just for the game, it felt amazing. And it was so good that we won that game and we could dedicate that game to her.
"I think Bengaluru fans are improving in every way possible and it collides with the fact that we as a club also want to improve, so it is very good that our fans want to improve as well in numbers, in quality, in their chants and everything. I think together this club has a lot of things to bring to Indian football," Chhetri said.
Bengaluru FC's contribution to Indian football can be measured by its run in the AFC Cup - Asia's Europa League equivalent - this year. Bengaluru marched into the quarterfinals of the continental competition by defeating champions of Hong Kong Kitchee SC on 25 May. And it took some character, and yet another talismanic performance by Chhetri, to do so. Bengaluru, playing away, came from behind after Kichee took and early lead and won 3-2. Chhetri scored a brace, and 18-year-old AIFF Elite Academy product Daniel Lalhlimpuia scored the winner. Now Bengaluru stand just a step away from history as only two Indian clubs, Dempo and East Bengal, have progressed farther in the AFC Cup. And Chhetri knows the importance of this achievement.
"The first year we played in the AFC Cup as virtue of being I-League champions and did quite well to qualify from our group. This year, as we are a club who always want to keep improving in all departments, we really wanted to do better than we did last year. To reach the quarter-finals this year, that too away from home against Kitchee, gives us a lot of happiness and satisfaction.
"It was a very tough game and before the match the gaffer said that there are not many teams that come to Kitchee and attack them. Our philosophy and plan was to go and play attack-minded. We put both our young strikers Udanta Singh and Daniel Lalhlimpuia right up front and we wanted them not to play from the back, which really paid dividends. I think it's not about the goals (I scored), the whole team played really well and we defended well as a team, and attacking-wise created a lot of chances. It would be fair to say if we hadn't missed all the chances it would've been a different scoreline. I think it was a very satisfying game," Chhetri said of that crucial encounter in Mong Kok Stadium, Hong Kong.
"The real reason why have reached here is because we have taken one game at a time and that's the thing we want to continue doing, says Chhetri. "We now have quarter-finals to play home and away and we're just thinking about that game. We do know that only East Bengal and Dempo have played the semi-finals, but right now semi-finals are too far because in AFC every game is very important and difficult. So we just want to think about the next game, whenever we come to know which team we're going to play next, we're going to think about that game, and hopefully we pass that hurdle and then think about the next one. If we reach semis or finals, that'll be a great achievement for us as club and as a country," he adds.
Chhetri has not just been an instrumental player himself, but also a mentor and an inspiration to many young footballers. Chhetri was an idol to 18-year-old Lallianzuala Chhangte, a DSK Shivajians Liverpool academy product who lit up the 2015-16 SAFF Championships in Thiruvananthapuram in sensational style. The youngsters at Bengaluru FC too have a lot to learn from him. Bengaluru, missing star striker Robin Singh due to injury, signed three promising AIFF Elite Academy products ahead of the I-League season; Lalhlimpuia, 18-year-old Malsawmzuala and 19-year-old Nishu Kumar. And Chhetri is impressed by their progress over the course of the season.
"To be honest, when we first saw them in training we were really impressed and we thought they had great talent. But I didn't think they would start the number of games they did," the 31-year-old says. It is not easy for a youngster to come to a team like Bengaluru FC, which is a champion team, and start matches. In that department I think Malsawmzuala especially did really well. Out of those three, Zuala started the most number of matches. To play as a defensive midfielder in a team like ours is not an easy task and he showed a lot of character," Chhetri adds.
"Daniel on the other hand was a little bit unlucky because at the start he got a knee injury and he was out for one and a half months. He came back well, and I think he stepped up very quickly. The one game I remember is the Mumbai FC game where we won 1-0 and he scored the winner and also against Kitchee in the AFC Cup, where he scored the winner. Nishu, on the other hand, got fewer chances, which is understandable because Reno Anto plays in that position. But I think all three of them have a great future if they keep their heads on their shoulders they are going to play many more games for us and the national team."
It's been a wonderful year of football for the Indian captain. Starting from his maiden ISL campaign, where he scored seven goals for Mumbai City FC, followed by leading India to a historic seventh SAFF Cup win, then being crowned I-League champions with Bengaluru FC, and capping it off with an incredible AFC Cup run, Chhetri has had a dream run so far. He even led the Blue Tigers to a thumping 6-1 win over Laos in a second leg AFC Asian Cup qualifier on Sunday; one of India's biggest wins. But what next for the man?
In a career spanning over a decade, Chhetri has experienced highs and lows and has etched his name in India's football folklore permanently. And he is not yet done. Because for him, it's always about the next game.
"I'm really happy (with this season). The good thing is I don't have any long term targets, never had before also. I just think about the next game. it helps me to be focused. The moment I think about six to eight months ahead, I'll lose track. That's how I've planned my career so far and that's how it's going to be," he signs off.
Find latest and upcoming tech gadgets online on Tech2 Gadgets. Get technology news, gadgets reviews & ratings. Popular gadgets including laptop, tablet and mobile specifications, features, prices, comparison.
Sports
In the biggest attendance so far for a football team in Germany during the coronavirus pandemic, Union Berlin welcomed 4,500 fans for their 2-1 win over Nuremberg on Saturday.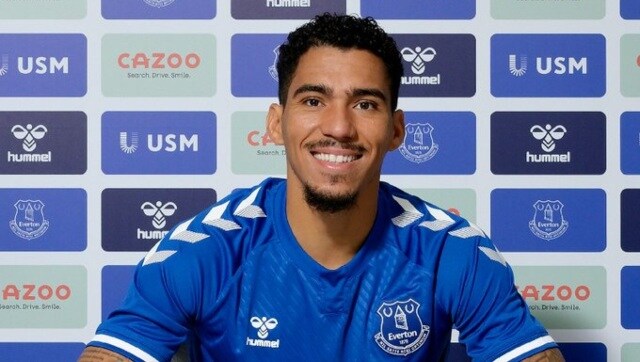 Sports
The 29-year-old Allan played 61 games under Ancelotti when the Everton coach was in charge at Napoli.
Sports
Because of coronavirus restrictions, a maximum of 5,000 fans are allowed at games, unless clubs get a special dispensation from their local authority.