Hungarian Grand Prix: 'It hurts to be called Lewis Hamilton's wingman,' says Mercedes' Valtteri Bottas
Valtteri Bottas was unappreciative of comments from Mercedes chief Toto Wolff, who said that the Finn was a sensational wingman to Hungarian GP winner Lewis Hamilton.
Budapest: A disappointed Valtteri Bottas said he was hurt to be described as a "sensational wingman" by Mercedes chief Toto Wolff following team-mate Lewis Hamilton's victory in Sunday's Hungarian Grand Prix.
The Finn, who like Hamilton agreed a new contract with the team only two weeks ago, had believed he could race to win, but was forced into a damage limitation race after an early pit stop.
Team boss Wolff said, "it wasn't realistic for us to win. It is one of our weakest tracks. We expected damage limitation, rather than taking the points. It feels a little bitter-sweet. I'm really happy for Lewis. I just feel sad for Valtteri. He deserved P2 because he was such a sensational wingman. That would've been nice."
Bottas, who finished fifth after a late pit stop following two collisions while running on severely worn old tyres, was upset when Wolff's comments were put to him. "Well, first of all, wingman hurts," he said, adding, "second, I don't see any positives in this race for me. It was a disappointing result. We had to pit early to cover Kimi (Raikkonen). Still, 20 laps before the end, I was feeling ok."
"We could control the pace, but then the rear tyres started to go and I tried to defend as best I could and, in the end, I just ended up being a mess with a broken car," Bottas added.
Bottas also said that he wanted to discuss his perceived role as a 'wingman' in the team, or as a driver to be used tactically to help Hamilton's bid for a fifth world title, saying, "we need to speak after this race. For this half of the year, the points gap is very big."
He was candid about his collisions with Sebastian Vettel and Daniel Ricciardo on Sunday, saying, "with Sebastian, he had a good run in Turn Two. I still had my nose inside and he was on the outside. He turned in early and there was nowhere to go. I was the only one damaged, which was fair enough. With Daniel, it was a similar thing. I was next to him on the inside and I was locking up, but he still turned in and then we touched."
Vettel, who finished second behind Hamilton, said, "his (Bottas') tyres were getting worse and worse and I was quite confident I could get him. When I was hit, from behind, I was not sure what had happened. I was lucky the car was not broken and I could carry on."
Find latest and upcoming tech gadgets online on Tech2 Gadgets. Get technology news, gadgets reviews & ratings. Popular gadgets including laptop, tablet and mobile specifications, features, prices, comparison.
Sports
French driver Pierre Gasly's car caught fire on Friday while there was a crash between Red Bull's Max Verstappen and Lance Stroll's Racing Point car.
Sports
In denying his Mercedes teammate Valtteri Bottas in the final seconds of qualifying Hamilton moved to within three of his 100th career pole.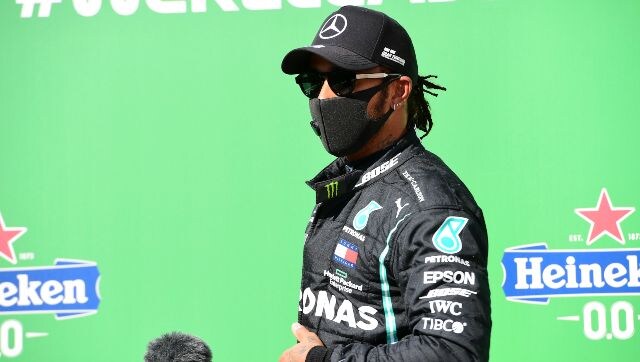 Sports
Lewis Hamilton and Mercedes seek to continue their record-making progress as Formula One escapes in search of some autumnal sunshine at this weekend's Portuguese Grand Prix.