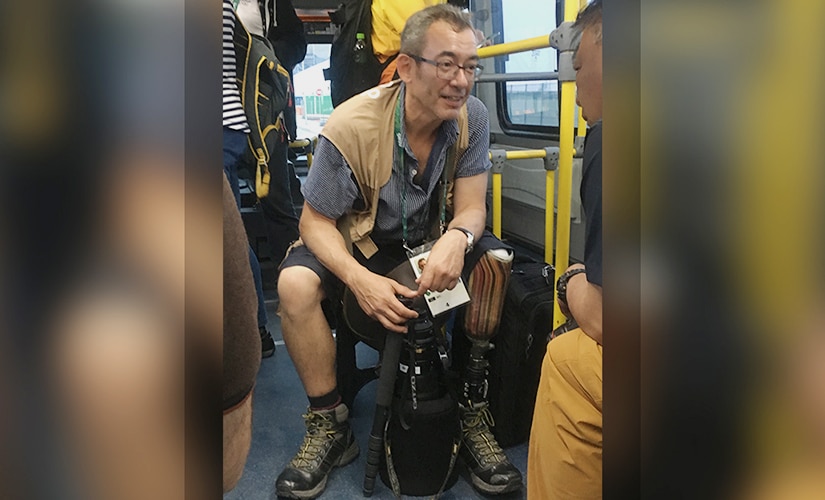 A 6-foot-tall photographer with one leg and one prosthetic traveling in the media bus at the Olympic Park attracts the attention of another Chinese photographer who starts clicking pictures of the prosthetic leg before striking a conversation with the photographer.
The photographer, who is the subject of he Chinese shutterbug, turns out to be Andre Camara de Mello e Silva or simply put Andre Camara, an award winning photographer who also happens to have inspired the iconic and critically acclaimed film City of God.
Andre, who was on his way to the velodrome to capture Team Great Britain in action at track cycling for his current employers The Times, says he started working very young.
"I was already working while in school at the age of 15. I got my first big break when I dared to go into the dangerous favela Cidade de Deus and managed to shoot images of drug lords holding guns. It was the first time anyone had managed to do this. I was 17 at that time and was working for a local newspaper. One of my bosses then went on to write the book which later became a film," he recollects patiently before heading into the velodrome as the race had already started.
The photographer, who is the narrator in the film, is based on Andre. Currently based in London, Andre is back in Rio to shoot South America's first Olympic Games for The Times. You can find Andre's works on www.andrepix.com.
Firstpost is now on WhatsApp. For the latest analysis, commentary and news updates, sign up for our WhatsApp services. Just go to Firstpost.com/Whatsapp and hit the Subscribe button.
Updated Date: Aug 20, 2016 12:09:42 IST