How sports stars around the world celebrated Christmas, from wishes, gifts to irresistible deals
Here is a selection of some of the best Christmas posts from sports superstars all over the world.
As the Christmas spirit took hold of the world, our favourite sports stars were also caught up in the fervour, taking to social media to give us a glimpse of what their celebrations looked like. Here is a selection of some of the best Christmas posts from athletes all over the world.
Cristiano Ronaldo celebrated Christmas with his favourite person on the planet:
Merry Christmas world pic.twitter.com/fCzCJ8s8f9

— Cristiano Ronaldo (@Cristiano) December 24, 2016
While Neymar did his best impression of a hipster Santa:
India skipper Virat Kohli extended his best wishes to his fans:
Merry Christmas everyone. I hope all of you have a great day. pic.twitter.com/Cs1zAT2ZUM

— Virat Kohli (@imVkohli) December 25, 2016
Meanwhile AB de Villiers tried to capitalise on our materialistic impulses this Christmas. Thanks, AB.
Don't miss out on our SPECIAL XMAS DEAL!Buy your AB de Villiers Cricket Cooler by clicking on the following link https://t.co/zenhXsG76Q

— AB de Villiers (@ABdeVilliers17) December 21, 2016
Australia captain Steve Smith spread the Christmas joy with a photo:
World No 1 Angelique Kerber sent her best wishes our way, while making us jealous of all the Christmas presents she received:
Merry Christmas! I hope you enjoy your holidays & get to spend it with your loved ones pic.twitter.com/rmOLizjXTv

— Angelique Kerber (@AngeliqueKerber) December 24, 2016
Indian tennis star Leander Paes brought in a very Merry Christmas:
A daughter may outgrow your lap but she'll never outgrow your heart...Merry Christmas to all of you from Aiyana and I pic.twitter.com/vD6IsjgSf8

— Leander Paes (@Leander) December 25, 2016
Recently retired Formula One champion Nico Rosberg celebrated with family:
the Rosbergs are wishing you all loads of fun for christmas!!! pic.twitter.com/4yAet8aj2m

— Nico Rosberg (@nico_rosberg) December 24, 2016
Rosberg's former teammate/rival Lewis Hamilton also celebrated with his family...kinda:
Hope you're all having an awesome Christmas! #throwback pic.twitter.com/YRkgjSHNMv

— Lewis Hamilton (@LewisHamilton) December 25, 2016
India's star shuttler Saina Nehwal sent Christmas greeting our way via proxy:
Let the spirit of Christmas warm your home with love, joy & peace. Edelweiss & @NSaina wish everyone a #MerryChristmas! pic.twitter.com/nR8brY28Is

— Edelweiss Group (@EdelweissFin) December 25, 2016
While compatriot PV Sindhu's cute festive greeting brought smiles:
With this cutiepie #christmascelebrations#ishika#cutiepie#neice# pic.twitter.com/vDVysdihDP

— Pvsindhu (@Pvsindhu1) December 25, 2016
Manchester United and England captain Wayne Rooney celebrated with family:
Merry Christmas everyone. Hope you all have a great day pic.twitter.com/0IiJ15Lf3e

— Wayne Rooney (@WayneRooney) December 25, 2016
German superstar Thomas Muller also had kind words for his fans:
Merry Christmas and a Happy New Year to my fans all over the world. Thank you for your fantastic support in 2016! #esmuellert #merryxmas pic.twitter.com/dzTBBVeUBI

— Thomas Müller (@esmuellert_) December 23, 2016
Kristaps Porzingis was feeling the holiday cheer, prior to his side's loss at the hands of the Boston Celtics:
Merry Christmas! It's Game Time pic.twitter.com/WN9UBNs6uB

— Kristaps Porzingis (@kporzee) December 25, 2016
Kobe Bryant's Christmas gift brought much envy. The North Remembers, Kobe.
My wife Vanessa got me the best Christmas gift ever. Thank you @GRRMspeaking#muse#GameOfThronespic.twitter.com/7XgS4rWwDA

— Kobe Bryant (@kobebryant) December 25, 2016
Find latest and upcoming tech gadgets online on Tech2 Gadgets. Get technology news, gadgets reviews & ratings. Popular gadgets including laptop, tablet and mobile specifications, features, prices, comparison.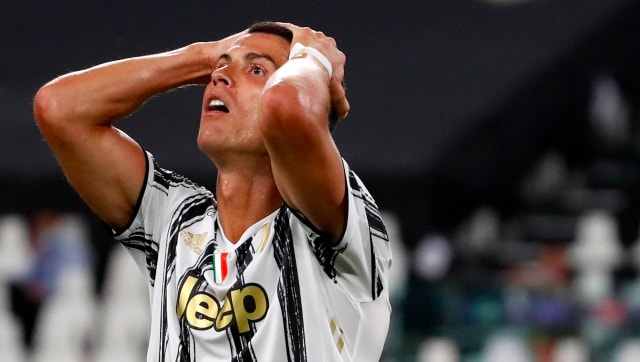 Sports
Ronaldo had been separated from the rest of the Portugal group after testing positive for COVID-19 on Monday. He was said to be asymptomatic and in good health condition.
Sports
The Portuguese federation said Ronaldo's result prompted another round of tests for the rest of the national squad. It said everyone else in the team tested negative.
Sports
Rooney was angry after his friend visited him at his home on Thursday to give him a watch even though he should have been self-isolating. The friend later returned a positive test.