How Shahzar Rizvi overcame 'heartbreak' of missing Commonwealth Games berth to shoot gold at World Cup
'It broke my heart. I was disillusioned. But then my coach Ronak Pandit convinced me to focus on the future,' Shahzar said.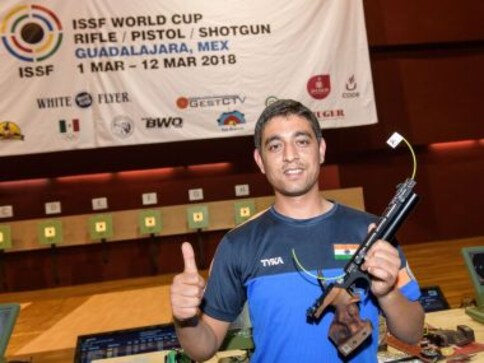 The young boy with a shot gun in hand was becoming a menace in Mawana Khurd, a small village near Meerut in western Uttar Pradesh. Electric bulbs and window panes of the neighbouring houses bore the brunt of young Shahzar's initial love with weapons and marksmanship. Frustrated by the repeated complaints, Shamsad spoke to his son. "If you are so fond of shooting, why don't you get a pistol and take up the sport seriously," Shamsad had said.
Soon a brand new pistol arrived from Austria and the pastime with the gun transformed into an addiction with the pistol. The complaints from the neighbours were replaced by words of encouragement from shooting coaches from nearby ranges. It was time for the next big step as Shamsad built a shooting range at home for his son. After the family had gone to bed, Shahzar would spend hours at night perfecting his shooting skills.
And the 23-year-old was rewarded for this obsession when he was crowned the ISSF World Cup Champion in 10m air pistol in Mexico. He edged out some of the big names in pistol, including the pin-up boy of Indian shooting — Jitu Rai — to take the gold medal with a world record score in the final. Shahzar finished second in the qualification round but there was no looking back in the final as he led from the start finishing with 242.3 points, comfortably 2.6 ahead of Christian Reitz of Germany who stood second.
But rather than talk about his fairytale run in the final, Shahzar, the perfectionist, would focus on what went wrong in the qualification round. "The temperature was very hot and I was sweating. So it was tough to grip my weapon. I was not happy with my score and I knew I had to make amends in the final round,'' explained Shahzar on his triumphant debut in the World Cup.
It has all been about setting the record straight in the last few weeks. The youngster had missed the cut for the Commonwealth Games despite some great performances in recent times, including a gold medal at the Commonwealth Championships held in Australia. The number of entries for the Commonwealth Games had to be pruned and the Indian selectors had to go with Jitu Rai and Om Prakash Mitharval based on the fact that these two pistol shooters will also take part in 50m event along with the 10m event. It meant there was no place for the 10m specialist Shahzar.
"It broke my heart. I was disillusioned. But then my coach Ronak Pandit convinced me to focus on the future," he said.
"There are plenty of events coming up, including the Asian Games and the other World Cup where the quota places for the Olympics will be decided. The best way to answer those who have doubted my credentials is to come up with top class scores in the shooting range and win medals."
The gold medal in the World Cup was fitting reply but there were no fist pumps or over the top celebrations after the victory. "Sachin Tendulkar is my role model. He never showed his aggression on the field. Even if the opposition tried to needle him, he just quietly went about doing his work which was scoring runs without indulging in any war of words," asserted Shahzar.
Coach Pandit is impressed by the maturity of the younger shooter. "It is not easy to motivate yourself when you have been left out from a big event like the Commonwealth Games, and that too for no fault of his. To lift yourself up, shrugging off the disappointment and deliver in a tournament like the World Cup is a huge achievement. Since he is a newcomer, he is never daunted by the big names and higher-ranked opponents and this has worked in his favour,'' added Ronak,a widely respected pistol coach who started training Shahzar a year now.
Shahzar has been impressive in the domestic circuit in the last couple of years but he felt his performance was hitting a plateau. "I knew I could do more. Therefore I approached Ronak sir. He was a shooter himself and he had worked wonders with Heena Sidhu,'' said Shahzar.
"I was initially hesitant because I did not know him personally. I was not sure if he could adapt himself to my style of coaching. But we soon bonded and I realised he had set very clear targets for himself," says Pandit about his association with Shahzar.
"Not taking part in the Commonwealth Games could prove to be a blessing in disguise for Shahzar as it will give him an opportunity to work on his training and prepare himself better for the busy calendar ahead,'' felt the coach.
Most of the Indian shooters have a cramped schedule which includes Commonwealth Games, followed by a couple of World Cups and the Asian Games. "I have an extensive training schedule lined up for him during the next couple of weeks and I feel he will need to focus on his body position and balance," opined Pandit, who also trains his wife Heena Sidhu.
Shahzar Rizvi's Facebook page is flooded with pictures of his victory in Mexico and the heady celebrations on his homecoming but his Whatsap status is — 2020 Olympic gold mera hai (The 2020 Olympics gold is mine). So a few days of soaking in the adulation, and then it is back to the grinding training regimen to realise his ultimate dream.
World
Police visited the man, according to Hamburg Police Chief Ralf Martin Meyer, after receiving a tip in January that claimed he "bore special anger towards religious believers, in particular towards Jehovah's Witnesses and his former employer
World
Several more people were injured in the attack on Thursday evening at the Kingdom Hall building in the port city of Hamburg, where Jehovah's Witnesses members were attending a religious service
World
Preliminary investigation showed that the two children were inside an apartment with five family members and friends and each of the two children's parents believed the other was watching the kids