How India-Pakistan hockey ties have been strained since 2014 Champions Trophy incident
The duel between two boards started in 2014 post the conclusion the Champions Trophy. After winning the semi-final clash against India, Pakistan players took off their shirts and made obscene gestures at the crowd.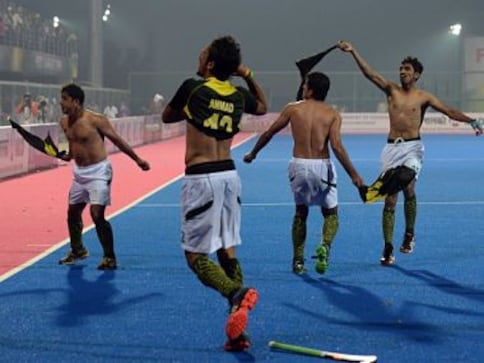 On Thursday, International Hockey Federation (FIH) president Narinder Batra said that the Pakistan hockey team will be invited to participate in the 2018 World Cup, which is set to take place in Bhubaneswar from 28 November to 16 December. The confirmation has ended the speculations over Pakistan's participation in the World Cup due to ongoing political tensions between both the nations and also because of their behaviour during the 2014 Champions Trophy in Bhubaneswar.
"Pakistan will be invited because it's an FIH-sanctioned event. We have taken the necessary permissions from the external affairs ministry. There are certain rules and procedures in which participating nations have to apply for visas 60 days prior to the start of the tournament. There are other procedures which Pakistan will have to follow," Batra was quoted saying the Times of India.
The duel between two boards started way back in 2014 post the conclusion the Champions Trophy. After winning the semi-final clash against India, Pakistan players took off their shirts and made obscene gestures at the crowd present in the stadium. As a result, the FIH suspended two players — Muhammad Tousiq and Ali Amjad — while the third player, Shafqat Rasool, was let off with a warning.  Pakistan team's action was immediately condemned by the Indian authorities and they demanded a formal apology from them. However, Pakistan did not come out with an official apology.
As a result, Hockey India ruled out Pakistani players' participation in future editions of Hockey India League (HIL). "I would love to have Pakistan players but not with the kind of behaviour they displayed in the Champions Trophy," Batra said. "And they have shown no regret of that incident in writing or otherwise. I don't want to politicise the issue but that kind of behaviour was unacceptable. Least we need is an apology from them," he added.
Even the then Indian hockey team captain Sardar Singh asked the Pakistan players to apologise for their behaviour during the Champions Trophy and backed Hockey India's stand of not allowing them to play in HIL. "Pakistani players are suffering a lot but what they did during the 2014 Champions Trophy was unacceptable. They still haven't apologised for their behaviour so I feel they shouldn't be allowed (to participate in HIL)," Sardar said to PTI. 
In the first edition of HIL in 2013, nine Pakistani players were supposed to take part in the tournament, but were forced to leave the country after protests from a few political organisations. Since then no Pakistan player has been included in the tournament.
In 2016, the FIH withdrew Pakistan's invitation to the junior World Cup, which took play in Lucknow. In a release, the FIH said they had held discussions with the Pakistan Hockey Federation (PHF), but did not receive confirmations. FIH said that Pakistan were late to apply visas and therefore did not complete their formalities in time. "Visas had been applied for after the official deadline and no accommodation was confirmed within the set deadlines. Despite a number of correspondence and reminders, the PHF was not able to show that their team would be able to travel to Lucknow for the event," the FIH had said in a statement.
But PHF secretary and former player Shahbaz Ahmad came out saying in 2017 that Pakistan was not allowed no participate in the junior World Cup because of the 2014 Champions Trophy incident.
"Batra still wants the apology although we feel that our team was not allowed to take part in the Junior World Cup held in India last month only because of this issue," Ahmad was quoted by PTI.
"They said we did not confirm our participation on time. We did not get visas from the Indian High Commission. But in the end, I got this feeling it was all due to that incident in 2014. Pakistan hockey was punished for it," he said.
The Bhubaneswar incident along with the strained relationship between two countries raised doubts over Pakistan's participation in the upcoming senior hockey World Cup. But now that FIH has cleared its stance on Pakistan, it is to be seen whether the neighbouring country will get their visas on time for the tournament.
Hockey
While India may not finish last even if they lose to Japan on Thursday, the loss will take the hosts to their worst placing ever, which will be between 13 and 16.
Hockey
Australia beat Spain 4-3 in the quarter-finals, whereas Belgium fended off a spirited challenge from New Zealand 2-0.
Hockey
The German fightback was reminiscent of their national football team which is famous for its never-say-die attitude and came back after England were 2-0 ahead till the 58th minute.