No honour among thieves as 60 trophies stolen from Red Bull Racing Factory
The Red Bull Formula One factory in Milton Keynes has been raided and thieves stole over 60 trophies, Police said on Saturday.
The Red Bull Formula One factory in Milton Keynes has been raided and thieves stole over 60 trophies, Police said on Saturday.
"Police were called at 1.30am today to the Red Bull Racing factory where a group of around six men used a vehicle to drive through the front entrance to gain access to the premises," a police statement said.
"Once inside, they stole over 60 trophies belonging to the Red Bull Racing team. Night staff who were on the premises at the time were not physically harmed."
Police said two cars were involved in the burglary.
"We are obviously devastated by this serious factory break in, which saw offenders drive a vehicle through our front entrance and steal more than 60 trophies which took years and hard work to accumulate," Red Bull team principal Christian Horner said in a statement.
The break-in caused significant damage and was very upsetting for our night officers who were on duty at the time. The offenders took items that not only did not belong to them, but which represented the efforts of a group of dedicated, hard-working individuals."
Horner said he was puzzled about why anyone would want to steal trophies whose intrinsic value is low.
"We are perplexed why anyone would take these trophies," he said.
"The value to the team is of course extraordinarily high due to the sheer hard work and effort that went into winning each and every one."
Horner said that, regrettably, Red Bull would probably have to make their site less accessible in the future.
"That will be unfair on the hundreds of fans that travel to visit our factory each year to see our trophies and our Formula One car," he said.
Austrian team Red Bull entered Formula One in 2005 and their driver Sebastian Vettel won the world drivers' championship four years in a row from 2010-2013. The team also topped the constructors' standings in each of those years.
They missed out in 2014 to Mercedes, who dominated a season in which their drivers Lewis Hamilton and Nico Rosberg finished well clear at the top of the drivers' standings.
Reuters
Find latest and upcoming tech gadgets online on Tech2 Gadgets. Get technology news, gadgets reviews & ratings. Popular gadgets including laptop, tablet and mobile specifications, features, prices, comparison.
Sports
Bottas was 0.14 seconds quicker than Mercedes teammate Lewis Hamilton, the Formula One champion. Red Bull's Max Verstappen was third in somewhat cooler conditions at Silverstone following Friday's stifling heat, with Racing Point's Lance Stroll in fourth.
Sports
Hulkenberg lost his seat at Renault for this season so was available to step in when Racing Point team principal Otmar Szafnauer made the call.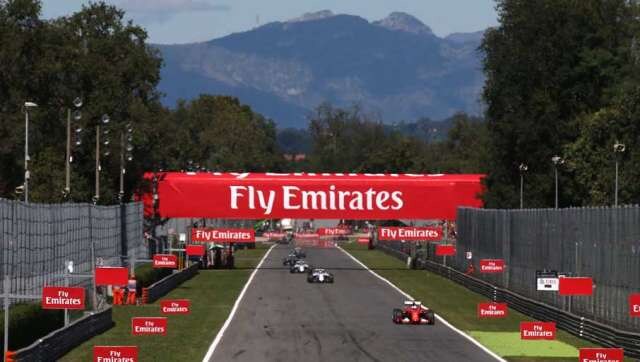 Sports
Italian Grand Prix at Monza, held not far from Ferrari's factory, has declared tickets will be fully refunded.